Corridor Planning Principles Should Lift Height Restrictions
We'd be crazy to spend three quarters of a billion dollars on LRT and then tell developers they can only go 12 stories high along the entire route.
By Jason Leach
Published February 23, 2012
this article has been updated
The City has released its Draft City-Wide Corridor Planning Principles and Design Guidelines [PDF], and planning staff are looking for feedback.
Phone:

Ken Coit: 905-546-2424 x6281
Christine Newbold: 905-546-2424 x1279

Mail: Nodes and Corridors Planning Team, 71 Main Street West (4th Floor), Hamilton ON, L8P 4Y5
The draft plan emphasizes intensification of the city's identified corridors - like the east-west route of the B-Line LRT - to "stabilize and grow the population, helping to support local businesses, institutions and community facilities such as community centres, parks and schools, and returning vitality to these areas."
The document identifies the following corridor planning principles:
(a) Support and facilitate development and investment that contributes to the economic and social vitality of the Corridor and adjacent neighbourhoods.

(b) Promote and support development which enhances and respects the character of existing neighbourhoods where appropriate and creates vibrant, dynamic, and livable urban places through high quality urban design.

(c) Develop compact, mixed use urban environments that support transit and active transportation.

(d) Promote and support an innovative sustainable built environment that uses resources efficiently and encourages a high quality of life.

(e) Identify areas of change as the locations for new development along Corridors.
Related to these, the document identifies the following corridor design goals:
(a) Encourage new intensification and infill development by allowing flexibility and providing alternatives to minimize constraints and provide opportunities.

(b) Create streetscapes that are attractive and safe for pedestrians, transit users, cyclists and drivers.

(c) Minimize the negative effects of shading on existing adjacent properties, streets and public spaces.

(d) Minimize the negative effects of changes in building scale and character on existing streetscapes and adjacent properties.

(e) Minimize the negative effects of overview on existing adjacent private properties.

(f) Encourage a diversity of built form, neighbourhood character and development opportunities along the Corridors.
So far, so good.
Height Restrictions
Then the document defines three broad types of building form for corridor intensification for small, medium and large lot sizes:
2- to 4-storey townhouses, stacked townhouses or small apartment/mixed use buildings;
2- to 12-storey apartment/mixed use buildings; and
2- to 12-storey mixed building types.
12 storeys? The document goes on to explain the reason for a maximum building height: "New multiple storey buildings can have negative impacts on the existing character of neighbourhoods, streets and adjacent properties through shadows, overview and abrupt changes in scale."
It recommends limiting building heights based on property depth and street width "by a 45 degree build-to plane measured from the rear property line when adjacent to existing single detached, semi-detached or duplex residential."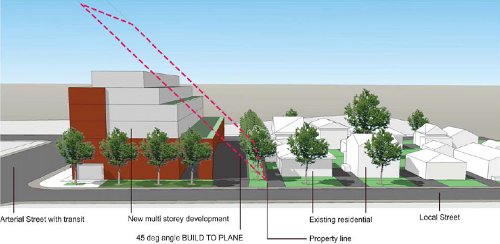 Rear build-to plane for new intensification along corridor
However, the recommendation also limits building height from the front, based on the street width - again, "by a 45 degree build-to plane beginning from a line at grade parallel to the front property line at a distance of 80% of the width of the arterial street right-of-way."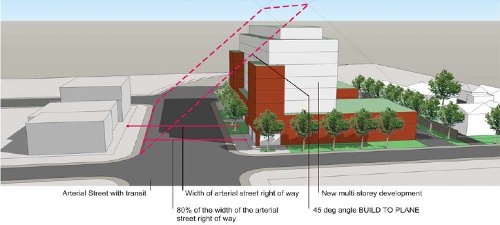 Front build-to plane for new intensification along corridor
Given that the purpose of the corridor planning is to increase density, they also have a minimum building height - but it's only two storeys, and for only 75 percent of the building's frontage.
Too Restrictive
I understand the goal of the height restrictions in a potential scenario where single family homes come quite close to the arterial street and could have 40-storey buildings built next to them, but these guidelines are too restrictive and for the most part, unnecessary.
During the B-line stakeholders sessions, a common theme coming back from the development community was that the parking demands and height restrictions for new buildings are both serious obstacles to seeing builders line up to construct new buildings along our LRT lines.
I'd like to see no height restrictions at all between Queen Street and Victoria Avenue, and perhaps a general restriction of 30 stories along the rest of the route - although I choose 30 floors quite arbitrarily, and in all honesty, don't see the need for any restriction.
If someone proposes a 30 storey tower at Wexford Avenue and Main Street East, I've got a feeling the neighbourhood will let their feelings be heard and city staff can evaluate the site to see whether it is compatible or incompatible.
If someone has assembled a big piece of land with no homes nearby, it could work. If the site is small and a huge tower will rise over small homes, it could be denied, or requested to be cut in half.
Huge Hindrance to New Development
I've chatted with many developers and architects who have pointed to this one issue as a huge hindrance to seeing new development in Hamilton.
In fact, I just wrote about this yesterday on Raise the Hammer. The example given from North Toronto is quite striking in that it's too far north to be on the subway line, and the site backs onto nice suburban homes with swimming pools, yet 28-44 storey towers are being proposed for the location because it is on a major, arterial road.
Anyone purchasing a home next to King Street should be aware of potential development on a major artery that should become Hamilton's Yonge Street. Holding back development along our most critical transit link and our most important downtown retail street is counterproductive to 21st century planning principles.
I fear that these restrictions could result in developers buying up a lot of adjacent homes in order to demolish them to make way for new towers. I'd rather leave the height open and deal with proposals on a case by case, site by site basis. No developer can accuse the city of being closed for business with this approach.
Even Burlington is allowing taller and taller buildings through their city, like the 16-storey Ironstone Condominiums and the 25-storey Strata downtown.
Much Higher Intensification
There is a proposal out there for two 30-storey condo towers at Upper James and Stonechurch. I can see the merits of such a development on such a huge street with huge properties due to all the parking.
These draft corridor plans could result in much higher intensification taking place on streets like Upper James and Queenston Road due to the large parcels of land that exist between those streets and the closest residential streets to their rear.
Downtown and surrounding neighbourhoods should be our most dense. Adding new obstacles to seeing them developed fully is counterproductive to this entire planning exercise and main reason for wanting LRT in Hamilton.
We'd be crazy to spend three quarters of a billion dollars on LRT and then tell developers they can only go 12 stories high along the entire route.
---
Update:
Jason received a response from Ken Coit, a city planner responsible for developing the corridor planning principles, to clarify that the draft guidelines are "not intended to apply to the Downtown or other Nodes where Secondary plans are in place" and that the city would "encorage" buildings taller than 12 storeys in those places.
Here is Coit's full response:
Thank you for your comments and for posting them on Raise the Hammer.

We just wanted to clarify that these guidelines are not intended to apply to the Downtown or other Nodes where Secondary Plans are in place (see 2.4). We would encourage higher buildings in the Downtown and at Nodes. The guidelines also allow for taller buildings on larger sites and on sites adjacent to existing commercial or higher density residential. Height is not specifically limited on these sites but would be determined through sun shadow and design studies (see 4.12 and 4.13). We will try to make this more clear in future documents.

Our collegue Allisa Mahood is presently reviewing the Downtown Secondary Plan and I would assume that building heights in the Downtown will be evaluated as part of that work.

Thank you for you ongoing interest and work on these issues.
Post a Comment
You must be logged in to comment.