Plans for Pedestrians or Streets for Pedestrians?
Although the various plans and policies developed in Hamilton are usually progressive and intelligent, they are mostly ignored by our decision makers.
By Nicholas Kevlahan
Published February 18, 2012
I am currently living in Paris while collaborating with a French scientist, and spend a significant part of each day commuting by inter-urban rail between the centre and the southern suburbs. These trips give me time to catch up on French culture, and especially on the French approach to urban planning.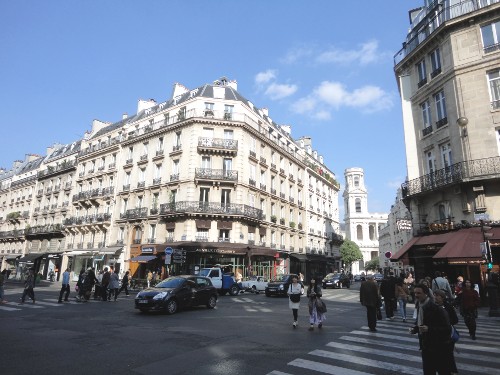 Motorists and pedestrians coexist on Paris streets (RTH file photo)
The other day I was struck by an article by Olivier Razemon in Le Monde called "Strasbourg ouvre la voie aux piétons" (Strasbourg paves the way for pedestrians).
As I read the article, I thought, This is exactly like Hamilton's Pedestrian Mobility Master plan!
In fact, even the description of the goals sounds similar:
Il s'agit de redonner toute sa place au piéton, oublié des politiques urbaines. Cela relève du 'vivre ensemble'. (After having left them out, it's a matter of putting pedestrians back at the centre of urban planning. It's part of living together.)
— Alain Lund, councillor in charge of urban design
I was struck by the fact that Strasbourg and Hamilton, both medium-sized cities with populations of about half a million, were embarking on very similar urban design projects.
However, as I read through the article, I realized that the French and Canadian approaches to urban design are very different.
France emphasizes top-down engineering solutions to implement an overall strategy, while Canada favours extensive preliminary consultation and numerous feasiblity studies before even considering street-level changes. Actual engineering changes are considered piecemeal (if at all), and without regard to overall policy.
Illusory Democracy
When I returned to Canada in 1998 after having lived in France for four years, I was initially very impressed by the planning culture in Hamilton.
I was amazed that City staff were constantly soliciting citizens for their input at the earliest stages of urban design projects.
Vision 2020, Putting People First (the Downtown Master Plan), the Durand Traffic Study, Setting Sail, and more recently the Cycling Master Plan and the B-line Land Use Secondary Plan all involved significant public consultation that really did shape the final recommendations and policy.
In contrast, the French system is to consult only once the basic strategic decisions have already been made by elected officials. Residents can influence implementation details, but not (usually) whether or not the project goes ahead.
I actually felt proud that Canadians do things in a more democratic way!
However, as I naively attended the various public information sessions, and spent six years on the board of the Durand Neighbourhood Association trying to effect positive change, I realized that the "democratic" nature of all this public consultation was largely illusory.
Although the various plans and policies were usually progressive and intelligent, they were mostly ignored by the decision makers. In fact, council and staff decisions often go directly against the recommendations of these plans.
In particular, I was shocked that councillors started dismantling the Cycling Master Plan immediately after voting to adopt it!
A Different Process
The Le Monde article illustrates a very different process. Before any studies are commissioned, the decision makers adopt an overall strategy.
France has an extensive history of making long-term fundamental strategic decisions: supporting a civil aviation industry (Airbus), focusing on nuclear energy, building a network of high speed rail lines (TGV), building a network of tolled freeways, and so on.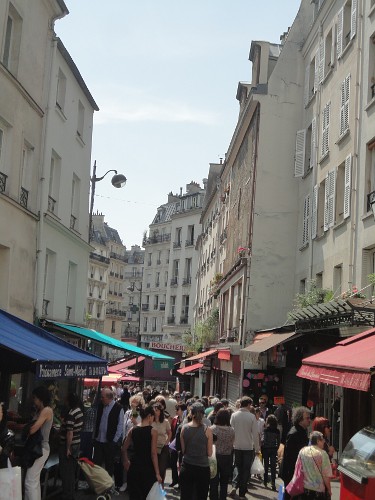 Paris: Pedestrian-only street in the Latin Quarter (RTH file photo)
One of the most recent strategic decisions has been to put pedestrians at the centre of urban planning. In the case of Strasbourg and Paris, the basic principles come from the top (the Mayor and Council), and are then implemented by engineers.
Because the French elite is dominated by engineers, they tend not to bother with "feasibility" studies. The idea is that it is the job of politicians to decide policy, and it is the job of engineers to implement the policy.
The end result is that once a strategic direction is decided, and the engineers have been given their orders, change happens quickly.
In contrast, in Hamilton and Toronto council and staff pay lip service to doing the right thing (e.g. adopting the pedestrian charter, or declaring that Hamilton is the "best place to raise a child"), but then balk at the changes that must be made to actually implement the policies they have voted to support.
The result is endless public consultation and excuses for doing nothing.
Universal Obstacles to Change
One of the most common excuses is, "it won't work here" or, "it is not in our culture: we're not Europe". It is important to remember that the first pedestrian street in France was opened in Rouen in 1971, and that even Paris did not start giving pedestrians a central place in urban planning until Bertrand Delanoë became Mayor in 2001.
Indeed, the article on Strasbourg's pedestrian initiative repeats some of the same concerns and objections we hear in Hamilton and Toronto, notably, "Le dogme 'no parking, no business' fait encore des ravages" (The 'no parking, no business' dogma is still wreaking havoc).
Merchants invariably oppose pedestrian improvements because they believe that they make all their money from motorists who need to park for free right in front of their shop.
In fact, Frédéric Heran (an economist at the Université de Lille) found that pedestrians and cyclists spend more money in downtown businesses than motorists because they are regular customers, even though they spend less per purchase.
Real Changes at Street Level
Instead of approving funding to draft a "pedestrian master plan", on January 23 the city council of Strasbourg voted unanimously to support ten "actions" that will be implemented in the next few months! Not surprisingly, these were not publicity campaigns encouraging people to walk more (as we see in Canada), but engineering changes at street level.
These changes include: opening dead end streets to allow cyclists and pedestrians to pass through; building safe and comfortable pedestrian routes in the suburban and industrial areas outside the historic downtown core; changing the timing of traffic lights at busy intersections to allow pedestrians more time to cross; widening or moving pedestrian crossings to make them more convenient for pedestrians rather than for motorists; and widening sidewalks on high pedestrian traffic streets (so pedestrians have more space than motorists).
Perhaps, instead of asking the "usual suspects" to volunteer their time and input at public information sessions, Hamilton Council could reassure residents that we are not wasting our time by voting unanimously to implement real engineering changes at street level "in the next few months"!
Post a Comment
You must be logged in to comment.