What Next For Barton-Tiffany?
Suddenly and without any public discussion, the City wants to rezone Barton-Tiffany for commercial use.
By Sheri Selway
Published September 11, 2011
The area between Barton Street and the Harbour and between Queen Steet and Bay Steet is commonly known as Barton-Tiffany. Currently, much of the land is owned by the City. Houses sit vacant, Rheem abandoned; boarded up property is fenced off with "Keep Out" signs.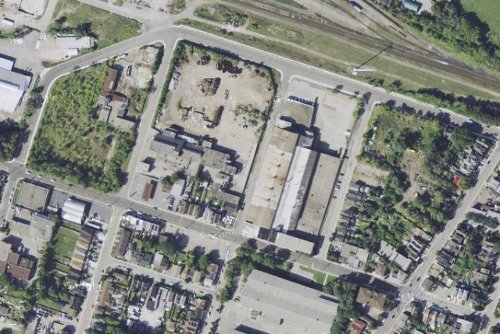 Satellite view of Barton-Tiffany
However, three modern manufacturing plants still operate, houses have been built up to the sides of the area and White Star Group is still waiting to build on Bay Street.
In September 2002, the City issued a "notice of study commencement and Public Consultation" on the West Harbour called Setting Sail. This became a lengthy planning process.
A list of "planning principles" was drawn up including: "Ensure new development respects and enhances the character of the neighbourhoods" and "Generally avoid expropriation of residential and commercial properties."
For over two years, a Community Liaison Committee made up of residents and stakeholders worked intensively to analyze the issues, provide guidance to City staff and consultants, and interact with residents. The CLC itself conducted research, hosted public meetings and attended all the City Public Information Centres.
The result was Setting Sail [PDF], a secondary plan for the North End, Barton-Tiffany, and Barton-Ferguson.
In March 2005, Setting Sail was approved by the City. Immediately, two appeals were launched to the Ontario Municipal Board (OMB).
One, by the North End Neighbourhood Association (NEN), appealed only the traffic management issues arising in Setting Sail.
The other, by CN, appealed the residential designation of Barton-Tiffany. NEN agreed to support the City in this appeal, to secure the residential intensification in Setting Sail. Also involved in this OMB appeal is White Star, who have been waiting for years for the issue to be resolved so building can begin.
However, in July 2011, the lawyer for NEN was advised that the City had changed its mind. Without public consultation, the city wants to change the zoning of about half the land to commercial to settle with CN without another OMB hearing.
Commercial? What does that mean? Small businesses? Cute restaurants? Box stores? Walmart? A mall? At a recent OMB pre-hearing, the City had no answers.
And what do "downtown" (Jackson Square, King, James) businessed think of that? How would "commercial" affect their businesses?
What happened to intensification? Already, the nearby Barton-Ferguson is another parking lot [PDF] and is subject to its own OMB appeal.
More people living in the centre of our city means more support for businesses and public amenities. Residential intensification makes our schools, churches and recreation centres stronger and safer from closures.
It is possible for the rail yard and new residents to co-exist in Barton-Tiffany - just as they do at C.P. Rail's Aberdeen Yard in the southwest near the Chedoke Golf course.
This decision by the City would make a very large piece of land in Barton-Tiffany off limits for residential uses.
This is a major change to the Setting Sail Secondary Plan - yet the City maintains there is no need to have a public discussion.
We do not agree. Residential intensification is a major, city-wide issue and is crucial to the future of central Hamilton.
For this reason, we have organized an information and discussion session for September 13, 7 PM at Workers Arts and Heritage Centre 51, Stuart Street. All are welcome.
Post a Comment
You must be logged in to comment.