Vancouver: 40 Years of Urbanism in Pictures
A series of photos to illustrate some aspects of the Vancouver Model of urban development.
By Nicholas Kevlahan
Published August 05, 2011
Editor's note: This photo essay of Vancouver serves as a companion piece to the analysis of 40 years of urbanism in Vancouver that was published on Monday.
I've tried to illustrate some particular aspects of the Vancouver Model of urban development in some photos I took while walking the streets of Vancouver. Before we take a look at the city, I'd like to make some random observations.
Vancouver is pedestrian-friendly in many large and small ways: wide sidewalks, usually with a buffer of trees or parking between pedestrians and traffic. The sidewalks are typically two or three times as wide as in Hamilton (which are often only 1.5m wide), and about five times as wide on major shopping streets such as Robson and Granville.
The downtown streets are crowded with pedestrians all day long. This was very different from the rather empty sidewalks I encountered when I'd go downtown as a child.
Walking downtown I also noticed that there are many six-storey above-ground parkades, clearly dating from the 1960s or '70s. These privately operated parkades contrast strikingly with Hamilton, which, as far as I know, has only one (municipally operated) parkade.
Downtown Hamilton has devoted most of its surface area to cheap surface parking, whereas in Vancouver people are used to paying for parking and use the space more efficiently.
The fact that Shopper's Drug Mart and Tim Horton's are common in both cities (okay, Timmies is not quite as common in Vancouver) gave me a chance to compare commercial urban design directly.
In Hamilton, most Tim Horton's are drive-thrus (and many are drive-thru only), and Shoppers has adopted a suburban model throughout the city, with entrance from the parking lot and the windows on the street side blocked entirely by large posters.
In Vancouver, I didn't see a single drive-thru Tim Hortons, and the Shoppers are regular ground floor shops with windows and doors on the street. These chains manage to build proper urban stores in Vancouver; I'm sure they could in Hamilton too!
I'd now like to mention two socioeconomic observations. I hesitate slightly, as both are fairly sensitive issues, but the contrast with Hamilton is so striking I can't really avoid mentioning them.
There are far fewer obviously overweight and obese people, and in my ten days of roaming the streets (in wealthy, middle class and poor neighbourhoods alike) I only recall seeing two people riding electric scooters.
As other studies have found, I suspect that these differences are primarily due to the active, healthier lifestyle that is encouraged by a high density, pedestrian-friendly urban design. Other socioeconomic factors may be at play, but given that Vancouver has the highest poverty rate in Canada (significantly higher than Hamilton), and a large elderly population, a more active population would seem to be the most likely explanation for the difference.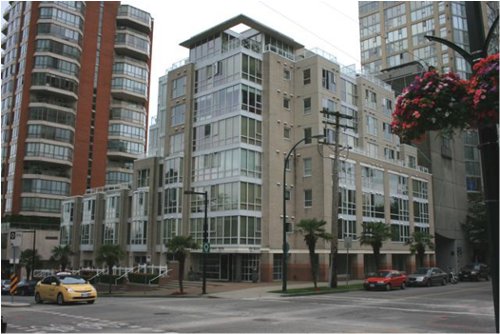 Our hotel at 910 Beach Avenue at the southern end of Hornby below the Granville and Burrard Bridges. Notice how the hotel blends into the surrounding residential neighbourhood. This area used to be a sort of no-man's land of industrial brownfields, garages and warehouses.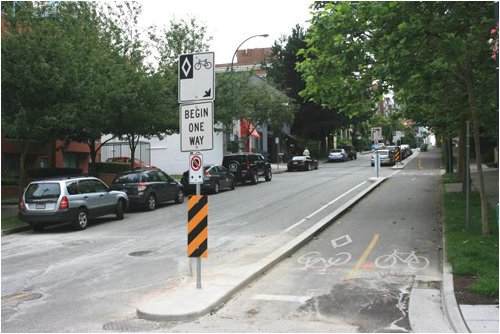 New two-direction physically separated bike lanes at the south end of Hornby Street. This is the way to make a one-way street pedestrian friendly: wide side walks with a double buffer of trees and parking/cycle lane.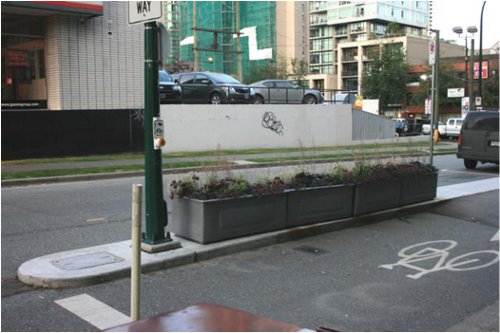 Another new bike lane, this time on Drake Street. Note the signal button for cyclists and street parking.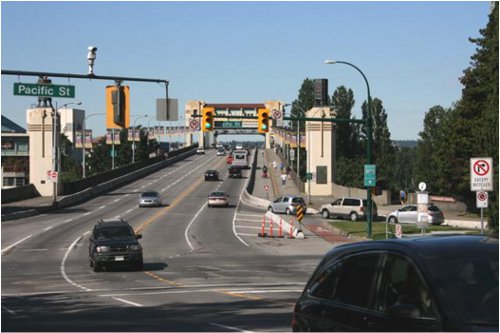 Bike lane pilot project on Burrard Street Bridge.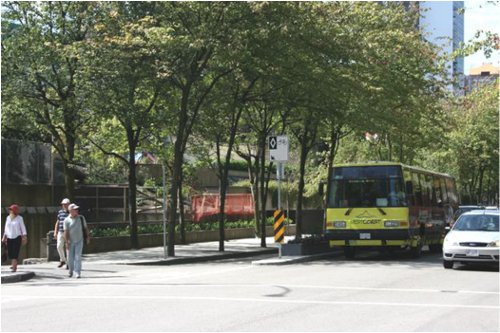 The Hornby Street bike lane at Robson square, the centre of downtown.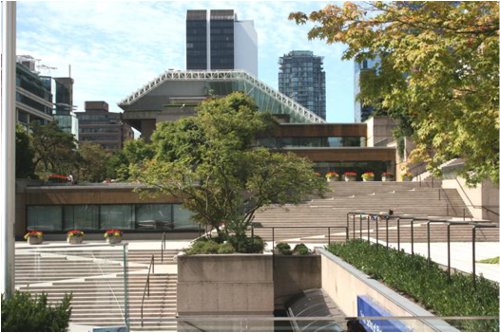 Robson Square: still looking fresh after 30 years.

All summer long open streets on Granville. Note the absence of police officers controlling traffic and the simple barriers. Viva Vancouver is bringing open streets to many Vancouver neighbourhoods all summer long.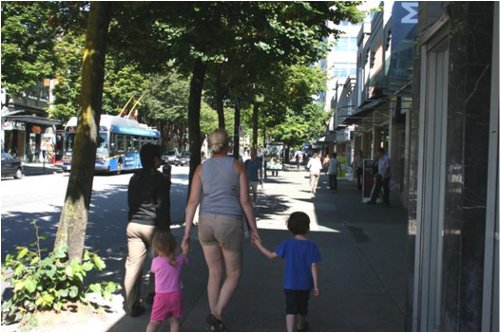 Wide sidewalks with trees and park as buffers make Robson an attractive pedestrian street (especially for children).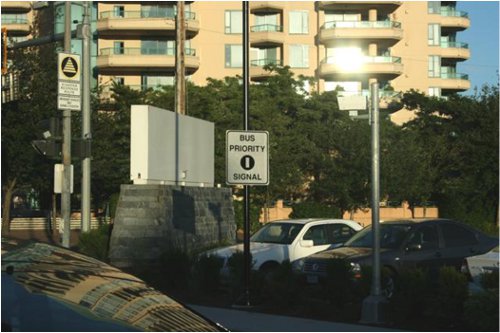 Bus lane with signal priority in West Vancouver just before the First Narrows Bridge.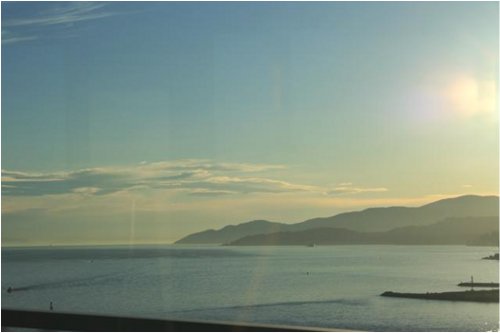 Lighthouse Park and Howe Sound from First Narrows Bridge (from the bus).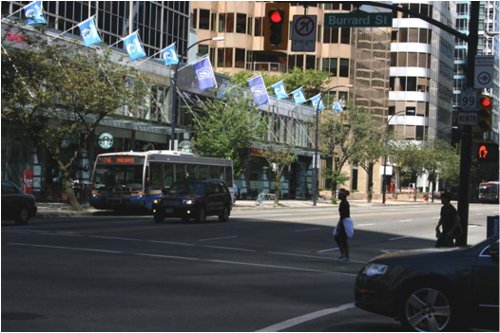 Georgia St at Burrard St in downtown Vancouver. Two of the six lanes on Georgia are now bus/HOV. And in Vancouver HOV means three or more occupants!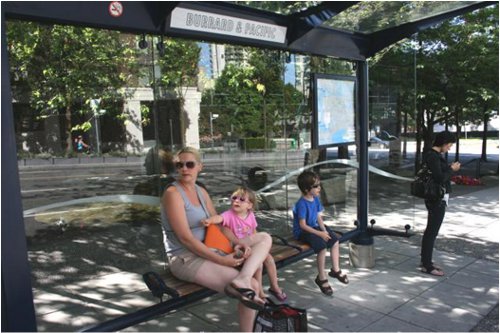 Bus stops are large, attractively designed and feature the name of the stop.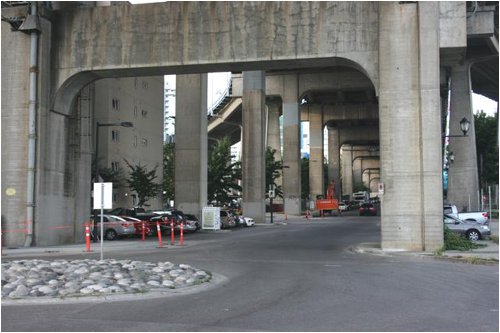 Under Granville Street Bridge. It is remarkably free of graffiti.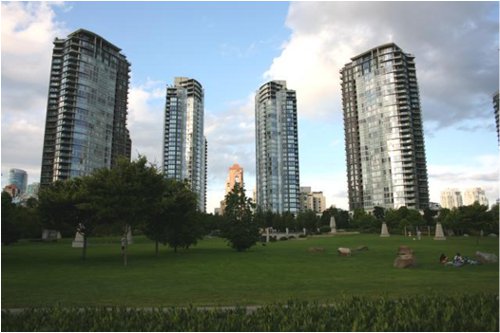 High density development on the North Shore of False Creek with an attractive urban park (George Wainburn Park).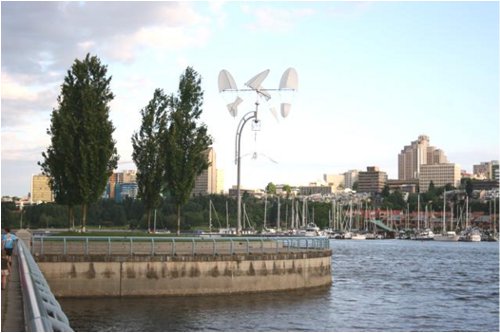 A kinetic wind sculpture on the seawall at George Wainburn Park. The lower density 1970s development on the South Shore of False Creek can be seen in the background.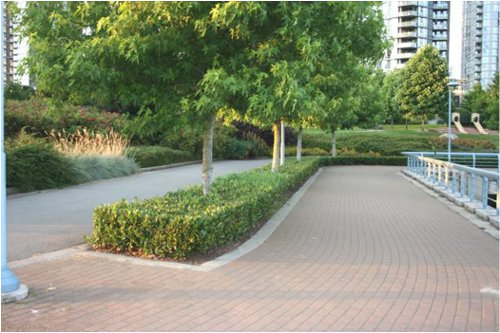 Separated pedestrian (to the right) and bike (to the left) paths on the seawall at George Wainburn Park. This physically separated design was developed after many years of trial and error to reduce conflict between cyclists and pedestrians. At first they shared the path, then a yellow line was painted down the middle and finally they decided a separated design was the only good solution.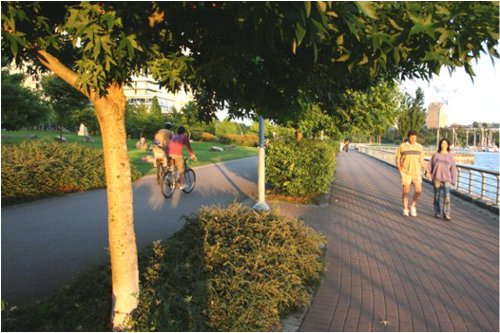 Peaceful coexistence of cyclists and pedestrians.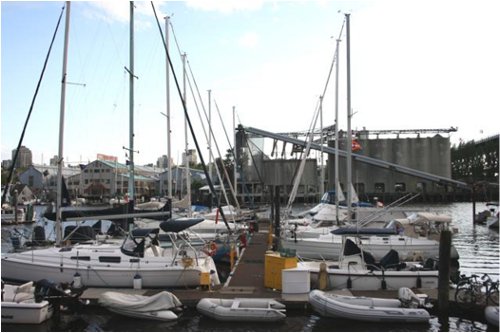 A cement factory: the last remaining heavy industry on Granville Island. This was once Vancouver's North End!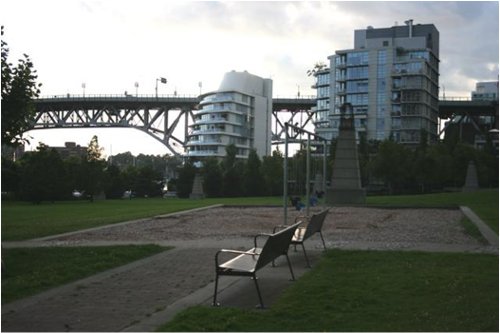 Mid rise apartment buildings next to Burrard Street Bridge on the North Shore of False Creek.
Post a Comment
You must be logged in to comment.