Bike Safety as Social Justice
It's time to get serious about engineering our city for bike safety, not because it's the trendy 'hipster' thing to do, but because so many Hamiltonians of limited means depend on bikes to travel without getting maimed or killed.
By Jason Allen
Published July 08, 2011
A comment on Sean Burak's great column on Bicycle Safety led me to believe that maybe it's time to think differently about the topic, and what compels us to make Hamilton safer for those on two wheels.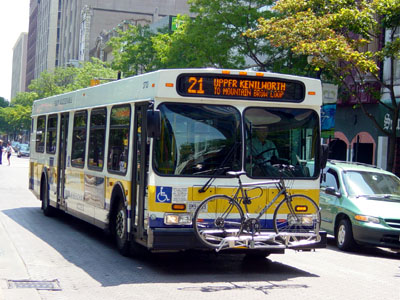 HSR bus with a bicycle on the rack (RTH file photo)
In the comment, Daniel Rodrigues refers to determining whether a rider is "responsible" or not by whether or not they wear a helmet. The remark was made that he "can honestly say that I've never seen a cyclist carrying a coffee whilst smoking a cigarette wearing a helmet," although he does express the wish that more such people would indeed wear one.
This led me to wonder if the whole cycling safety argument needs a different slant.
The fact remains that in Hamilton, for nine months of the year, it is possible to cycle daily with relatively little inconvenience from the weather. The snow really doesn't get ugly here until December, and by the end of March, we have usually seen the worst of it.
Note too, that a monthly pass on HSR costs $87.00. For someone working a minimum wage job part-time, this would represent a substantial chunk of their monthly take-home, to say nothing of what it would do to someone earning the $560 maximum for a single person on Ontario Works.
At that point, it becomes an attractive option to spend $20 for a beater bike on kijiji or through a friend. That and a little sweat gets you basically free transportation from April through December.
Don't believe me? Look around the downtown core. If you haven't noticed the steep increase in the number of helmetless riders balancing a cigarette and a coffee since the original gas price spike in 2008, you haven't been paying attention.
I'm not saying all such riders have no choice but a bike, but the increase in their numbers since the economy tanked that fall would certainly suggest it.
Affordable Transportation
It's time to address the fact that for a significant portion of Hamilton's underprivileged population, a working bicycle represents not a lifestyle choice, or a 'statement about ecological commitment', but the only affordable way to get from point A to point B, when said points are too far to walk conveniently.
At that point, doesn't engineering our roads to be safe for bicycles go from being a 'pet project of the enviro-elite' (as some would allege) to being a serious social justice issue about leveling the playing field between either ends of the Code Red spectrum?
But we also need to take into account the already enviable number of bike lanes we have downtown, compared to their relative scarcity on the Mountain. Some downtown dwellers (and perhaps Councillors as well) view the Mountain as a single homogeneous middle-class blur of SUVs and backyard pools. The fact remains, however, that there are pockets of serious economic challenge all across Hamilton.
A person living in a subsidized housing complex near Upper Ottawa will have no easier or safer journey getting to their job near Limeridge mall by bike than will someone near the Centre on Barton getting to Jackson Square.
City-Wide Issue
Any credible tackling of cycling safety from an urban planning standpoint needs also to address the fact that this is not only a downtown or lower city issue, and that for many on the mountain, having a safe way to travel by bike would be an act of financial liberation.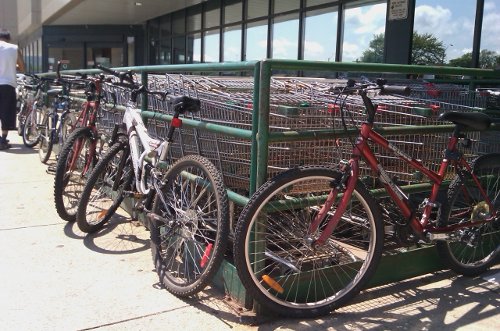 Bicycles parked in front of a grocery store (RTH file photo)
Similarly, for all the talk of food deserts in the lower city, the fact remains that for someone living on stretches of Rymal Road, their neighborhood is just as much a food desert as the downtown core without access to affordable, safe transportation. Especially when the cost of a strip of bus tickets would have to be deducted directly from the food budget in question.
Cycling as an elitist tree-hugger pastime is a straw man I would like to incinerate once and for all. For a great number of Hamiltonians, riding their bike to and from work, shopping, or other locations isn't a choice, it's a necessity, the alternative to which is transit costs they can't afford, or simply staying home.
It's time to get serious about engineering our city for bike safety - separated bike lanes, continuous bike lanes, two way streets, and the like - not because it's the trendy 'hipster' thing to do, but because so many Hamiltonians of limited means depend on bikes to help them get to school or work without getting maimed or killed.
Post a Comment
You must be logged in to comment.