Light Rail Needs Leadership From Mayor
If our own Mayor still doesn't clearly support LRT, we are going to lose out to our neighbouring competitor cities, who are better able to enunciate their priorities clearly and forcefully.
By Nicholas Kevlahan
Published July 05, 2011
this article has been updated
A Spectator article last week suggests that Mayor Bob Bratina may no longer support LRT:
In an interview, Bratina said the city's current unemployment rate of 5.4 per cent shows the economy is performing well and that shows the city is on the right track.

On the thorny transit issues, he said he's fully supportive of expanded GO service, but has reservations about the LRT plan. He also doesn't think there's wide public support for the plan.

"We still haven't figured out what all the costs of that are going to be," he said. "We're not hearing any kind of clamour from the public on that file."
I was confused and disappointed by this report, and hoped he had been perhaps misquoted. After all, Bob Bratina strongly supported LRT when he was Ward 2 Councillor, and when Council voted unanimously to endorse Hamilton's LRT bid. In fact, Bratina even hosted Hamilton Light Rail's packed-out LRT information night on April 1, 2008.
I was particularly surprised by the claim that there is no public "clamour" for LRT in Hamilton. Bob himself had seen hundreds come out for that public meeting about rapid transit on a rainy evening three years ago. Metrolinx has called the public response in Hamilton "unprecedented".
The LRT project has the official support of many neighbourhood associations (including Durand, Kirkendall and Ainsliewood/Westdale), the Chamber of Commerce, the Realtors, several BIAs, Clean Air Hamilton, McMaster and the Spectator Editorial Board.
In fact, City staff can't recall any other initiative with such widespread support and resident participation, uniting business, environmental, social action and neighbourhood groups. The Rapid Transit team has held dozens of open houses, and received thousands of comments, and the vast majority have been highly supportive.
What more evidence do we need?
I have strongly and actively supported LRT for Hamilton for many years now. As a founding member of Hamilton Light Rail, and as a member of the City's Rapid Transit Citizen's Advisory Committee, I have seen firsthand the enthusiasm of hundreds of Hamiltonians from all walks of life for LRT.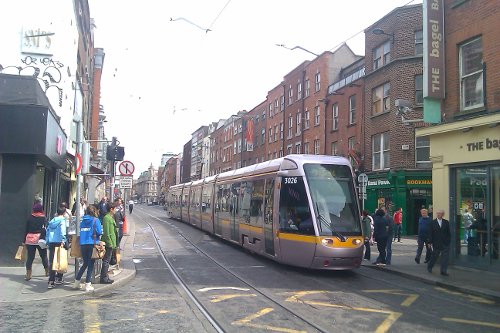 Dublin Luas LRT (RTH File Photo)
Shift in Thinking
I contacted the Mayor asking for clarification on whether he still supports LRT, or was somehow misquoted. He kindly responded with some clarification of his shift in thinking about LRT.
This is a big, expensive and potentially controversial project, and I now better understand (although I disagree with) Bob's reticence, and preference for all-day GO over LRT. Here is my interpretation of the reasons for the Mayor's reluctance to champion LRT:
1. Risk minimization. Since LRT involves disruption during construction, possibly significant investment from the City and a major change in how we see the City, Bob sees it as all very risky.
In contrast, all-day GO service would involve no investment from the City, no disruption during construction and no change in the way we see the City.
A "go slow" approach on LRT minimizes the maximum risk, although it also minimizes the benefits to the City. Perhaps Bob saw the price paid by former Mayor Eisenberger for championing an evidence-based solution on the stadium, and is understandably concerned about an even bigger (and more important) infrastructure project.
2. Zero property tax increase. So far, Bob's signature policy has the been a zero property tax increase. Although this policy will do little to improve Hamilton, he feels (probably rightly) that it resonates with voters. Bob is worried that committing to LRT could force him to do a u-turn on the zero tax increase promise.
3. Fear of failure. Bob has been reading reports from Scotland describing controversy and delays with Edinburgh's LRT, and so, despite the dozens of success stories in Europe and North America and all the careful consultation and planning work done by the Rapid Transit Team, Bob is concerned that LRT won't be done right here in Hamilton.
This 'do-nothing' approach is increasingly popular in Canadian cities. Although risk-minimizing in the short term, this strategy is gradually and inexorably eroding the economic dynamism and quality of life of our cities.
Prudent, Evidence-Based
I agree that the Mayor and Council must make a prudent, evidence-based decision. Metrolinx and the City have been investigating LRT for years now, and have published numerous studies and consulted the public widely.
The City is now spending $3 million in provincial money and hundreds of thousands in City money to do a detailed design and land use study of the proposed LRT alignment.
These studies all agree that LRT will provide a big net economic development benefit, as well as being a future-proof investment in our transportation infrastructure.
I am concerned that if our own Mayor still doesn't clearly support Hamilton's LRT project in principle, despite its economic development benefits and broad community support, we are going to lose out to our neighbouring competitor cities, who are better able to enunciate clearly and forcefully what their priorities and interests really are.
It is clear that the campaign for LRT is not over, despite the fact that Hamilton City Council voted unanimously in favour of pursuing LRT as Hamilton's preferred rapid transit solution.
The Council vote was a decision that the LRT is the only Rapid Transit technology the City would be considering, i.e. it is the preferred solution. We should be discussing the best way to implement LRT, and whether it can be financed affordably - not whether an LRT system is a good idea.
Unlike the case in Waterloo, Metrolinx has indicated that they would pay all direct costs of Hamilton's LRT system. Hamilton could also minimize the impact to property tax rates by using Tax Increment Financing, which has recently been permitted in Ontario, and the Rapid Transit team is exploring a variety of other funding mechanisms.
Show Your Support
The most important action that supporters of LRT can take now is to remind our Mayor and Council that the public is still "clamouring" for the economic and social benefits LRT will bring to Hamilton.
If you support LRT, please email or phone the Mayor and Council and tell them that you want to add your voice to the thousands of Hamiltonians who support this vital initiative for Hamilton's future.
We need to give Mayor Bratina and the rest of Council a clamour they can't ignore!
Bratina's Statement
Here is the full text of Mayor Bratina's response to me:
We are completing our mandated Planning, Design and Engineering study for LRT and approaching the time of critical decision. Council will base its decision on answers to a number of questions upon which the success of the project will hinge. Simply put risks will be measured against rewards, based on analysis and evaluation of information accumulated through the process.

The critical missing piece to date is financing and the local contribution that would likely be required. Since our Council is committed to a four year plan of zero tax increases in a sustainable regime of service delivery, and no commitment has yet been made by Council the Waterloo case provides a helpful funding model for our consideration. I have copied it below.

My personal enthusiam for LRT is tempered by certain realities involving risk. The current example of Edinburgh Scotland's LRT project can be studied through many links including the following:

http://news.scotsman.com/transport-news/Edinburghs-disgrace-II-Tram-fiasco.6783582.jp

Hamilton's current estimated cost is $830 million (2008) dollars. Below is the analysis provided for Waterloo Region. This is one of many pieces that will guide Council in its decision on LRT.

Respectfully,

Bob Bratina,

Mayor, City of Hamilton

LRT: What will this cost me?

Construction: $818 million. This includes estimated inflation impacts until the launch of construction in 2014. Senior governments are paying up to $565 million, leaving $253 million to local taxpayers.

Operating subsidy: $13.7 million a year in 2017 declining to $9.1 million a year by 2031.

Local tax impact: Council is considering an increase of up to 10.5 per cent in regional taxes, phased in between 2012 and 2018. This pays for rail transit construction and operating costs and expands bus service by 25 per cent to support rail transit.

Over seven years an average home (assessed at $254,000) would pay a total of $700 as tax increases are phased in. By 2018 annual taxes on an average home would be $175 higher than today.

However: Council will consider an alternate financing plan to increase regional taxes by seven per cent, phased in between 2012 and 2018. This pays for rail transit construction and operating costs and expands bus service by 25 per cent. Funding for the remaining transit costs would be paid out of tax savings from other programs.

Over seven years an average home would pay a total of $450 as tax increases are phased in. By 2018 annual taxes on an average home would be $113 higher than today.

For comparison under this option, a home assessed at $400,000 would pay a total of $709 over seven years as tax increases are phased in. By 2018 annual property taxes would be $177 higher than today.

Can the tax impact on existing homes be further reduced?

Politicians could seek to increase development charges on new buildings. This would need provincial approval. They could also designate new taxes from new buildings to the project.
---
Update: The article has been updated to add a paragraph. You can jump to the added paragraph.
Post a Comment
You must be logged in to comment.