Lessons From The Summit, Lessons From The Past
As we hear from urban experts about what Hamilton must do, I wonder: are we prepared to take their advice even if it means major, possibly even painful change?
By Adrian Duyzer
Published May 25, 2011
I attended the Hamilton Economic Summit on May 12, 2011. This was my second time attending the Summit (I wrote about the experience last year too). This year's keynote speaker was Christopher Leinberger, an "urban land strategist and developer", whose topic was walkability.
You can read a summary of Leinberger's thoughts on walkability here. In summary, Leinberger points to compelling evidence that demand for walkable urban neighbourhoods is greatly increasing. At the same time, these neighbourhoods are the favoured places to live for the creative class. Fail to provide those walkable urban neighbourhoods and you risk seeing people head to places that do.
Given my interest in the subject of walkability, I was intrigued to attend this year and prepared some questions on the subject. Unfortunately, although some positive changes to the format of the event were made this year that made asking questions a little less intimidating, there were still minimal opportunities for interaction, and the "open discussion" periods listed on the agenda never materialized.
As a result, my questions went unasked, but their theme is something I've been dwelling on since the summit.
Just like last year, this year's Summit was notable for the intensely positive picture it portrayed of Hamilton. Like many people in Hamilton, I'm very optimistic about our future, and I feel the energy too.
At the same time, I worry that we'll do the opposite of what we're told.
At last year's summit we heard from Storm Cunningham, who told us that the Pan Am Games stadium must be built at the waterfront, and must be an engine of revitalization: "The Pan Am Games can trigger revitalizing critical mass (assuming the stadium is downtown) if it is accompanied by a program of renewal."
We all know how that turned out. But the experience taught us a valuable lesson, which is that a dedicated opponent can derail an entire civic process. We would be wise to be aware of other dedicated opponents that might emerge to stop, weaken, defer or subvert plans to make Hamilton a walkable city.
Consider, for example, the City of Hamilton's Traffic Engineering Department.
I can think of numerous decisions that people in this department have made that favour cars to the detriment of pedestrians, but there is one in particular that has a particularly tragicomic, Kafkaesque quality.
The neighbourhoods adjacent to Aberdeen Street, between Dundurn and Queen, are lively and full of young children and growing families. They also host a fair amount of vehicle traffic traveling between the 403 and the Queen Street access.
As a result it can sometimes be difficult to cross Aberdeen, particularly between Locke and Queen, a stretch which is about 420 metres long. At the centre of this section lies Kent Street. Kent is a natural corridor between the HAAA park and the blocks south of Aberdeen, so residents asked the city to install a pedestrian-activated stoplight with a crosswalk there.
Instead, the city installed these signs, one on each side of Aberdeen: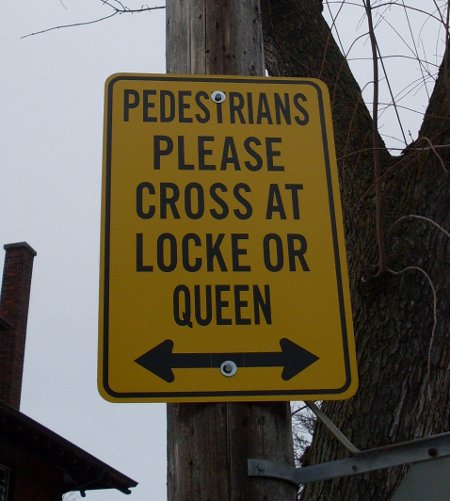 "Pedestrians, please walk 500 metres to cross this street."
Residents were dissatisfied with this "solution" and started a petition to continue to press for a pedestrian-activated stoplight. At last count the petition, which is supported by Councillor Brian McHattie, had garnered 436 signatures.
However, the Traffic Engineering Department has again refused to install the stoplight, this time based on a study they conducted: they counted the number of pedestrians crossing Aberdeen during a seven-hour period, and found that the number, 40, is less than the minimum of 100 pedestrians per seven hours required by city policy.
I don't know which day they conducted the study on, but given the run of appalling weather we've experienced, chances are it was raining. But the real absurdity here is that they installed a sign telling pedestrians to cross at Locke or Queen and are now refusing to install a stoplight because apparently people obey it.
Consider the combination: recent reports about Hamilton police nabbing jaywalkers, large signs instructing you not to cross a street, and municipal employees monitoring you. Is it unrealistic to posit that the study may suffer some quality problems?
That said, even if the study was entirely accurate and only 40 or 50 people cross per day, why not install a stoplight anyway? Doing so is clearly supported by local residents and it's their neighbourhood.
Is asking drivers to wait 15 or 20 seconds to allow a child to safely cross a street really such a bad thing? Are our policies really so unbendable that we cannot do something that is inexpensive, enhances safety and improves walkability and has the support of residents and their democratically elected representative?
I'm not buying it. It's ridiculous, and if we're going to create walkable city we need to start by changing the Traffic Engineering Department.
Then there is the group of established businesspeople and developers whose interest is best served by maintaining the status quo. This group is typified by people like Ron Foxcroft and Ed Fothergill.
As CEO of Fluke Transportation Ltd., a trucking company, Foxcroft does not hesitate to promote his vision of a sprawl-driven, highway-centric economy. This is not a big surprise: Foxcroft is a trucking magnate, so more highways are clearly in his best interest. But are they in our best interest?
In an opinion piece published in the Hamilton Spectator on May 11, Highway would ensure our future, Foxcroft argues that building the mid-peninsula highway between Hamilton and Niagara will bring "endless opportunites" to Hamilton. In the same article, he says that building the Linc and the Red Hill Valley Parkway have allowed the "opening of a wide range of residential and commercial development on the eastern side of the City."
The key words here are "residential development", i.e. sprawl. Building highways lets us create and support suburban sprawl. The problem is that Hamilton cannot support the endless expansion of our boundaries and the revitalization of our core.
Ed Fothergill is president of Fothergill Planning & Development Inc., based out of Ancaster. He was a panel speaker at the Summit, where he was asked to talk about next steps in Hamilton's industrial corridor in the north end. This set the stage for one of the most memorable moments during the summit, when Jeremy Freiburger from the Imperial Cotton Centre of the Arts and the Cossart Exchange confronted Fothergill after he said that industries ought to be able to build on greenfields at Hamilton's edges.
"Is it not incumbent on industry to clean up their properties when they are finished with them?" Freiburger asked. He pressed on, making the case that it is unacceptable for industry to continue to build on greenfields when there are numerous contaminated brownfields in the core. "We need to allow both," replied Fothergill.
Curiously, although Fothergill's topic was the north end, he probably spent just as much time discussing greenfield development. The word he used was "growth", which is clever, given its connotation of health and vitality. In practical terms, though, growth in Fothergill's context means sprawl.
Both Foxcroft and Fothergill sing the same siren song, which is that Hamilton can have it all - both endless expansion and growth on our boundaries, and a vital core with healthy, well-maintained infrastructure.
The problem is that this is not true. Our massive infrastructure deficit and our growing problems with sprawl development (such as water runoff) demonstrate that Hamilton needs to make a choice. Either we choose sustainable, dense development within clearly established and respected boundaries, or we allow ourselves to be choked by endless sprawl.
Lastly, there are those people who believe that Hamilton and particularly downtown have failed and cannot be rescued. Their cynicism about their hometown shows us that the biggest enemy of Hamilton's transformation may be Hamilton itself.
A few days ago, I read a letter to the editor in The Spec from someone who believes that the reason we don't have better jobs in the city is because we have bike lanes on York Boulevard. Or consider the letter from the guy who thinks downtown is full of "prostitutes running around" and that the reason it is more walkable than other areas is because "a large portion of the populous there cannot afford to drive".
Unfortunately, many Hamiltonians are ashamed of their city. There is certainly room for Hamilton to improve, but that's the point: our city is a work in progress. The same can be said of any city, and the only way the work gets done is by figuring out what needs to happen and investing time, money and effort into making it so.
It will be difficult to convince the most cynical and discouraged Hamiltonians that they ought to spend millions of dollars and suffer through the inevitable inconveniences of construction projects in pursuit of urbanist goals like walkability. But nothing breeds confidence like success, and everyone wants to be proud of their city.
Given an opportunity to see positive, transformational results, could Hamilton's biggest detractors become our most stalwart boosters? Or will they continue to be what Richard Florida - another past Summit speaker - called "squelchers"?
As we hear from urban experts about what Hamilton ought to do and must do, I wonder: are we prepared to take their advice even if it means major, possibly even painful change?
Are we prepared to take immediate, practical steps at the street level to promote walkability, even when our traffic engineers disagree, even when our community leaders protest, and even when many of our citizens say it's just not worth investing in?
Post a Comment
You must be logged in to comment.