A Fast-Track to Failure: Council Promises to Vote on Airport Lands Before Election
Air transport is a risky growth strategy in an energy-constrained future, and uses that are not airport-related do not need to be near the airport. So why are we still determined to open up the Airport Employment Growth District?
By Ryan McGreal
Published June 29, 2010
With Council's recent decision to fast-track a vote on the City's planned Airport Employment Growth District (AEGD), we appear determined to make the colossal mistake of betting hundreds of millions of dollars on a vast new industrial park on farmland around Hamilton International Airport (HIA), no matter how rapidly the economic case for such a gamble crumbles before our eyes.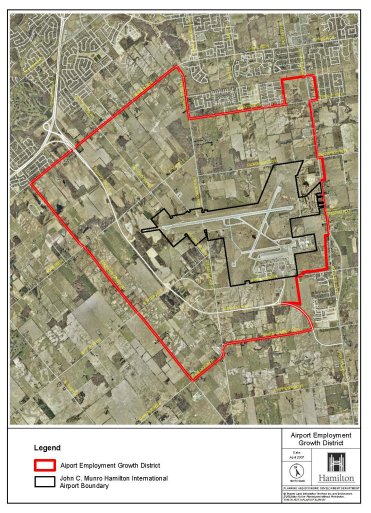 AEGD Study Area as of 2010-06 (click image to view original PDF)
City staff plan to hold three public information centres about the plan - on July 15, August 3 and September 8 - and Council will vote on it before the upcoming municipal election. (Contrast area rating, which council voted to defer until after the election.)
The AEGD proposal has been kicking around in one form or another since it was introduced in 2002 as an "aerotropolis", or an airport-based city. The space-age term comes from John Kasarda, Professor of Entrepreneurship at the University of North Carolina at Chapel Hill's Kenan-Flagler Business School.
Kasarda argues that cities accrete around the goods transport mode of the age. Eighteenth-century cities grew around ports, nineteenth-century cities grew around rail nodes, twentieth-century cities grew around highways, and twenty-first century cities are growing around airports.
In the aerotropolis economy, the three As ("accessibility, accessibility, accessibility") replace the three Ls ("location, location, location"), as high-tech companies leverage proximity to the airport. It sounds impressive, and Kasarda's description is nuanced - a dense, diverse, well-planned, and even aesthetically pleasing mix of complementary facilities and amenities all based around access to the airport and, hence, to worldwide just-in-time markets.
Airports in an Energy Constrained Economy
But it all hinges on the continued viability of airports as goods transport nodes in the emerging age of permanent oil scarcity and declining global production. An April 2007 essay by Michael B. Charles et al. argues that the aerotropolis model "has not yet been critiqued adequately, especially form a long-term public policy and planning perspective."
[T]he oil-fuelled aerotropolis of today and the immediate future, as presently envisaged according to Kasarda's "business as usual" (BAU) scenario for future aviation ... ostensibly represents an investment in an unsustainable mode of transport, powered by an unsustainable fuel source, transporting unsustainable components (many low-weight, high-value components are petroleum derived). Thus the increased emphasis on air transport vis-a-vis terrestrial forms of bulk transportation, especially shipping, carries with it the threat of focusing too much of our energy on a transport system that may not necessarily survive in its present form. [emphasis added]
Global oil production has already been stalled at 85 million barrels a day for the past five years, which strongly suggests that we're in Peak Oil today. When the current economic recovery pushes demand for oil back up toward that threshold, the marginal cost to produce an additional barrel will skyrocket and another super-spike in the price of oil may well send the economy tumbling back into recession.
Kasarda himself still believes aerotropolis has good long-term prospects. When I asked him about the effects of rising oil prices last year, he responded that aviation "is a structural process with its forecasted growth not likely reversed in the longer-term through even higher oil prices than present." He noted that the industry survived the oil crises of the 1970s.
Yet those crises were political in origin, and today's crisis is geological: half the oil is gone, the easy-to-reach half. Oil is already trading in the $80-a-barrel range as the global economy crawls out of the sharpest, deepest recession in seventy years, and air transport is still a "very fragile" industry.
A future of high, volatile fuel prices will mean that only very large airplanes, like the Airbus A-380, will remain viable through sheer economies of scale. Those giant planes will only be able to fly between major metropolitan centres that have airports big enough to handle them and are distant enough that alternative transport modes are infeasible.
The air transport prospects for smaller, regional centres like Hamilton are very poor by comparison. As it is, HIA had a million passengers in 2002, but that number fell to half a million by 2009, and is likely to fall again now that WestJet has announced further cuts in flights coming into Hamilton. Only 13 flights a week to Calgary will remain.
Not Airport Related
It's at this point that AEGD supporters and apologists tend to shift focus and claim that the developments around the airport - on what currently looks to be about an 809 hectare (2,000 acre) study area, though the size of the area seems to be in flux - doesn't necessarily have to be airport-related.
This goes back to Council's 2005 deliberations on the aerotropolis plan, during which Councillor Sam Merulla claimed, "Airport related development is bad, but non-airport related development around the airport is good."
Former Mayor Larry Di Ianni was more nuanced in a 2005 interview with RTH, in which he stated:
Whether we develop an aerotropolis or not, planes are going to land, planes are going to take off. Can we find some, some, opportunities for some activities around the airport that will complement that side of the operation? A head office, perhaps. An operation that flies in and out of whatever that might use the airport and also benefit the community, create some jobs there. A hotel use, with some recreational or restaurant uses. An industry, a high-tech manufacturing or some sort of knowledge-based industry that will be copacetic with the airport but quite independent in terms of the pure operation from the airport as well.
More recently, a Hamilton Spectator editorial supporting the AEGD plan stated:
We're talking about agricultural land in the general area of the airport that will be re-zoned so it can be converted to land that will attract business and create new jobs.

Yes, these would include businesses such as aircraft hangars, shippers and freight warehousing, but also businesses as diverse as auto sales, veterinarian clinics, restaurants, fitness clubs and hotels.
Careful readers may be forgiven for wondering why "auto sales, veterinarian clinics, restaurants, fitness clubs and hotels" need to be next to the airport if they are not airport-related. Indeed, if the proposed uses of the land are not dependent on access to the airport, there's no reason whatsoever why they need to be proximate to the airport!
Rezone First, Ask Questions Later
It's not as if Hamilton has a shortage of contiguous greenfields zoned for industrial use. In fact, Hamilton has been rezoning existing highway-accessible industrial lands for residential and big-box commercial use, in part under the threat by developers of taking the issue to the Ontario Municipal Board. This, despite the fact that the OMB has actually been ruling in favour of cities that fight against rezoning.
But it's not in Hamilton's nature to change its mind when the facts change. In presenting his landmark peak oil report Hamilton: The Electric City to Council in 2006, transportation planner Richard Gilbert observed:
There is a certain amount of thinking [in Hamilton] of putting the land first and then wondering how to fill the land with jobs. What I'm proposing is an alternative way of going about it, which is figuring out what you want to do and then after you've defined it a bit, what the lands are for that particular thing.
Gilbert particularly drew the city's attention to its abundant already-existing brownfields, which he considered an excellent opportunity to develop the kinds of small-scale, entrepreneurial, job-creating industries in energy innovation that would provide Hamilton's best chance to turn the challenge of peak oil into an opportunity.
The city responded by redefining brownfields out of existence and insisting that Hamilton's only employment prospects involve warehousing and logistics around the airport.
Chamber Steps Up AEGD Campaign
Richard Koroscil is the President and CEO of John C Munro Hamilton International Airport. The City of Hamilton owns the airport, but has contracted the management of the airport to TradePort International Co. since 1996, in a deal that has generated controversy over its secretive terms. Koroscil joined TradePort in 2003 and became CEO of the airport later that year.
Koroscil is also the current chair of the Hamilton Chamber of Commerce, and one of the Chamber's major projects is to promote the development of the AEGD and to make it an election issue in the upcoming municipal election.
On the announcement of his Chamber chairmanship in March, Koroscil stated, "We're not going to be just the voice of business in Hamilton; we're going to be a voice that's listened to." Since, then, the Chamber has gotten more aggressive about its "jobs and prosperity agenda" - with the airport lands in a place of prominence.
In an opinion piece published in the Spectator on June 25, Koroscil wrote, "We're not shy about saying we want to influence the course of the election and see candidates elected who will respond to the needs identified."
A Chamber-sponsored survey of Hamiltonians' priorities found that the top issues are taxes, jobs and prosperity, health care, and downtown revitalization. Where the harebrained scheme to rezone 800 hectares of farmland around the airport - at an uncalculated but astronomical cost in infrastructure servicing - fits into this priority list is anybody's guess, but the Chamber is determined that "jobs and prosperity" should mean "development around the airport" among voters.
Post a Comment
You must be logged in to comment.