Memo to Brantford: Hamilton Heritage Demolition 101
The process of decimating heritage, though it appears to be swift and easy, is a long-drawn and rigorous affair. We should know; after all, we wrote the manual on this.
By Mahesh P. Butani
Published February 22, 2010
Memo
To: The People of Brantford
From: The People of Hamilton
We can only tell you this: the path you have chosen for your heritage buildings on Colborne Street is the path we have been trying to get off for the last forty years.
The process of decimating heritage, though it appears to be swift and easy, is a long-drawn and rigorous affair. We should know; after all, we wrote the manual on this.
Our audacity to destroy our heritage was built painstakingly over years on substantive scientific principles, such as: slow leaking roofs, open windows, pigeon poop, popping walls, and our latest innovation – the pancaking floors.
Your unprincipled approach has left us in a state of shock. You just cannot rush such matters without following the proper protocol that we have developed exclusively for the task of erasing heritage and memory.
For a while, you seemed to have all that we craved: a buzzing industrial park on your edge; a super-smooth parkway from the highway into town; a downtown with a cool theater and many more cooler cafes; and best of all, live students and classrooms in your core.
Besides that college you snagged, which rightfully belonged to our core – you were doing just great!
Now having got all this, you want to smash it to bits? Why!?
We know that it is not our place to ask such a question. After all, we are presently sitting out here in the middle of a fresh pile of hundred-year-old bricks.
But trust us: we started out the same way, and before we knew it, we did not know how to stop! We kept going, block after block after block.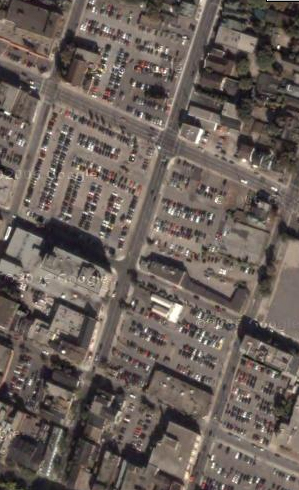 Block after block after demolished block (RTH file photo)
Today, the only history that we are left with is on our websites and we take great pleasure in saving this by right-clicking the images, just in case even the websites are taken down.
So if you insist on undertaking what you think is a long overdue correction, we are here to guide you in any manner you wish – as you really would learn a thing or two from our people.
Firstly, given the awkwardness of your approach, could there be a possibility of an administrative goof up with your demolition order? Seriously - from the looks of things there, we feel it is the botox-laden north side of Colborne that is begging for mercy - and not the gracefully aging south side. But it is your call.
Next, here are some pointers from our very popular Demolition 101 class: Never ever attract attention to yourself. You merely give permission to destroy based on reports of unknown specialists, and then offer a public sigh!
And for godz sake you do not ever indicate that it was your idea backed by a council order! The council never ever should know anything about such things.
Trust us. We know how to make this work.
So here is a bit of your personal story which you are about to alter.
Unlike your buildings, this version of Colborne below, can be preserved for posterity - with no effort at all. Simply right-click and select save...
You may even want to look into right-click enabling your economic development policy. Since our demolition orgy, we are too heavily invested in our parking lots and the promised investment to rebuild has not shown up for forty years now. As we said earlier, you can only learn from us.
PS: There is a very good possibility that Google, upon learning about this heritage massacre, may get peeved and never again send their van to Brantford – just to give your people a message that this is not cool at all.
Or they could even decide to exercise their international clout by continuing to show the older images of Colborne for posterity on Google maps – instead of updating your maps with the shiny new boxes that you have been dreaming of.
(Anyone up for a memo to Google? Brantford could only benefit from international attention!)
Post a Comment
You must be logged in to comment.