Lister: Demolition by Disinformation?
By Ryan McGreal
Published April 21, 2008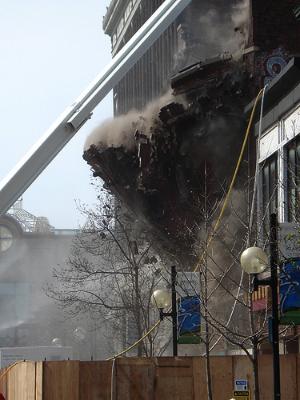 The building on King William St. adjacent to the Lister Building is demolished. (Photo Credit: Mixed Media)
You've heard of "demolition by neglect", in which a property owner allows a building to become so dilapidated that it collapses.
Perhaps it's time to add "demolition by disinformation" to the list of dirty property owner tricks.
While the actual Spectator articles covering the recent collapse and demolition of the Balfour building on King William have drawn the distinction between it and its neighbour, the Lister Building itself, much of the commentary has tended to conflate them.
From today's letters to the editor page:
The Lister Block is doing what our city council geniuses couldn't - making a decision.
Another reads:
Note to demolition crew: continue half a block west and a full block north, and there you have it - Hamilton's newest parking lot.
This carries on a theme from last week:
Most of King William and the Lister Block is now a dangerous eyesore and should be pulled down.
The Spectator itself has fueled the fire by posing this question to its website readers: Is it time to tear down the Lister Block?
Many, though not all, of the responses demonstrate considerable misinformation about the status of the Lister:
I am always at a loss to explain to friends and relatives why that hulking, ugly, spray-painted, empty eyesore is even still there at all.

[...]

The building is not falling due to neglect, it is falling because it is OLD.
Raise the Hammer, which has generally supported restoration and adaptive reuse for the building, has received a number of emails and comments making a similar argument, including a vigorous debate over this blog entry.
The common theme running through most of the arguments I've seen in support of demolition is that the Lister is so old and decayed that it's not worth restoring, and that the heritage advocates fighting to preserve it are unreasonable and out of touch.
However, the indisputable fact remains that despite over a decade of neglect by its owners (and corrolary failure by the city to enforce property standards bylaws), the Lister Building itself remains structurally sound and a good candidate for restoration and adaptive reuse.
Similarly, amid all the accusations of "obstruction" scant attention is paid to the ongoing obstruction of the property owner, LIUNA, to the building's redevelopment.
LIUNA bought the property hoping to capitalize on the federal government's plan to locate there. When that fell through, every subsequent plan has also hinged on public money to sweeten the deal.
It's important to keep this in mind when people accuse the city of blocking "progress". Even LIUNA's erstwhile plan to demolish and rebuild the Lister depended on having the city as a guaranteed office tenant at top-dollar premium rates.
LIUNA bought the property knowing it was a heritage building. If they're not prepared to honour its heritage status and develop a viable business plan to get it working again, they need to sell the building to someone who will.
Post a Comment
You must be logged in to comment.