An Eye-Opening View of Hamilton
By RTH Staff
Published January 28, 2008
(This blog entry has been updated)
The mighty Skyscraper Page has a jaw-dropping photo tour of Hamilton from a photographer with an eye for urban details, facetiously titled, "Shunned by the NHL, spurned by top retailers, scorned by its own citizens, scoffed at by everyone else...Downtown in Canada's Worst Major City." In the introduction to the tour, "flar" wrote:
Downtown Hamilton is a bit of an enigma. It is considered dead by most, it is almost completely lacking in quality retailers, beautiful historic buildings sit empty, threatened with demolition, and potential developers are unable to secure financing for their projects. Yet there are over 30,000 downtown workers, a healthy streetlife and plenty of high density residential nearby.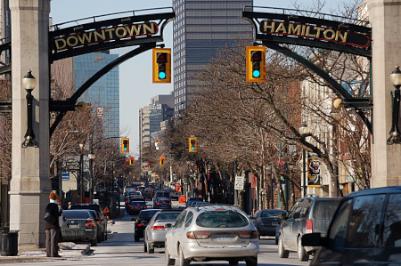 Downtown Hamilton: Image Source: Skyscraper Page
Too bad City Council, the Chamber and local daily newspaper don't see the vast potential and great framework already in place in our downtown.
Update: This blog entry was originally titled, "An Outsider's View of Hamilton", but as an astute reader noted in the comments, the photographer lives in Dundas. RTH regrets the error.
Post a Comment
You must be logged in to comment.