Trash Talk on Garbage
By Ryan McGreal
Published November 20, 2007
Graeme MacKay gets it just about exactly right in today's editorial cartoon in the Hamilton Spectator: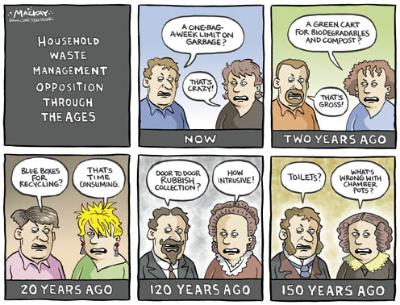 Household Waste Management Opposition Through the Ages (Image Source: The Hamilton Spectator)
The Spec letters page is aflutter with opposition to the city's proposed one bag per houshold limit on garbage, slated to take effect March 31, 2008. To those people who claim the limit is unreasonable or impractical, I have this to say:
Can't = Can't be bothered.
I live in a family of four (two adults and two children) with two cats and a very comfortable standard of living. We normally produce one or two grocery bags of garbage a week, with the rest diverted into either the green bin or the recycle bin.
It's not very time consuming, and it's certainly not difficult. My four year old has no trouble sorting his garbage into the appropriate container.
I can only scratch my head at councillors like Sam Merulla, who thinks the limit is "overly punitive", and Chad Collins, who thinks Hamiltonians "need a period of time to grapple with and accept" the changes in Hamilton's waste management program over the past half decade.
What's with all the hyperbole? It's a prudent limit on waste production that can easily be achieved even by large families through recycling and composting; but its opponents are treating it like some form of oppression.
It's time to give up the childish belief that endless, unsustainable consumption without consequence is some kind of birthright.
Post a Comment
You must be logged in to comment.