McGuinty: $7 Million for Lister
By Ryan McGreal
Published June 22, 2007
In a press conference this morning at the Art Gallery of Hamilton, Ontario Premier Dalton McGuinty announced $7 million in provincial funding to restore the Lister Block.
After a campaign-style warmup that sketched out the government's commitment to revitalizing Hamilton, Premier McGuinty concluded with the announcement of provincial money to support the beleaguered building.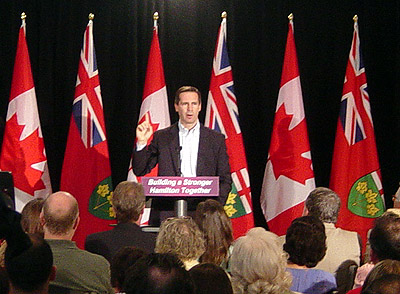 Ontario Premier Dalton McGuinty announces funding to restore the Lister Block
The money will go towards financing the deal an ad hoc working group struck last year in an attempt to bridge the gap between heritage advocates who wanted to preserve the Lister and developers who wanted to demolish and reconstruct it.
The province got involved after Councillor Brian McHattie asked Caroline Di Cocco, the Minister of Culture, to declare the Lister a provincially significant heritage building when it looked like City Council would grant a demolition permit to LIUNA, the owner.
A provincial heritage report supported restoring the building, and city council gave the building a last-minute stay of execution to explore alternatives to demolition.
The working group that grew out of that process ended up recommending a hybrid approach that would preserve the building's architecturally significant features but reconstruct the inside for modern use.
"Heritage buildings ... should be part of our future," said the premier, in a speech that stressed the importance of a healthy downtown to a city's overal well-being.
Mayor Fred Eisenberger echoed this when he said, "Transformation issues are going to be our future."
The plan calls for Hamilton's public health department to move into the restored building, but the Mohawk College Music Department has also expressed interest.
Mayor Eisenberger suggested that funding to move the Music Department could be part of a "phase two".
Post a Comment
You must be logged in to comment.