Detroit: A Modern Day Ruin
By Ryan McGreal
Published March 19, 2007
Detroit, Michigan (in Canadian pronunciation the name rhymes with "destroy it") is perhaps the archetypal automobile city. Built to accommodate the people who built America's cars, Detroit is a car city through and through, snaked with expressways and blotted with factories and warehouses - most now abandoned.
Detroit is profoundly suburban, with house after desolate house lining a seemingly endless wash of - wait for it - one-way streets, punctuated by scrapyards and abandoned lots. Collections of blocks are bounded by mega-blocks a mile on a side, bordered by multi-lane super-roads and expressways.
The scale is staggering and it goes on like this for mile after mile after desparing mile.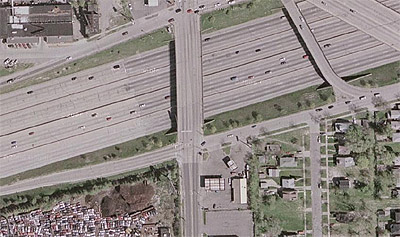 Yes, those are cars in the bottom left corner (Image Credit: Google Maps)
With resale (mainly foreclosed) properties starting under $10,000, Detroit's housing market is stuck deep in the doldrums. For better or worse (worse, mostly), the housing bubble of the past six years passed the city by.
Now, with subprime lenders teetering on the edge of bankruptcy and credit tightening, Reuters reports that houses in the Motor City now sell for less than cars.
Detroit, where unemployment runs near 14 percent and a third of the population lives in poverty, leads the nation in new foreclosure filings, according to tracking service RealtyTrac.

With large swaths of the city now abandoned, banks are reclaiming and reselling Detroit homes from buyers who can no longer afford payments at seven times the national rate.
There are so many negative object lessons to draw from Detroit that it's hard to know where to start. We can certainly posit the following:
A healthy economy is diverse. Detroit bet the house on cars (more recently, SUVs and pickups) and is paying the price as more innovative companies operating in jurisdictions with more robust regulations produce better cars for less money.

A healthy transportation system is also diverse. Detroit is designed so exclusively for cars (big surprise) that neighbourhoods cannot form, local economies cannot evolve, and the public realm is badly degraded.
The source of Detroit's fame and growth was also the source of its dissolution. Detroit followed the logic of automobile development to its logical conclusion, and it destroyed the city.
Now the US auto industry itself is in collapse. Ford and GM are hemmorhaging money at an astonishing rate, and Daimler is looking to unload Chrysler. All three are slashing their workforces as stagnant sales of their bloated SUVs and pickup trucks drive the companies closer to bankruptcy.
If you're in for an adventure, you may be interested in the Fabulous Ruins of Detroit, a tour through a modern day collapsed civilization.
Post a Comment
You must be logged in to comment.