Squeeze My Cans
By Alison Nicholson
Published July 22, 2019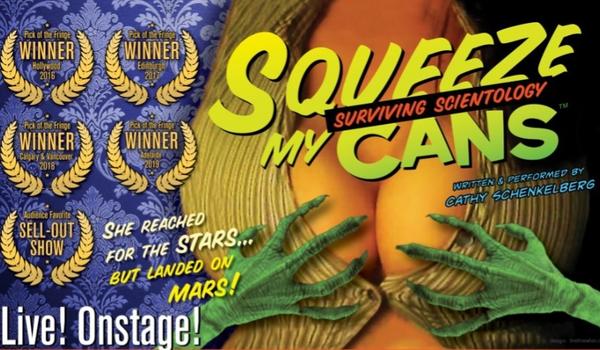 Cast: Cathy Schenkelberg
Writer/Performer/Producer: Cathy Schenkelberg
Director: Shirley Anderson
Show Type: Theatre
Audience: Parental Guidance
Running Time: 73 minutes
"Down the rabbit hole, Down the rabbit hole, down the rabbit hole. Thank you." In this dizzying cautionary tale, Squeeze My Cans is nothing like the Alice crooned by Grace Slick or the charming stories of Charles Lutwidge Dodgson. No! This production is a revelation of one woman's demoralizing trip into the bowels of Scientology, told without apology.
Set against the provocative image of spiny alien hands clutching voluptuous breasts, we should all be so fortunate to have such provocative advertising. Yet this is an eerie story inviting the audience to leave behind all sense of sacred reality.
Schenkelberg recalls, with exhilarating storytelling skill, the extent of manipulation which fed on her life savings and her psyche. A decade or more sacrificed in the pursuit of happiness through the 'study of knowing.'
Schenkelberg's story is at times sinisterly chilling and charmingly tender. Images are projected onto a large screen, of tranquil lakes and memories of fishing with her Dad, to the most insidious contraption: the E-Meter, like a lie detector, used to rid the body of alien life forms.
Leaving a cult is heroically spun by a consummate actor who streaks across the stage boldly embodying a cast of characters from childhood to the threatening disembodied voice of the auditor. A flawless performer, grounded in refined writing, deftly directed by Shirley Anderson, delights the audience mimicking machinery, humans and erupting with cackles of sheer delight.
Genuine tears tug at the hearts of the audience mesmerized by this tale of manipulation and horror, like me, fighting not to comprehend. How does a cult feed like a parasite on the vulnerability of good people?
Many glamorous, intelligent and young minds have been lured into Scientology and many on a trajectory with death - like the young student found dead clutching $171.00, the only money he had not given to the organization. The audience from the onset is right there with her on this white-knuckle ride.
This was one of the best performances I have seen at the Fringe. This show is a fascinating biopic of one woman's escape from devotee to autonomy. Stick around after hours and catch Squeeze my Cabaret, a musical journey off the yellow brick road. With poster children Tom Cruise and an Alien puppet named Xenu, it's a no-holds-barred, bawdy, naughty, silly musical trip.
Post a Comment
You must be logged in to comment.