Mercury Man: The Last Performance of Orson Welles
By Mark Fenton
Published July 19, 2019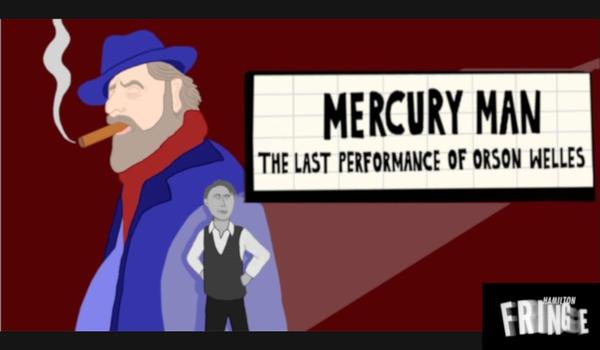 Cast: Cora Matheson, Rod McTaggart, Joel Pettigrew, Adrian Gorrissen
Production Manager Christina Hoxson
Assistant Director/Stage Manager: Shan Fernando
Show Type: Theatre
Audience: Parental Guidance
Running Time: 90 minutes
Only a few great directors have an immediately identifiable public image. Maybe Woody Allan, the nebbish with horn-rimmed glasses; or Alfred Hitchcock, the rotund profile passing briefly through his own films.
Orson Welles may be the only director with two public images: the young maverick auteur who made the most notorious radio broadcast in history as well as the most celebrated film of classic Hollywood, and the sad old curmudgeon relegated to doing commercials and bland interviews.
Not even the play I'm reviewing mentions that when he died he left an unfinished film version of Don Quixote that he'd been working on since the late 1950s. That's how little people care about his later work.
True confession: I think Citizen Kane is important but overrated, and Welles is a filmmaker who I find it easier to admire than to like. So it speaks volumes that I was riveted by the play from start to finish.
The play alternates between the two public images that bookend this singular career with its eerily excluded middle.
We see the young Welles in conflict with John Houseman, his producer/impresario from the earliest days in theatre, through the War of the Worlds broadcast, to the production of Citizen Kane. Welles sacrifices everything for his art, as well as absorbing the best talent in Hollywood and taking credit for everything. He's not nice.
We also see the old Welles as he provides the voice for a cartoon-robot-planet (contemplate that for a few moments and I think you'll agree is weirdly appropriate for his end.) When Welles is asked to redo the voice of the robot he fights tooth and nail for the version he's already given them, a gesture of artistic integrity that's the apotheosis of a Quixotic battle. Understandably he's not happy about where his career has gone.
His late era Sancho Panza is a young production assistant who describes herself as his 'biggest fan' and who is struggling to produce her own first film. He warns her of the sacrifices required of an artist. Even as the author of Citizen Kane he's genuinely unsure if it was worth it, since everything since has been downhill.
It's hardly a new theme but the play handles it well. Despite never appearing in the same scenes there's a vivid connection between the actors playing young Orson and old Olson. One of the more obliquely effective elements of the staging is to project images of American advertising from the 50s and 60s onto a back screen, a reminder of what the medium of mid-20th century America looked like when Welles was trying to make art films.
When I got home from seeing the play I went on YouTube and watched the justly famous three-minute single-shot opening sequence of Touch of Evil, Welles's 1958 noir. In other words The Last Performance of Orson Welles sent me back to the artist's work. You can't ask much more from a biographical treatment than that.
Post a Comment
You must be logged in to comment.