Para Dos
By Julian Nicholson
Published July 21, 2018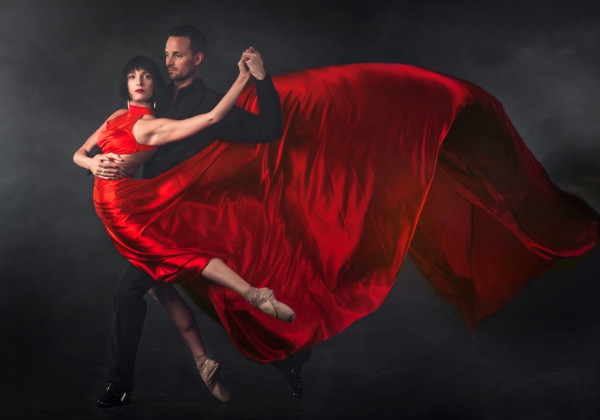 Para Dos
Cast: Erin Scott-Kafadar, Alexander Richardson
Choreographer: Alexander Richardson
Show Type: Dance
Audience: All Ages
Running Time: 45 minutes
Let me start by saying you should go and see Para Dos, by PointeTango from Montreal. What's not to love about two beautiful people dancing beautifully to beautiful music?
When you go, what are you going to see? The stage is bare, except for a keyboard down stage right. During the show, a barre and a chair are brought on for a couple of numbers, but otherwise the stage belongs to the dancers.
The dancers are extraordinary; Erin Scott-Kafadar and Alexander Richardson have many years of training and performing behind them. Most recently they have spent two years in Buenos Aires studying the Tango, and working to merge that passionate style with the elegance and precision of classical dance.
The title of the show, "Para Dos" is Spanish for "For two"; referencing both the style of dance, and the interweaving of two different dance styles. This is the only dance company in the world that combines the Tango with dancing en pointe.
Because the stage is so bare, the costumes worn by the dancers provide the flash and colour for the show. They range from a simple shift to an elegant red dress with an impossibly long train for Ms. Scott-Kafadar, and variations on the black pants, white shirt theme for Mr. Richardson. The costumes are attractive, and serve their purpose by accentuating the elegance and beauty of both dancers.
It's unfortunate that for a couple of the dance routines, the lighting prevents you from fully enjoying those costumes. Mood lighting is important, especially with an emotional style of dance like the Tango, but sometimes you just want to see what's going on on stage.
What goes on on stage is pure magic. To watch dance live, in a small venue, is to experience the intense physicality of dance. The sliding of shoes across the floor, the breathing of the dancers, the sound of movement. In Para Dos, elegant dances, crisp footwork, unbelievable lifts, are a feast for the eyes. One dance after another, you can hear the murmurs of astonishment through the audience, until the final routine generates gasps and shouts of approval.
The only minor issues for me were the lights, and I would have liked the two dancers to have looked at each other more during the embrace, rather than over each others' shoulders. These are mere nits, however, compared to the overwhelming skill and talent on display at the Players Guild building. This is a show that deserves to be sold out each night. Make sure you're one of the lucky ones to see it.
Post a Comment
You must be logged in to comment.