Fringe 2017 Review: Tales from the Hamilton 7
By Arthur Bullock
Published July 24, 2017
Cast: Karen Ancheta, Hitoko Okada, Tor Lukasik Foss, Darla Biccum, Sheldon Davis, Lisa Pijuan-Nomura, and Corin Raymond
Show Type: Comedy, Drama
Audience: General
Running Time: 60 minutes
Telling a story is not as easy as it sounds. In theory, all you have to do is relate a series of events, factual or otherwise. In the former case, it seems to be as simple as explaining it to a friend. In practice, however, it is a performance art that takes significant practice in order for you to master it. The Hamilton 7 is a group of storytellers - eight in total, despite their name - who are all very good at what they do.
Each showing features four of the eight storytellers, who rotate back and forth across the show's fringe schedule. At the performance I viewed, the stories consisted of a mystery involving an abandoned boat, a woman's tale of her dad's illness, a Japanese village that fights against a warlord, a man who writes books on behalf of someone else, and a father who attempts to be outdoorsy for a change.
Each storyteller has their own unique style, adding an impressive level of variety to the show. Some are dramatic tales of fiction: using suspense and mystery to keep the audience interested, or making them feel invested in the success of the story's protagonists. Others are true stories about the teller, delivered in a comedic fashion that reveals their particular sense of humour. Another still was a work of comedic fiction - at least in part.
Seeing so many different stories play out back-to-back is a truly fascinating experience, and each one is good in its own way. I would absolutely recommend at least two viewings, so that you can see what all the storytellers have to offer.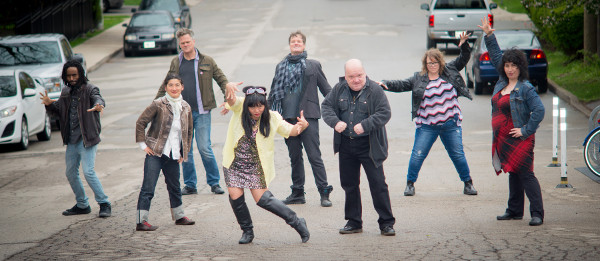 Tales from the Hamilton 7
Post a Comment
You must be logged in to comment.