Fringe 2015 Review: She Said Saffron
By Dawn Cattapan
Published July 20, 2015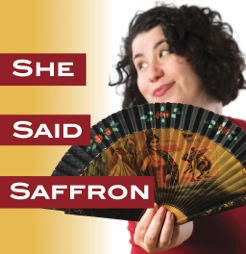 Playwright: Lisa Pijuan-Nomura
Cast: Lisa Pijuan-Nomura
Show Type: Comedy, Drama
Audience: General
Running Time: 60 minutes
In She Said Saffron, Lisa Pijoun-Nomura boldly goes where few would want to go again: to relive memories of her awkward, self-conscious thirteen-year-old self.
But she does, and in the process gives the audience a glimpse into her close-knit family. From tales of passed-down cookware to shopping with her mother, secrets from her grandmother and meeting relatives at the market, Lisa creates a charming narrative of a family that gathers together for Sunday dinners and shares their love through food.
It is food, however, which causes our adolescent protagonist the most trouble, and Lisa openly shares her addiction to "fake food," her love of "real food," as well as specific memories that are tied to each. She also shares her mother's perspective on her habits, which lead a teenaged Lisa to attempt to "Flamenco-cize" the pounds away.
It may be for this reason that dancing is used to tie memories or moments together; however, the use of movement would be more beneficial if it had the same thoughtful and purposeful context as the use of food throughout the production.
Throughout this exploration of herself and familial relationships, Lisa comes back to her love of family through food, with the climax of the show being the family's traditional paella dinner that starts promptly at 5:00pm.
The steps taken for preparation are thoughtful, and Lisa finds great joy in relating the process in vivid detail for the audience, and carrying these descriptions through to the first glorious bite.
Lisa's love of storytelling is apparent in She Said Saffron, and she invites the audience to enjoy reliving these memories with her as much as she enjoys telling them over the course of the sentimental and heartwarming hour.
Post a Comment
You must be logged in to comment.