Fringe 2015 Review: The Princess of Porn: The Musical
By Dawn Cattapan
Published July 19, 2015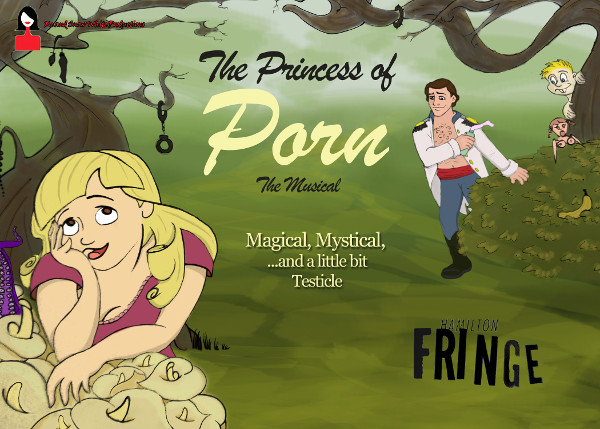 Playwright: Vikki Velenosi
Director: Nabil Ayoub
Cast: Vikki Velenosi, Christian Jeffries, Breton Lalama, James McDougall, Nima Ghomeshi, Bryan Kling
Warnings: Mature Content, Strong Language
Show Type: Comedy, Musical
Audience: Mature
Running Time: 60 Minutes
Don't let the title fool you: The Princess of Porn is no piece of fluff. It is, however, filled with one liners as cheesy as that opening (pun intended) ... consider yourself warned.
The Princess of Porn: the Musical takes its cue from Disney plotlines of the 1990s; a princess from one world (in this case, Pandora, the Princess of Porn) is desperate to find more meaning in her life, and like all good Disney Princesses, goes on an adventure to find it- which she does in Paul, a prince from another world (the Kingdom of Babble, which is full of "parental controls"). And like most modern-day romances, the two fall in love over some remarkable (and entertainingly portrayed) sexual encounters, which is eventually sealed with true love's first kiss.
As in a Disney film, thoughtful consideration is put into character development, making it easy to cheer for the Princess and just as easy to feel the same delicious hatred (mixed with adoration) for the evil Queen of Babble (brilliantly performed by Christian Jeffries) as one would feel for Ursula the Sea Witch.
Composer Adam Saklyama had a clear vision for the score that was perfectly executed, both in composition and execution by the cast with just enough flair to showcase the technical prowess and strengths of each cast member, who excel in both their acting and singing ability.
The only downside to this clever musical is that the placement of the keyboard on stage causes difficulty in the voice-music balance; and although characters were individually mic'd, it was still problematic to hear them at times- an easy fix (and definitely a cause for more one-liners) with a barrier.
No Disney knockoff would be complete without a sidekick, and although Nima Ghomeshi (portraying a potentially human - or not - character named "Fluffer") does not have a single line, his body language mixed with perfect timing allow him to be a critical addition to the cast and plot.
A special kudos to this cast and Stage Manager Katy Jones for not only executing a stellar performance that every Fringe attendee should make a point of seeing, but for also being the first show I've attended that has started on-schedule. It is clear through both the start time and production that the cast views the audience as a true collaborator in their piece, and this mentality adds to the overall value of the production.
Unlike Disney, this performance is definitely not for children; and those in the first few rows should be prepared for "splashback." However, this production should achieve blockbuster status - don't miss it.
Post a Comment
You must be logged in to comment.