Hamilton Does Not Have Gridlock
By Ryan McGreal
Published March 19, 2013
Today's Spectator reports that the public works committee voted to start charging developers $50 for a two-week permit to block a lane, followed by $100 a day for additional days.
The move was in response to developers who have indefinitely blocked lanes of traffic — often causing gridlock headaches — without facing any consequences.
I really think it's time to launch a campaign against abuse of the word "gridlock". Gridlock is a network condition in which traffic in every direction is at a complete standstill. This is why drivers are not supposed to enter an intersection unless they have room to clear it - a car stuck in the middle of an intersection blocks cross traffic.

Gridlock (Image Credit: Wikipedia)
Hamilton does not have gridlock. Let me repeat that: Hamilton does not have gridlock. Having to drive at less than 50 km/h on a downtown street during rush hour is not gridlock. Having to stop at the occasional red light before proceding through the intersection is not gridlock.
At 275 King Street West by Hess, where developer Denis Vranich has blocked a lane since 2012, there is nothing resembling gridlock even during afternoon rush hour. At worst, the lane closure produces some mild congestion at afternoon rush hour with free-flowing traffic the rest of the day.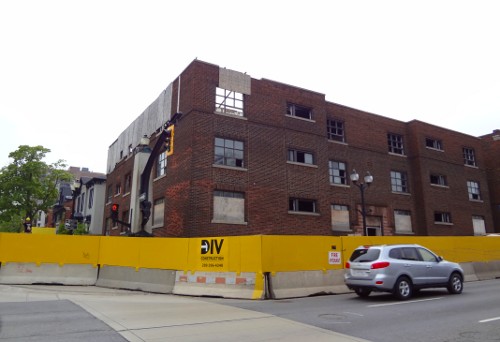 Lane blocked at 275 King Street West (RTH file photo)
What the lane closure at King and Hess tells us is that King Street has excessive lane capacity over most of its length - capacity that would be put to better use improving walkability and cycling.
And kindly note that if Main and King were each two-way streets, rush-hour traffic could proceed westbound on Main if King was backed up. A two-way street network is necessarily more resilient to disruptions than a network of paired one-ways.
But rather than make our street network more flexible and accept a little bit of congestion as a by-product of economic health, Councillors would rather punish and deter urban investment with more usurious and arbitrary fees.
We've been killing development dead with anti-urban regulations and fees for decades: is it too much to expect Councillors to learn from past mistakes instead of re-making them over and over again?

Main street reduced to two lanes past Bay - slow flowing cars but no gridlock
Post a Comment
You must be logged in to comment.