Terra Lightfoot and Said The Whale on James North
By Ryan McGreal
Published June 25, 2012
Hamilton singer-songwriter Terra Lightfoot and Vancouver indie band Said The Whale played a concert this afternoon in front of the old Tivoli Theatre on James Street North at Vine Street, in an event to promote this year's upcoming Supercrawl, which will take place on Friday, September 14 and Saturday, September 15.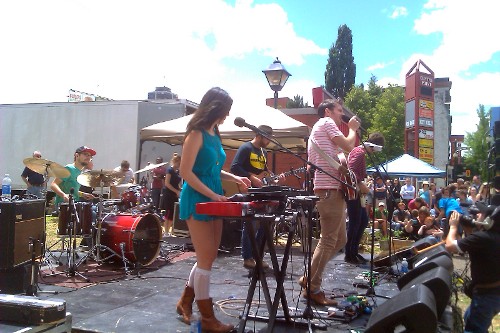 Said The Whale performing in front of the Tivoli on James North
Supercrawl started in 2009 as an outgrowth of the monthly James North Art Crawl, which is held on the second Friday of each month. On this annual event, several blocks of James Street North are closed to automobile traffic for a street festival.
Supercrawl grew rapidly after the first year, drawing 20,000 attendees in 2010 and over 50,000 last year, when it coincided with the Canadian Country Music Fan Festival and the Locke Street Festival.
This September, Supercrawl will feature five full stages and 50 musical acts. In addition to Terra Lightfoot and Said The Whale, the lineup of performers includes: B.A. Johson, Born Ruffians, C.A. Smith, Change of Heart, Chore, Dawn and Marra, Dearly Beloved, Eamon McGrath, Elk, Great Lake Swimmers, Hamilton Children's Choir, Hamilton Suzuki School of Music, Hollerado, Julie Fader, Kestrels, K'naan, Mystery Machine, New Hands, Owen Pallett, Rah Rah, Rococode, Sianspheric, Simply Saucer, The Danks, The Gertrudes, the Hamilton Philharmonic Orchestra, Tonya Kennedy, Wax Mannequin, Whitehorse, Young Rival, and Zeus.
This year's event includes 40 art galleries, several dance/theatre performances, 15 visual art installations, dozens of community, arts and crafts booths and several film projections.
Supercrawl has also become famous for the many afterparties that start once the stages close at midnight.
Post a Comment
You must be logged in to comment.