Queen's Quay Makeover: Better Late Than Never
By Ben Bull
Published June 06, 2012
While the subject of main street makeovers is on the minds of RTH readers, I'd thought I'd provide a brief update on another woefully neglected stretch of GTA tarmac: Toronto's Queens Quay.
Queens Quay was once labeled one of the world's worst streets and was cited for a makeover over five years ago. In 2006 I took a tour of a mock transformation of the York-to-Spadina stretch with my then eight-year-old son Jack.
We came away suitable encouraged and impressed.
But since then, nothing has happened - until today. The Toronto Star reports:
A $110 million plan to transform Queens Quay into a model streetscape with a wide pedestrian promenade, bike lanes and a new bi-directional streetcar corridor will break ground next month, nearly two years after it was expected to begin.

Environmental assessments, design and co-ordination of construction have delayed the ambitious project, but the makeover, to be finished in 2015, will be worth the wait, Waterfront Toronto officials promised at a press briefing Tuesday.

"The goal is to make (Queens Quay) the signature street for Toronto" - this city's version of Barcelona's Rambla, or the Champs Elysees in Paris, said Chris Glaisek, vice-president, planning and design for Waterfront Toronto.
Under the plan, the City will build a tree-lined pedestrian promenade with decorative pavers that ranges in width from five metres to just over seven metres, with bike lanes on either side that connect to the Martin Goodman Trail.
Automobile traffic will be reduced to one lane in each direction to make room for a new streetcar line.
These pictures from Waterfront Toronto provide a tantalizing peek into what is about to take shape.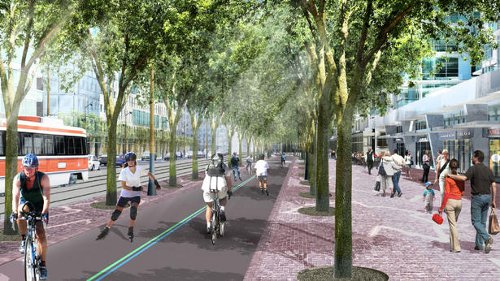 Queens Quay, Post-Makeover. What's not to like? (Photo Credit: [Waterfront Toronto](http://news.waterfrontoronto.ca/2012/06/revitalization-of-toronto%e2%80%99s-main-waterfront-street-now-underway/))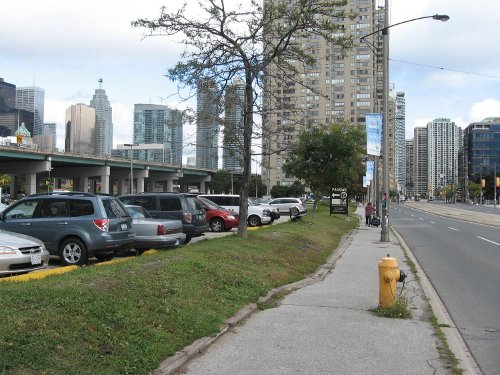 Queens Quay North Side today, between John Street and Spadina. Anyone care for a stroll? No, I didn't think so. (Photo Credit: Waterfront Toronto)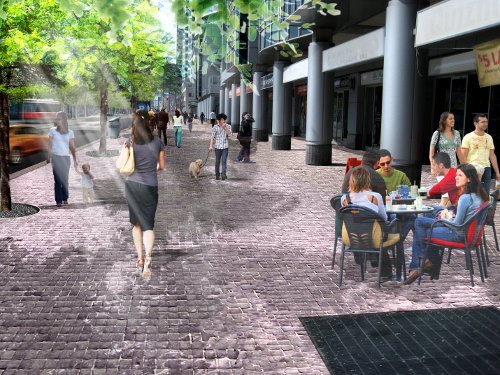 Queens Quay North Side, after the makeover. Now that's more like it! (Photo Credit: Waterfront Toronto)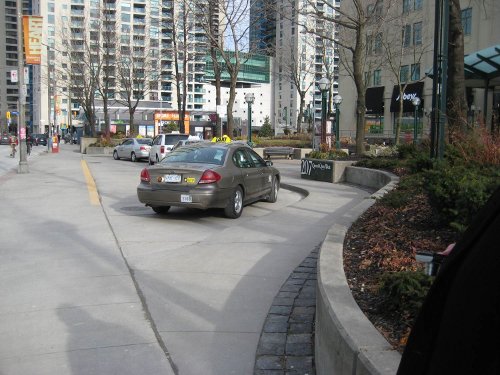 Queens Quay South Side today, near the Queens Quay terminal. Can anyone say, 'Yuk'? (Photo Credit: Waterfront Toronto)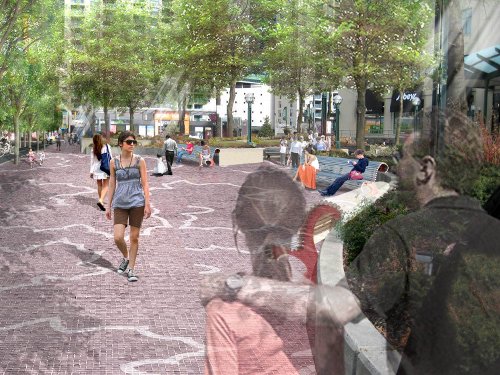 Queens Quay South Side, after the makeover. A nice place for a sandwich. (Photo Credit: Waterfront Toronto)
My son Jack is now 14. He'll be in his last year of high school when the jackhammers finally fall silent. But while it's been a long wait breaking the ground on this drab stretch of waterfront real estate, here's hoping it's a case of better late than never.
Post a Comment
You must be logged in to comment.