Autolib' in Paris
By Graham Crawford
Published May 09, 2012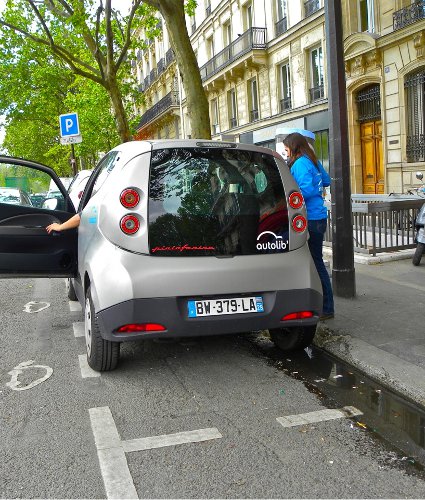 Autolib vehicle
On the Boulevard Bourdain in Paris, which is a street that runs along the Canal Saint-Martin in the 4th Arrondissement, they have installed this new electric car rental service called autolib', which launched in December 2011.
It has a very French rounded pavilion where you buy your ticket. Then you go outside to one of the four charging stations and pick up your car.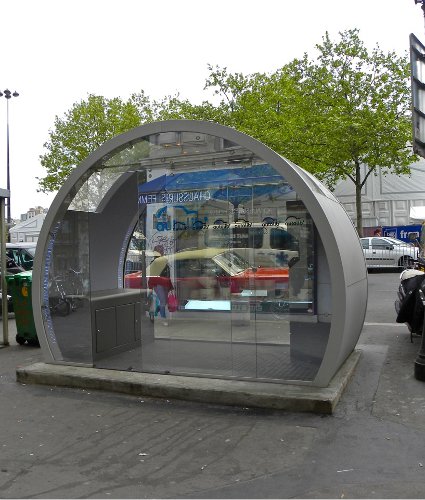 Pavilion where you can buy your autolib ticket
If you plan on being a frequent user of autolib, you pay 12 euros a month to access the vehicle. Then, you pay 5 euros for the first 1/2 hour and 4 euros for the second 1/2 hour. Each additional 1/2 hour is 6 euros. Clearly they want people to use the vehicle and return it within an hour if possible.
You can also join by the week and by the day. A week-long membership is 15 euros, with the first 1/2 hour at 7 euros and the second at 6 euros. A day-long membership is 10 euros plus 10 euros per had hour.
It comes with insurance, too. The first accident is billed at 150 euros maximum, but goes up fairly dramatically for the second and third accidents.
You can also subscribe to the program if you already own an electric car and simply want to charge it. You pay a subscription of 15 euros a month for a car and 15 euros a year for a two wheeler.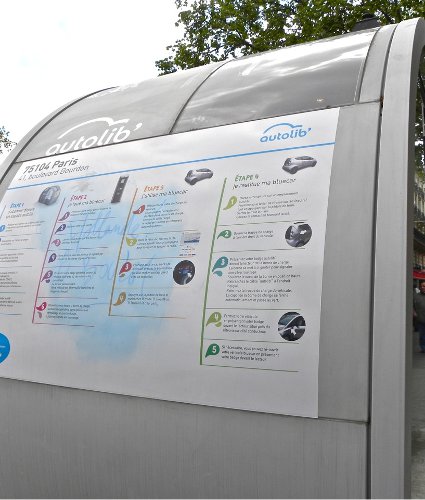 Step-by-step instructions
They have a new bus shelter design that they have installed at the Bastille bus stop. It's very hi-tech: touch screens, video screens for large ads, and a tourist panel on the outside that has an interactive map.
Another screen lets you select a part of the city near a monument and then it has an interactive timeline that allows you to see pictures taken at the same spot over the past 100+ years. Neat.
The vehicles are designed by famous auto design company Pininfarina and built by a company called Bolloré, based in Italy.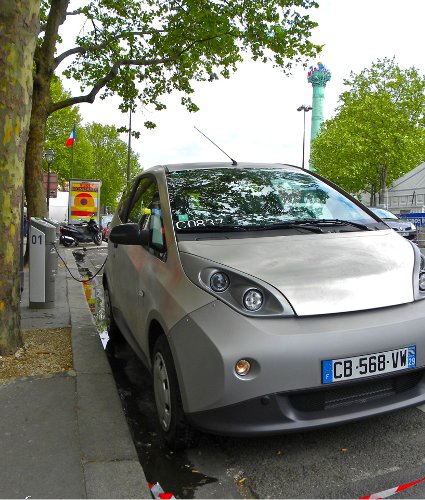 Autolib vehicle, another view
Post a Comment
You must be logged in to comment.