With today's snowfall, the City of Hamilton's Emergency Medical Services (EMS) department calls on residents to follow safe snow shoveling practices.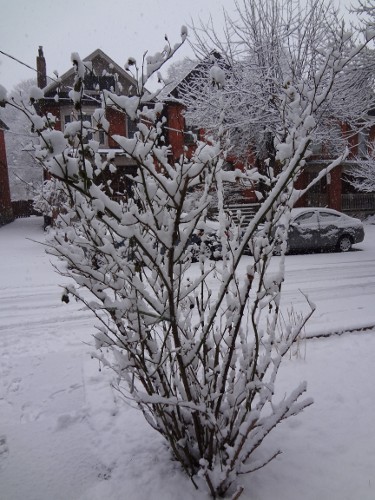 Today's heavy packing snow can be dangerous to shovel
According to EMS director Brent Browett, so far this evening paramedics have already been dispatched to two separate incidents of an elderly man collapsing while shoveling snow: one in the Ancaster area and one in the east end.
Update: As of 8:21 PM, EMS has responded to a total of four incidents related to snow shoveling.
EMS urges residents to stay safe. Snow shoveling is a strenuous activity, and you should consult your doctor before shoveling if you have had a heart attack or other heart disease, have high blood pressure or high cholesterol, are a smoker, lead a sedentary lifestyle or are otherwise at risk.
If you are at risk, consider hiring a snow mover or contacting Hamilton's Snow Angels volunteer snow removal service.
EMS also recommends the following if you are going out to shovel:
Advise someone else that you are going so they know to check on you.

Dress appropriately for the cold weather and watch for signs of frostbite.

Follow good body mechanics: bend your knees and keep your back straight, and step toward the area you are throwing the snow to avoid twisting your back.

Take smaller loads of snow with each shovel so you are not lifting too much.

Take a break every 15 minutes.

Try to push the snow instead of lifting it.
Stop shoveling and call 9-1-1 immediately if you experience any of the following:
Chest pain or discomfort - squeezing, pressure, fullness, burning or heaviness;
Pain in other areas of your body - arms, neck, jaw, shoulder, back;
Prolonged shortness of breath or difficulty breathing;
Feeling dizzy or faint;
Excessive sweating;
Nausea or vomiting.
A full list of safety tips is available for download [PDF].
Also, if you are young and healthy and know of an elderly neighbour, consider shoveling their snow for them.
Post a Comment
You must be logged in to comment.