News in Hamilton: 100 Years Ago Today
By Jonathan Lambert
Published December 02, 2011
There is a long tradition of newspapers in the Hamilton area. Parts of this rich history include the Gore Balance, first published in 1829; The Hamilton Gazette, and General Advertiser distributed from 1835 and 1856; and The Hamilton Times, a paper that was in print from 1858 until 1920 (Wikipedia).
The following are headlines from The Hamilton Times on Saturday December 2, 1911:
Local news
DUKE COMMENTED ON HAMILTON'S KINDNESS: And Asked the Mayor to convey His and the Duchess' Appreciation to the People
FOR PURE WATER
SOCCER NOTES: Westinghouse and P.S.A. Ordered to Play
International news
KING AND QUEEN REACH INDIA: King-Emperor and Queen-Empress at Bombay: Met by Great Throng of Officials and Natives
NANKING FALLS TO THE REBELS: Chinese Revolutionaries Now Occupy the City
ORGANIZED LABOR'S DUTY
Advertisements
SANTA CLAUS HAS ARRIVED: The Doll Days are Here Now
T., H. & B. Railway TO NEW YORK $9.40
Classifieds
WANTED, RELIABLE HUSTLING agent...
WANTED, A QUANTITY OF peeling apples...
LOST DOG, POMERANIAN, BLUE black
HEIRS wanted at once, 50000 estates seeking claimants. You may be one...
UMBRELLAS made to order.
BUY A BICYCLE FOR THE BOY'S CHRISTMAS PRESENT. Greatly reduced prices at Wentworth Cycle Works, James street north
WILL THE PERSON WHO TOOK overcoat by mistake from St. Lawrence Hall Monday evening kindly return to xxx Mary street?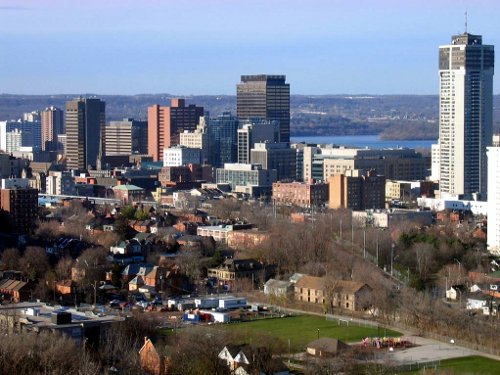 Photo taken from Jolly Cut, Dec. 1 2011 (Image Credit: Jonathan Lambert)
Records of The Hamilton Times and additional papers are on microfiche in the Local History & Archives Department of the Hamilton Public Library on the third floor of the Central Branch.
Post a Comment
You must be logged in to comment.