Talking Walls: Graffiti in Hamilton
By Jonathan Lambert
Published October 20, 2011
Graffiti is reappearing in the news, with plans calling for arrests and "double-cleaning", or cleaning up both the graffiti and the graffiti artist (Grassiis). We can also discuss graffiti as social practice and "means of resisting particular constellations of legal, political, and religious authority" (Ferrell, 1995).
These positions appear related in that they label graffiti in terms of breaking rules and standards. At the same time, "while by definition because [graffiti] are 'deviant' they do not conform to the standard norm, they may nevertheless conform to some norm" (Sebba, 2008).
An investigation into graffiti in Hamilton, Ontario reveals themes of the fragmentation and unification of identity.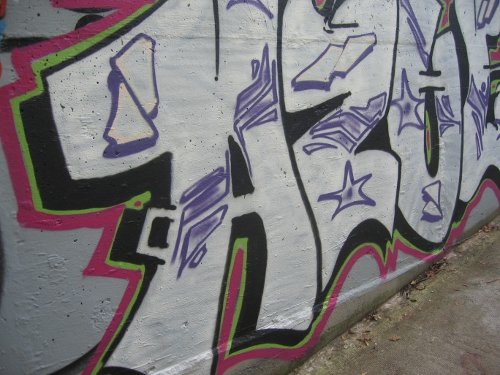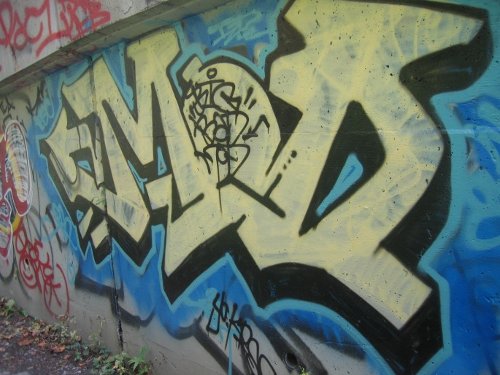 At the top of the James Street stairs, Sept. 2011
Surveying the streets, walls, bridges and alleys of Hamilton offers a mixed display of graffiti work. There are a variety "throw ups" and "piecings", in addition to especially wide spread "tagging" (when a graffiti artist writes his/her name in an elaborate, encoded design). What are the commonalities among tags? What are the unsaid, unwritten rules? Why are these norms pursued? What purposes do these 'deviant' standards fulfill?

In the RBG Hendrie Valley near the Grindstone Marshes, Oct. 2011
One commonality which is immediately apparent among tags is the creative solidification of regularly independent, separate letters of the name into one unified whole. Each tag appears as one togetherness.
In other words, a tagger ignores the common practice in English writing of dividing a name into distinct, individual letters. In doing so s/he resists the division of self while creating a unified identity.
As Clair and Rodriguez suggest, "graffitists use graffiti to establish identity" (1999), and tags use the writers' names, which are particularly strong markers of self. We can see expressions of unified identity as the letters are consistently mashed together.
For example, on the right hand side of the blue and yellow tag in the picture above, there appears to be an interconnected 't' and 's'. While our lives are divided in various ways between multiple roles and responsibilities, each individual plays out a variety of parts, whether these be student, teacher, friend, brother, sister, son, daughter, mother, father, etc.
In a single piece of tag graffiti, the artist unites these often conflicting, fragmented parts of self while connecting and overlapping the letters in his/her name. As such, this activity in tagging represents and reflects the creative solidification of a unified identity.
Meanwhile, the opposing procedure is underway. In general, most tags use a variety of colours and shades to deploy their meanings. As evidenced in the photos above and below, three to five different colours are often used in a single tag.
Why do taggers invest the time and finances, in addition to increasing risks of getting caught and punished, to make the names more colourful? Because the names belong to creative, complex beings resisting the simplification and reduction of self to any one colour or definition.
The diverse colours of each tag represent the diverse identities, control and power of each artist. Put another way, the paint is used to "separate as much as it unites" (Cygan 2010), and while developing unified self through the interconnectedness of usually distinct letters, the graffiti artist is simultaneously celebrating a multifaceted, multicoloured identity.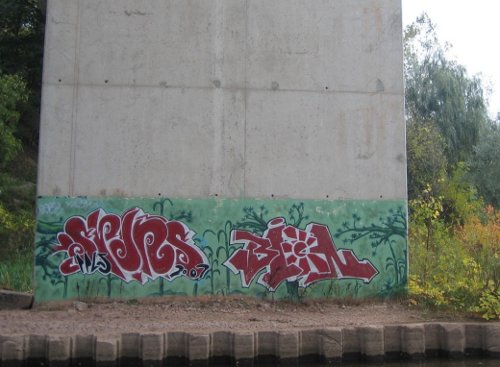 In the RBG Hendrie Valley near the Grindstone Marshes, Oct. 2011
Post a Comment
You must be logged in to comment.