We Need to Do Better Than Cargo Cult Urban Design
By Ryan McGreal
Published August 18, 2011
The rendering of a renovated Connaught currently making the rounds doesn't deserve the benefit of the doubt as an early design subject to change before completion.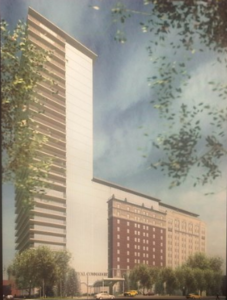 Connaught rendering (Image Credit: Hamilton Spectator)
The rendering isn't just 'early' or 'provisional': it's hideous. It's incoherent, oppressive and inexcusable.
I thought the point of preserving the facade of an old building was to preserve the integrity and aesthetics of the traditional streetwall that the facade defined. Yet in this rendering, a flat, blank, featureless wall (let's be charitable and assume it's meant to be made of glass) hunkers out from just behind the build-to line and runs along the sidewalk until it hits an ugly, balcony-jutting apartment building that looks like it was designed in 1982.
Not only this, but the tower is for some reason placed beside the Connaught facade, making for a lopsided, bulky structure that looms over the street. Instead, we could adapt Vancouver's 'Tower and Podium' model and locate a tall, slender tower behind the traditional building, which after all is structurally sound and already has a height compatible with its surroundings.

The Royal Connaught (RTH file photo)
For an idea of how this could work, consider 1 King West in Toronto, in which an elegant modern tower rises from behind the restored historic corner facade of the old Dominion Bank Building - built in 1914, the same year as the Royal Connaught Hotel - and integrates nicely with it at street level: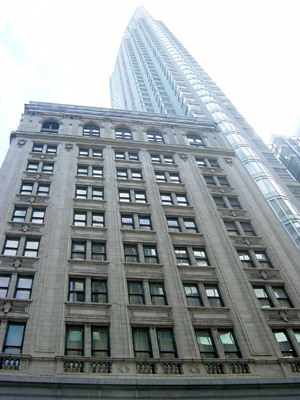 1 King West (RTH file photo)
The tower, in turn, is slender and attractive and does not loom over the street - though it does command the skyline.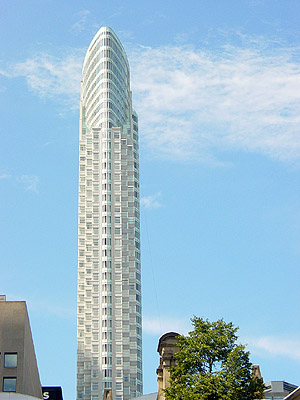 1 King West tower, view from Front Street (RTH file photo)
The Connaught building is already L-shaped. A tower would fit nicely in the lee of the L, leaving open the possibility of restoring a human-scaled streetwall along King to the corner of Catharine Street, where Yet Another Surface Parking Lot currently sits.
As James Howard Kunstler put it in his famous TED talk, the "pattern of building downtown blocks all over the world is fairly universal. It's not that complicated." Yet again, in Hamilton we manage to take the straightforward principles of urban design and mess them up.
The Connaught rendering is cargo cult urbanism at its worst: we go through the motions of design without understanding the most basic principles of how cities work, and the inevitable result is incoherent, uncoordinated and ill-fitting.
Post a Comment
You must be logged in to comment.