Demolition of old Revenue Canada Building is a Disgrace
By Sean Burak
Published August 16, 2011
Losing our built form is an endemic problem in downtown Hamilton. The demolition of the old Revenue Canada Building at 150 Main Street West is a high profile case in which the city has clearly shown that it is not willing to uphold property standards, nor fight to avoid demolition of perfectly sound buildings in the core of our city - a core which is already choking on vacant lots and unnecessary surface parking.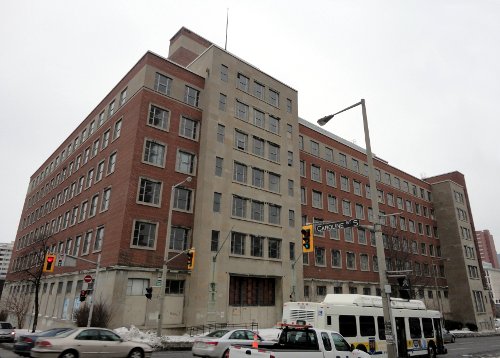 Pre-demolition: old Revenue Canada Building at Main and Caroline (RTH file photo)
This highly visible demolition represents a lost opportunity for the City to demonstrate to developers that tearing down buildings is not acceptable without proof of secured financial interest in rebuilding.
Demolition permits should not be issued without approved building permits for replacement structures and, more importantly, contracts that outline time restrictions for following through on replacement construction with steep fines for not meeting deadlines.
This is the only way we will prevent further deconstruction of our city.
We no longer have an industrial base to support a city of our size. We need to strengthen the economic core of our city - and that means the downtown. Without the physical built form, we will never be able to grow.
That we have let this happen is a disgrace to the city, a disgrace to the taxpayers, and worst of all a slap in the face to the people who have poured their lives into the downtown, only to witness it crumbling around them.
I am ashamed to be a citizen of Hamilton today.
Post a Comment
You must be logged in to comment.