Restored Lister Looking Fine
By Ryan McGreal
Published May 26, 2011
The bandages are off and the facade of the Lister Building is looking pretty damn good.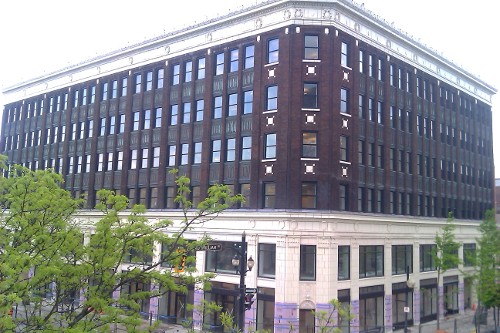 Lister Building restored
The building, which has been under renovation since 2008, was unveiled earlier this month when the scaffolding that had surrounded the northeast corner of James North and King William Streets for the past year was removed.
Once completed, the Lister will house municipal offices in the upper floors with street level retail. LIUNA also plan to build a seniors' residence in the lee formed behind the L-shaped building.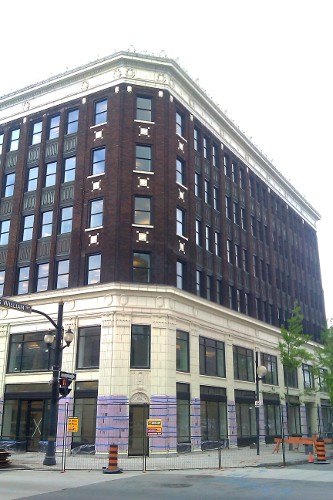 Corner of James North and King William
Fencing still surrounds the building and the street level is still wrapped in protective plastic, but the white terra cotta detailing on the facade looks brilliant.
A medallion on the corner reads: "LISTER BLOCK 1924 RESTORED 2011".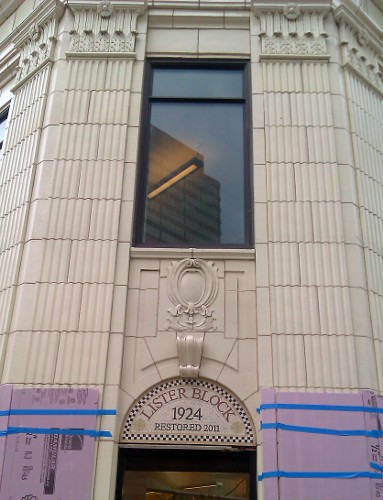 Madallion: LISTER BLOCK 1924 RESTORED 2011
The completed Lister Building is slated to open later this year.
Background
The Lister Building was built in 1924, after the previous building at that location burned down in a fire. Council designated the building as a municipal heritage site in 1996.
LIUNA bought the building in 1999 and it sat empty and unprotected for the next nine years while the union sought public funding to restore it. The issue came to a climax in 2006 when the city issued a demolition permit. An architectural analysis had already determined that the building was structurally sound and a good candidate for restoration.
After an intervention by then-Culture Minister Caroline Di Cocco, an offer of $7 million from the Province and a Heritage Report that was eventually released after a freedom of information request and appeal, the deal finally closed in June 2008.
The provincial heritage report recommended that the building be Provincially designated as a heritage site, which would trigger provincial heritage regulations that were much more stringent than the municipal rules. Instead of designating the building, the Province encouraged the City and LIUNA to negotiate a compromise agreement that would see the building preserved.
In the meantime, LIUNA demolished the neighbouring Balfour Building on King William Street, even though then-Culture Minister Aileen Carroll had been advised that the facade would be preserved. The location of that building remains empty today and functions (barely) as a token parkette.
Post a Comment
You must be logged in to comment.