The Uses of Collision Data
By Nik Garkusha
Published April 06, 2011
This morning's tragic news about a pedestrian killed in a collision on Britannia Road raises a question about data on similar collisions and accidents in the region.
According to Halton Regional Police Service collisions statistics, there were nearly 7,000 property damage collisions in 2009, with 1,178 injury collisions. What if there was a way to analyze this data?
Are there any areas across Halton where such collisions occur more frequently? Are there any "patterns" in the data or correlation with factors such as availability of street lights, sidewalks, crosswalks at intersections, etc. Can we gain any insights into areas that are more likely to be dangerous for pedestrians?
The answers could be found if the historic collision data gathered by police were made available as Open Data. Our friends at Open Hamilton were able to get their hands on Hamilton's raw pedestrian accident data, which can be used to derive various insights, particularly when "mashed up" with other data.
A map below, for example, mashes-up geocoded pedestrian accident data with geocoded crossing guard data: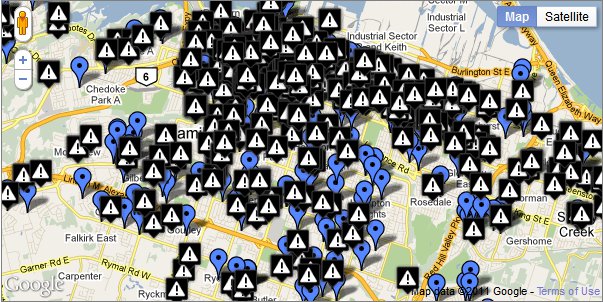 Pedestrian Accident / Crossing Guard data Google Maps mashup
There are many ways to derive insights from such data, as long as it carries at a minimum some useful information such as date, time, intersection, distance from intersection and direction (if it occurred between two streets for example), vehicles and/or pedestrians involved and an indication of a severity of an accident.
This type of data, if made public, is not just for curiosity's sake, but can help potentially prevent accidents and collisions through better knowledge of when such incidents are more likely to occur.
Think about analyses like collisions by time of day (day, dusk, night, etc), combined with historic weather data - collisions by weather conditions (and visibility), or as simple as heat-maps of the most dangerous areas or "roads to avoid walking on".
The possibilities are endless, we just need the data to work with. I have sent my request for the data to Halton Regional Police Service: fingers crossed.
this was first posted on OpenHalton
Post a Comment
You must be logged in to comment.