Dundurn Plaza Walkability Fail
By Biljana Vasilevska
Published March 02, 2011
This letter was sent to Councillor Brian McHattie, Ward 1 and Councillor Jason Farr, Ward 2
As residents of wards 1 and 2, we are deeply disturbed by the lack of safety for pedestrians around the Fortinos Plaza on Dundurn, between King and Main Streets.
As the only major grocery store in west downtown Hamilton, surrounded by residential neighbourhoods, and being so near on- and off-ramps to the 403, it is incredibly important that pedestrian safety be given more consideration than the current design allows.
Here are some examples:
Cars Do Not Yield
When walking along the west side of Dundurn from the south towards Main (i.e. from Kirkendall, towards the plaza), cars have a signal to yield to pedestrians when making right turns on to Dundurn. However, they rarely do.
Part of the problem is that they cannot see the pedestrians, or the yield sign! There are overgrown bushes on the Southwest corner of King/Dundurn (it is unclear if they are on City or privately-owned property) bordering the gas station, and they obscure drivers' view when turning right on to Dundurn.
One of us has nearly been hit twice while trying to cross to the little triangle before actually crossing Main.
Two-Stage Crossing
On that same corner, pedestrians need to cross cars' paths twice to get to the other side of Main: once to a little triangle with the yield sign, and once again across Main.
This is a really difficult crossing in winter, when that triangle is covered in snow and can not be seen by driver or pedestrian alike. This triangle can only comfortably accommodate 2 or 3 adults, and is treacherous with a stroller.
Furthermore, as soon as a single person is standing on that triangle, they totally block the "yield" sign that motorists are expected to obey.
In addition to this two-step crossing being dangerous, we are curious as to why cars have been so readily accommodated with that right turn (no lights to bother with!) in such as way as to consistently endanger pedestrians.
No Crossing
There is no pedestrian crossing on the west side of Dundurn at King. This is shocking, considering that it is the single best way to get between the plaza and an entirely residential neighbourhood on the other side of King.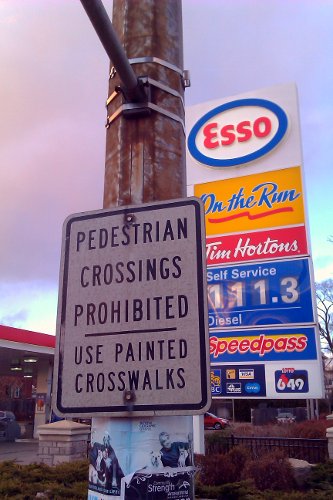 A sign on the northwest corner of King and Dundurn prohibits pedestrian crossings (RTH file photo)
People who live in that neigbhourhood regularly risk their lives to cross there or a little further west, instead of suffering having to cross the road three times to get to the opposite corner!
We consider the lack of pedestrian access at this intersection to be an indignity and an insult: The only logic to the lack of a pedestrian crossing is so that cars can get on to the 403 a little bit faster.
Once they are on the 403, cars can easily make up the few seconds that they have "lost" waiting for pedestrians to cross, while pedestrians are required to spend three entire cycles of the traffic signal waiting to get to their destination, when one single crossing will do.
Advanced Left Turn
When walking on Dundurn and crossing Main on the east side, pedestrians are regularly made extremely nervous by drivers turning left who go too fast through the left hand turn signal and cut really close to where you stand on the sidewalk waiting to cross.
Some drivers have no respect for pedestrians or oncoming cars and will push turning left long after the advanced left turn signal is finished, so pedestrian are obstructed from crossing when they are permitted.
Two of us were very nearly hit by a car who exhibited precisely this impatience at a left-hand turn at this corner.
It is a sad irony that there is a prominent billboard on the Northeast corner of Main and Dundurn for a law firm, whose motto is that they are "the personal injury experts." Clearly, this law firm has figured out how to capitalize on the dangers of this intersection.
When one of the letter writers called the traffic police about a near accident at this same corner, she was told, "Yes, this is a very big problem area."
The police are aware of the problem, and lawyers are capitalizing on it. We feel that is it the City of Hamilton's obligation to act upon this, immediately.
Recommendations
We would like to make the following recommendations:
The entire intersections of King / Dundurn and Main / Dundurn street need to be re-built to make pedestrian access to this the busy Fortinos plaza safe.
We are disinclined to consider any costs involved to be onerous, given that the City of Hamilton has recently spent millions on creating a new roadway for cars only (the RHVP).
We cannot accept that the costs involved in making two busy downtown intersections safer are insurmountable, particularly since these intersections are surrounded by mid-to high-density residential neighbourhoods.
We recommend these specific changes to the King/Dundurn and Main/Dundurn intersections:
Make all of the right-hand turns "hard rights," which require cars to travel to the edge of the intersection and to stop in order to accommodate pedestrians.

Trim trees, bushes, etc (or require businesses to trim them) so that basic sight-lines around corners can be maintained.

Install a pedestrian crossing (painted lines, crossing lights, etc) on the west side of King Street at Dundurn. Prepare drivers for this change in advance of its implementation.

Create a strong police presence at these two intersections so that motorists will be more inclined to follow the rules, and police can be more easily marshaled when motorists do not.
As we are sure that you and your staff are aware, in 2008, Hamilton City Council signed the International Walking Charter, which includes the goals of promoting walking and reducing road danger.
We are not aware of what specific activities have happened as a result of this charter, but we would like to suggest that improving pedestrian access around the only grocery store in the West of downtown Hamilton would be a wonderful place to start.
Yours truly,

Biljana Vasilevska and friends, including:

Ward 2 residents:
Krista Fleury
Chris Borst

Ward 1 residents:
Riisa Walden
Cindy Smith

Post a Comment
You must be logged in to comment.