Cripps: Councillors Reconsidering East Mountain Stadium
By RTH Staff
Published January 10, 2011
this blog entry has been updated
Mark Cripps, managing editor of Hamilton Community News, just posted on twitter that he has heard City Council is once again leaning toward support for the East Mountain Pan Am Stadium location:
From a good source, close to the situation, East Mtn will be back on the table for Pan Am stadium vote - so far, 11 councillors will vote EM
Bill Kelly also discussed this option in his radio program today on CHML 900 AM.
The East Mountain stadium location, a wheat field owned by Ontario Realty Corporation that sits adjacent to Lincoln Alexander Parkway and Red Hill Valley Parkway, was first proposed by facilitator Michael Fenn during last summer's mediation between the City and the Hamilton Tiger-Cats.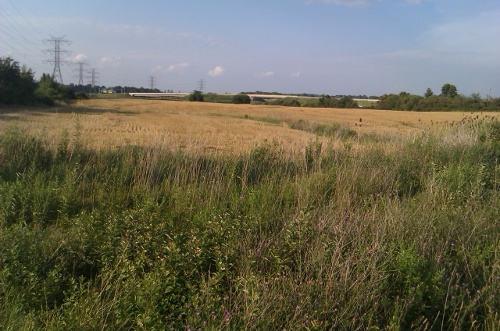 Proposed East Mountain stadium location
The Ticats supported it because it allowed for a "driveway-to-driveway experience" with a large ancillary parking lot, but a broad coalition of citizens argued that the purpose of the Future Fund and Pan Am Games was to promote public benefits and city building.
On July 27, the Future Fund Board of Governors rejected the East Mountain site as an inappropriate use that violated the Future Fund mandate.
A staff report on the East Mountain site published a week later concluded that the East Mountain site would cost tens of millions of dollars more than a West Harbour stadium, would cost Hamilton $1.2-1.4 million a year in foregone tax revenue, and would provide very limited ancillary benefits through economic development.
Council voted in August to reject the East Mountain site and reaffirm its support for the West Harbour, even after the Ticats announced that they would "never" play there.
Council later asked staff to investigate a site on the CP Rail Yard at Aberdeen Ave. and Longwood Rd., but a study concluded that the cost to buy the property, relocate the existing tenants and remediate the land would be prohibitive.
In late December, just after Toronto 2015 enacted a contingency plan to find a fallback stadium location, the councillors voted against asking staff to investigate Confederation Park in a General Issues Committee meeting.
Whether this renewed interest in the East Mountain is real or merely the wishful thinking of Ticat supporters in the media remains to be seen.
---
Update: Cripps responded to request for confirmation:
no joke, but not 100 per cent for sure. bill kelly was talking about it this morn as well. got it from a good source though.
---
Update 2: Emma Reilly of the Hamilton Spectator just posted the following tweet in response to Cripps:
Discussion flying around the twittersphere about east mountain for #PanAm. I have been polling council all day and only 1 has mentioned EM.
---
Update 3: Two councillors have replied to our request for confirmation on this rumour.
Councillor Brad Clark, in whose ward the East Mountain stadium would be located, responded to say he is not reconsidering that site.
As ward councillor, I am not reconsidering the East Mountain. There is not enough time to complete the required due diligence. Moreover, the Ticats walked away from the site while we were assessing the feasibility, at which point the site was dropped.
Councillor Brian McHattie also replied to say the only source he has heard from the rumour is Stoney Creek News, of which Mark Cripps is the managing editor.
There has been scuttlebutt at General Issues Committee this afternoon about this based on a rumour started by Stoney Creek News apparently - no Councillors are claiming the idea.
---
Update 4: Now Councillor Scott Duvall has also responded:
I am not sure where this information came from that you have emailed me.

However, if I remember correctly Council did not reject the East Mountain site, I could be wrong so you may want to check this out but Council Received the report in August and the Tiger Cats forwarded a letter the day before the meeting Explaining they had withdrawn from the East Mountain site location.
Post a Comment
You must be logged in to comment.