From Train-And-Blame to Engineering-For-Safety
By Ryan McGreal
Published December 30, 2010
In the last several months, I've gotten interested in models of incident prevention in high-reliability industries like aviation. (Yeah, I know: I need to get out more.) One of the most important principles of truly effective health and safety is the idea that the best way to ensure safety in a complex system is to engineer safety into the system.
The so-called "train-and-blame" model - exhorting people to do the right thing and then blaming or punishing them when they don't do it - simply doesn't work.
An engaging Slate interview with James Bagian, an aerospace engineer-turned-medical patient safety director, drives this home:
Much of my background is in what's called high-reliability industries - the ones that operate under conditions of high hazard yet seldom have a bad event - and people in those fields tend to have a systems perspective. We're not terribly interested in what some individual did. We want to know what led up to a bad event and what changes we need to make to reduce the likelihood of that event ever happening again.
Unfortunately, the "train-and-blame" mentality persists in many fields that would benefit from a systems approach.
An article in today's Spectator on pedestrian fatalities reflects the train-and-blame mentality that persists in the Hamilton Police Service:
Constable Claus Wagner, Hamilton police traffic safety and centralized breath testing co-ordinator, says pedestrians have to be more careful crossing the street.

Sometimes, says Wagner, people do not look before they step out.
His solution? Conventional train-and-blame. "We are all users of the highway - pedestrians, bicycles and cars - and we all have to be aware."
Now contrast Bagian, talking about a medical error in which a nurse gives a patient the wrong medicine.
What do you say? "The nurse made a mistake"? That's true, but then what's the solution? "Nurse, please be more careful"? Telling people to be careful is not effective. Humans are not reliable that way. Some are better than others, but nobody's perfect. You need a solution that's not about making people perfect.
We've touched on this idea before, of course. People will jaywalk if it means avoiding a long walk, and our traffic system should reflect this fact instead of fighting against it with the threat of punishment.
So here's a solution for reducing pedestrian deaths in Hamilton: instead of telling pedestrians to be more careful, why don't we take a systems approach and engineer our streets to reduce the risk of injury and death in a collision?
We know that one-way streets are more dangerous than two-way streets (as counterintuitive as that might seem), yet we refuse to convert our high-speed one-way automobile conduits to two-way traffic flows because we value drivers more than pedestrians.
We know about the extremely strong correlation between vehicle speed and pedestrian fatality, yet we stubbornly refuse to sacrifice high average vehicle speeds on our urban thoroughfares.
We even go so far as to ban pedestrians from crossing the street at signalized intersections, lest they get in the way of high-speed motor vehicles.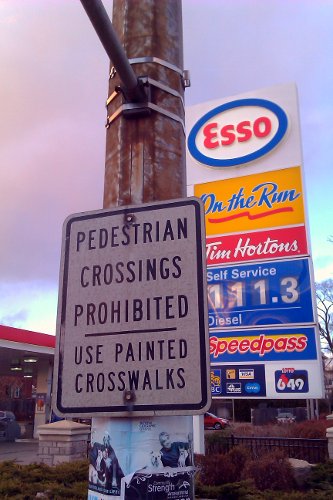 Pedestrian Crossings Prohibited, King and Dundurn
Naturally, we do this out of a stated desire to keep pedestrians "safe" - but all we're doing is blaming the victim. It's not a moral failing to want to cross the street to get somewhere. Walking shouldn't be an inherently perilous activity - and it wouldn't be an inherently perilous activity if we designed our streets differently.
Cities that succeed at creating truly safe, walkable, pedestrian- and cycling-friendly public spaces do so not by controlling pedestrians and cyclists but rather by re-engineering their street systems to slow down the motor vehicles and limit their capacity for harm.
Post a Comment
You must be logged in to comment.