City Staff to Recommend CP Rail Yard for Pan Am Stadium
By RTH Staff
Published September 13, 2010
After considering a number of sites in the Aberdeen Ave. and Longwood Rd area of southwest Hamilton, City Staff are recommending (PDF link) that the CP Rail Yard at Aberdeen and Longwood be presented to HostCo as Hamilton's Pan Am Stadium site location.
The Hamilton Tiger-Cats have agreed to the site, on the condition that the Federal and Provincial Governments "provide sufficient additional funding" to upgrade the stadium from 15,000 seats to 25,000 seats. Staff are also asking Council to approve negotiations to purchase the necessary lands from their current owners.
After two weeks of intense negotiations with the Ticats, HostCo, Infrastructure Ontario, McMaster University and McMaster Innovation Park (MIP), the Province of Ontario, the Government of Canada and property owners in the area, Staff decided to recommend the Rail Yard because it does not threaten the "integrity" of the MIP. Staff suggest that while the Rail Yard is actually larger than necessary for a stadium, the excess land could become part of an expanded MIP.
Staff have not yet had time to negotiate through the financial impacts of this site recommendation and note that "it is too early to determine whether the City will be called upon to make a larger financial commitment than that at present." However, the staff report does note, "It appears that the current funding gap is significant."
In effect, Staff are asking Council to approve a new site that will have an unknown but likely significant impact on the city's finances. The City has already committed $45 million of its $60 million Future Fund toward a Pan Am Stadium, with the balance going to the $5 million planned Velodrome and land acquisition.
The Future Fund Board of Governors approved a stadium expenditure at the City's originally-preferred West Harbour site, and explicitly rejected spending the money at an alternate East Mountain site that was proposed earlier in the summer after the Ticats refused to commit to the West Harbour. The Board has not yet met to consider the Aberdeen and Longwood site.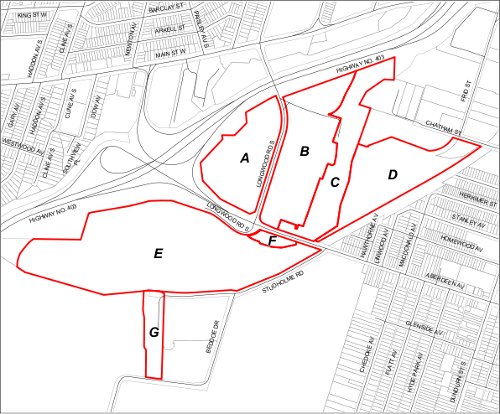 West Hamilton Innovation District Study Site Areas
Site Sizes

| Site | Area (acres) |
| --- | --- |
| A | 15.43 |
| B | 21.22 |
| C | 14.63 |
| D | 17.55 |
| E (Rail Yard) | 51.29 |
| F | 1.29 |
| G | 4.67 |
Post a Comment
You must be logged in to comment.