Hamilton Grand: 12 Storeys is Right Height
By Jason Leach
Published February 10, 2009
Harry Stinson's Hamilton Grand website has a new rendering - the building's up to 12 floors including the penthouse.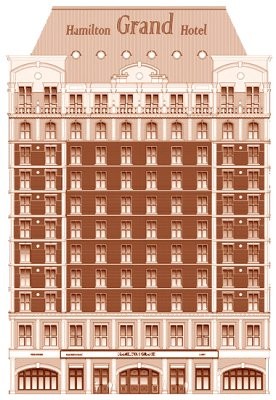 Hamilton Grand, new 12-storey rendering
Sales must be going well for Stinson to add yet another floor. An article in today's Spectator reports that the building is half-sold - 82 units. The smaller original building plan only called for 80, so it seems Stinson and company were right to assess the market and increase the scale.
However, I do think he should stop at 12 floors, sell it out, build it and leave people wanting more.
He can't keep going higher and higher with this sort of model. The nearby Pigott building is 15 floors and is our tallest historic building. Stinson wants a building with a historic feel and architecture - how will he pull that off if it starts approaching 20+ floors?
For example, will there still be a "grand staircase"? Is there really any point in a 12-storey grand staircase? Six floors made sense for something like that.
Don't get me wrong, I'm getting excited about this, but I hope he'll cap it at some point and leave people wanting in on his next project, which could be a modern tower.
12 floors sounds just perfect, especially with that new rendering.
Post a Comment
You must be logged in to comment.