Why Special Treatment for Auto Industry?
By Ted Mitchell
Published December 31, 2008
With all the press recently given to the domestic auto industry's woes, you might think somebody would ask why they are in such dire straits.
Why are they special? Global competition is the rule for most industries. Unions with high wages are still pretty common. Other industries have big pension obligations. Still others are just as highly affected by high oil prices.
Inferior quality is a poor argument when watchdogs like Consumer Reports have noted for about a decade that North American cars are more reliable than European imports.
Are they really making vehicles that nobody wants?
Every industry has a segment of luxury products, small or large. With autos, there have always been sports cars and large leather upholstered highway-liners.
Historically, those segments only made up a minority.
For the last two decades, a new luxury indulgence has been sneaking up on us, based on size and not much else – truck 'technology' derived pickups, SUVs, and vans.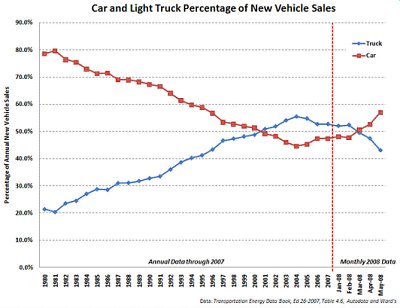 Image Credit: Green Car Congress. A seismic shift in vehicle types.
Unlike in days past, when such vehicles were mostly used for their intended purpose, now urban and suburban dwellers primarily drive them - and insist that they need them.
Of course, that is absurd. But this realization is only starting to dawn on some SUV and truck owners, because of the powerful and insidious marketing propaganda of the big three.
Now, forgive my use of sexist stereotypes to illustrate this point, but everyone knows that a stylish woman's two-dozen shoes which cost a couple grand are an indulgence. But her boyfriend's truck is pricier than a car that would do the same job, by a couple grand per year. And he will f'ing lose it if anyone dare suggest that his truck is an extravagance.
Industry's motivation is simple. If they can sell a $20,000 car and net $1200 profit, or a $25,000 truck netting $5000 profit, where should they put their advertising dollars?
The industry's error was thinking this swindle could go on forever. You can't fool all the people all of the time.
When over half of the population drives a light truck, it represents an unsustainable level of luxury in terms of segment size, considering fuel consumption and ownership costs.
Which is why, when a recession hits, an industry that has developed itself to be dependent on high-margin but ultimately obsolete and unnecessary large vehicles, deserves to be humbled.
Now the government bears some of the blame in facilitating this bubble, with their too easily lobbied-away concessions in light truck fuel economy, emissions and safety standards.
But the public shouldn't forget their crucial contribution.
Post a Comment
You must be logged in to comment.