Council to Vote on Connaught Plan
If it seems like there are a lot of 'ifs' in this proposal, it's because there are.
By Jason Leach
Published September 14, 2009
With Wednesday's Council meeting approaching and a final decision expected regarding the Royal Connaught Hotel building, I've been informed of a few more details about the project that should be discussed that night.

Royal Connaught Hotel (RTH file photo)
Facade Restoration: The builders are going to completely restore the facade of the building as well as the grand lobby. The lobby appears as though it will be used for the market rental portion of the building.
Also, if a new hotel is ever needed at this site, the builders are suggesting they will build it adjacent to the current hotel on the east side and use the old lobby as the new hotel lobby.
Proposed Grocery Store: The builders are also suggesting that they will build a grocery store on the east side of the Connaught as part of their retail component. This is obviously welcome news in our attempts to add more residents to downtown Hamilton.
Also, the grocery store may be built with the ability to build a new hotel tower over top of it in the future.
Incidentally, if it seems like there are a lot of 'ifs' in this proposal, it's because there are. All of these issues should be more clear on Wednesday night.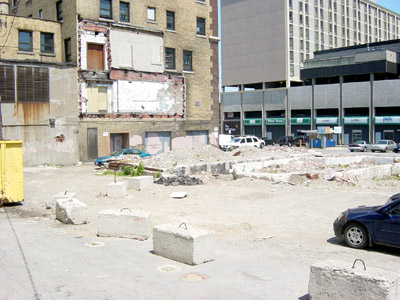 The rear of the Connaught sits empty and underused as a surface parking lot (RTH file photo)
Street-Facing Retail? I wasn't able to find out what will become of the old street-facing retail along the Gore. My fear, like many others, is that there will be a push to eliminate it - similar to the battles that have gone on at the Lister Block and the fate of its retail arcade.
If we're going to add hundreds of new residents downtown, we need to start bringing in appropriate amenities to serve them.
How to Do This Right
Despite strong feelings by many in the community (myself included) that the Connaught should be preserved as a hotel, if the attempts to save it are unsuccessful, we are going to be seeing 200 market rental units brought on stream in the Gore.
I don't think anyone will argue this is a bad thing in itself. All large cities have huge rental towers in their cores.
The social housing aspect is probably the more contentious issue here due to the oversaturation of that form of housing downtown already.
But let's take a big picture view for a moment. What basic services would a family or college students like to see at their doorstep if choosing to move to this location?
The aforementioned grocery store is paramount and if council agrees to proceed with this project, I would suggest that they get a written guarantee from the builders that a grocery store will be brought to that location.
Just in that few block of Catharine Street from King to Hunter there are several hundred residents in Terminal Towers, Landmark Place and the Columbia College residence.
Retail shopping may be another amenity that folks would like to see added in greater demand downtown. Is anyone at city hall banging down the doors at stores with a downtown presence in other cities? I'm thinking of the usual suspects - H&M, American Apparel, Mexx, GAP, etc. - but even Winners would be a great addition to the downtown area.
We need someone in downtown renewal or EcDev to be courting these stores every day. Successful cities take work to create. They don't just happen on their own.
New Park Space
Finally, how about a look at some new park space? The upcoming revamp of the Gore should turn it into a more functional urban plaza with events, shopping, music, patios, water features, and so on, but I think right now is the right time for the city to get moving on their proposed park at John and King William.
It needs to be a top-notch urban park with big trees, water pads, kids play equipment, benches, gardens, walkways, and all the amenities.
With improved facilities downtown we may see a new demand for downtown living. That, in turn, that may lead to the day when folks with great vision like Harry Stinson can get financing for landmark projects that become another focal point downtown and add new residents to a growing core.
Post a Comment
You must be logged in to comment.