Album Review: Jackson Square by Arkells
Hard-hitting, melodic, bluesy rock with crisp guitars, driving bass and bombastic drums: hot damn, these guys are good!
By Ryan McGreal
Published November 04, 2008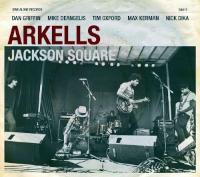 Keep an eye on Arkells, an up-and-coming Hamilton five-piece with a surprisingly mature knack for rock-solid comfort music. Their first full-length album, Jackson Square (out October 28, 2008 from Dine Alone Records) is a truly impressive collection from a band that has only been together a couple of years.
Singer Max Kerman's voice is raspy and dynamic - now raw and throaty, now a quavering falsetto. His vulnerable expressiveness reminds me of Win Butler from Montreal's Arcade Fire, or perhaps Adam Duritz of Counting Crows (if they weren't so damned precious).
Yet there's nothing effete or decadent about the Arkells sound. They play hard-hitting, bluesy classic rock with crisp guitars, driving bass and bombastic drums.
The themes they explore are self-consciously blue-collar, with a no-nonsense approach to work - on the exhilirating "Deadlines", Kerman spits out the line "those fucking Europeans who vacation from September, they ain't in their right mind" - and an evident disdain for poseurs and educated idiots (see the magnificent "No Champagne Socialist", featuring the most poignant harmonica riff this side of Neil Young).
The album starts strong and holds its momentum throughout, from the the fraught "Oh, The Boss Is Coming!", which Kerman belts out like Roger Daltry at his most insistent, through the earnest indie pop of "Heart of the City" and the almost unbearably catchy hooks of the penultimate "John Lennon" (incidentally, my five-year-old's favourite track - he's been walking around the house for the past week singing, "I'm John Lennon, in '67").
The album's many highlights include "Ballad of Hugo Chavez", a sweetly fretful guitar and piano track that could have burst, full-grown, from the mid-1970s - complete with "Hey, hey, hey!" in the chorus.
In fact, there are no truly crappy songs on the album. The weakest track is arguably the middling "I'm Not The Sun", a bluesy 3/4 time ballad that feels a bit perfunctory.
Otherwise, Jackson Square is rock-solid throughout. If Arkells already are this good on their debut album, I can't wait to hear where they take it from here.
You can listen to streaming audio of Jackson Square on MuchMusic.
Arkells play The Casbah On November 8, 2008 with Matt Mays and El Torpedo.
Post a Comment
You must be logged in to comment.