Ubiquitous Synergy Seeker - Welding the C:/
The organic folk sensibility blends smoothly with the jagged electronic beats and samples to produce a surprisingly fresh hybrid.
By Ryan McGreal
Published June 05, 2008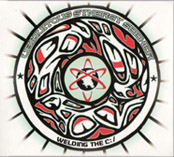 Being the lowly unpaid editor of a volunteer journal has its benefits, even after accounting for pure narcissism. One of those benefits is the fact that independent music labels occasionally send me review copies of new albums when their bands are coming to town.
Right now I'm listening to Welding the C:/, the new six-song EP by Toronto's Ubiquitous Synergy Seeker (USS). USS are Ash Boo-Schultz and Human Kebab, a charismatic duo who blend live instruments with accomplished turntablism. Their music is a flavourful jambalaya of electronica, drum-n-bass, dub and folk molded into melodic indie pop.
Don't be off-put by the pretentious band name; these guys know how to have fun. By all accounts they put on a hugely energetic show, evidenced in part by the boisterous concert video clips shared by fans.
Boo-Schultz pulls off a sometimes plaintive, sometimes groovy vocal style that recalls Clap Your Hands Say Yeah's Alec Ounsworth, but far less annoying. The lyrics are a dense, dizzying stew of polysyllabic riffs that juxtapose concepts to jarring effect.
I have visions of the lyricist studying Margaret Atwood for inspiration and refering repeatedly to his thesaurus to put together such tongue-defying stanzas as:
Dear Lordosis, please relieve psychosis
Behaviour through osmosis
Dipsogen cirrhosis
The paranoids playing xylophones
With rusty lukatomes
Chordates makes ideal mates
And perfect posture
That song, "Drop Around The Clock," is almost worth the price of admission by itself for its sunburned groove and brash vocals.
I understand that the poppy, radio-friendly single "Hollow Point Sniper Hyperbole" is enjoying solid rotation on 102.1FM.
If that's the only song you've heard, I must stress that most of the EP feels less mainstream and more 'underground'; though track 5, "Pornostartrek", sounds like it would make another radio-friendly single if it can get away with the line, "You make me feel like a porno star".
Opening track "2 15/16" sets the tone for much of the EP with a slow dub groove punctuated by samples, scratching, breakbeats, and Boo-Schultz spitting out lines like, "You're like iodine chasing all the storms away / You're like a black-ops licorice masquerade".
The closing track, Torquoise 1:11, rounds out the album with a bang, laying some intense breakbeats over a chilling, sawtoothed minor-key chord progression, contrasted creepily against a new-agey spoken word piece that reminded me of an old monologue by rave pioneer Frankie Bones.
Welding the C:/ is short and terse, with no wasted tracks and lots of energy to spare. The organic folk sensibility blends smoothly with the jagged electronic beats and samples to produce a surprisingly fresh hybrid.
I look forward to hearing where Boo-Schultz and Human Kebab take their sound next. In the meantime, USS play the Casbah, 306 King St W, Hamilton, on Friday, June 6. If you miss that show, they also play Philthy McNasty's in Burlington on June 21.
Post a Comment
You must be logged in to comment.