Parents - Free HSR is a No Brainer
Free transit is actually financially advantageous to one large group of Hamiltonians: parents.
By Thom Oommen
Published March 24, 2008
When it was first suggested that Hamilton throw out the HSR's fare boxes and embrace a free public transit system, the groans could be heard from Gore Park to Glanbrook. More taxes, no way!
This was the natural knee-jerk reaction of a taxpayer but if these Hamiltonians had given it some thought, they would have recognized that free transit is actually financially advantageous to one large group of Hamiltonians: parents.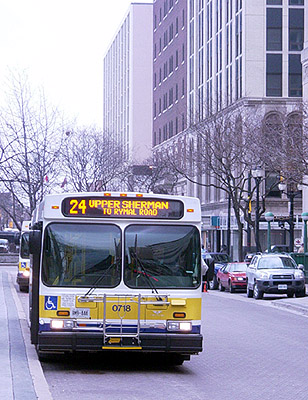 HSR Bus (RTH file photo)
The annual figure bounced around in the media to cover the fares collected is $150 per household. Quite a reasonable proposition if you pay $79 for a monthly pass. You'll be paid off in two months. But realistically most adults in Hamilton drive so, to put it bluntly, they recoil at the idea of paying for nothing.
But if you have kids who use the HSR to get to school and to get around Hamilton paying an extra $150 a year is actually a smart investment.
I started using a monthly bus pass in grade 6. Therefore up until I was 18 every month my mother had to shell out to cover the cost of my HSR pass. If I was in grade 6 and was just starting to take the bus today my mom would be looking at a monthly pass cost of $65.
That means over seven years, including inflation at 3 percent, she would have paid out $4,980.60 for me to take the HSR during just the ten months of the school year.
Including my sister, who also received a monthly pass, that number jumps to $9,961.20. That's a huge expense.
Even if you let your kids start taking the bus in high school that's still an expense of $5,438.71 for two children.
Compare that with $150 a year in taxes plus inflation over a child's 18 years and you get a figure of $3,512.17. With two kids that works out to $1,756.08 per child.
Even with taxes increased by $200 a year this is a serious deal for any budget conscious parent. What could you do with the over $5,000 you'd be saving?
And what if you already commute using the HSR? What if you have an elderly parent who can't drive anymore? What if you're concerned with air quality and climate change? What if you think poverty in Hamilton is a major problem? What if you know that the CAA estimates that owning and operating a vehicle can set you back up to $10,000 a year.
There are even more reasons for Hamilton to throw out the fare boxes.
Free transit is a no brainer. Let's make Hamilton stand out from the crowd like we once did.
Free Transit: No Brainer
Children
1
2
3
Taxes (over 18 years)
$150 per year
$3,512.17
$1,756.09
$1,170.72
$200 per year
$4,682.89
$2,341.45
$1,560.96
HSR Passes (10 months)
From Grade 6
$4,980.60
$9,961.20
$14,941.80
From High School
$2,719.36
$5,438.72
$8,158.08
HSR passes (12 months)
From Grade 6
$5,976.72
$11,953.44
$17,930.16
From High School
$3,263.23
$6,526.46
$9,789.69
Post a Comment
You must be logged in to comment.