Hamilton Education Centre: The Dilemma and the Agenda
If we want to project an image to private investment that Hamilton is the right place to invest, then we first need to invest in our downtown ourselves.
By Trey Shaughnessy
Published February 14, 2008
This article has been updated
(Note: This article was actually published on February 16, 2008, but we wanted to include it in the February 14 issue so it would get the attention it deserves. -Ed.)
The city of Hamilton and McMaster University just proposed a multi-building development on the current Hamilton-Wentworth District School Board site at 100 Main West. The proposed development would house a new headquarters for the School Board, City Public Health staff and the new David Braley/McMaster University Family Health Centre.
The site design was submitted by Their + Curran Architects (TCA) on behalf of the City and McMaster for the Board of Ed to consider as an alternative to the board's own dreadful, unimaginative options. TCA has designed a beautiful collection of buildings, which is exactly what downtown needs.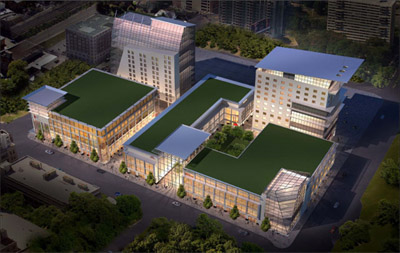 Aerial view of proposed Education Centre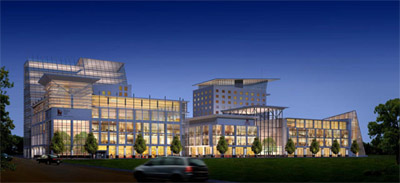 Corner of Bay and King, showing front entrance to Board of Education in left corner.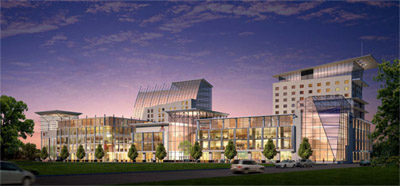 Corner of Bay and Main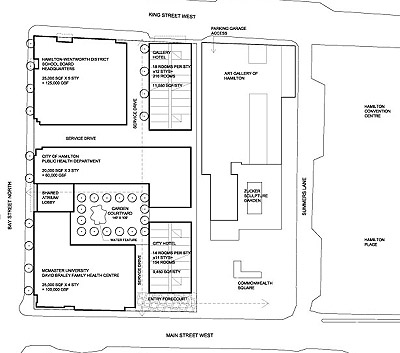 Site plan (click to see a larger version in a new window)
My first reaction was 'Wow, look at all the glass, it looks so modern, so Toronto, so not Hamilton!' The design is an elegant postmodern, campus-style development. I call it 'campus-style', because the height of the buildings isn't quite 'skyscraper' status, but the density and clever arrangement of the buildings utilizes the land in a very inviting and functional design. The buildings meet the street without being imposing on pedestrians.
The Bay Street elevation features a soaring, glass atrium entrance and lobby shared by Public Health and McMaster David Braley Family Health Centre buildings. This leads to an outdoor garden courtyard with a water feature.
At the back is an eleven storey hotel that faces City Hall. The new Board of Education administration office building is five stories for a total of 125,000 sq ft, with the main entrance at the corner of Bay and King streets.
It is surrounded by service laneways, but these appear to be minimized in the effective streetwall that enclosed the street to make it feel safe and comfortable to pedestrians.
Behind this building and west of the Art Gallery of Hamilton is a second hotel, 12-stories tall, and containing 216 rooms.
The Dilemma
The current building at 100 Main West is not big enough for all the non-instructional staff. The non-instructional staff are housed at seven buildings and occupy a total of 291,100 sq ft. The main building at 100 Main West is just shy of 100,000 sq ft. The Board has narrowed the decision to two options.
Concept 1 - One Building Option
One new building would be constructed on a separate site. This building would be large enough to accommodate all non-instructional staff. The preferred site also has the potential to host a new secondary school.
Comparative cost: $33 million.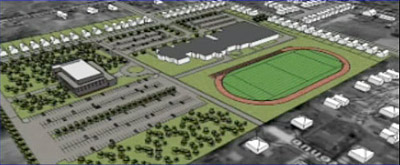 Jerome Site concept. Building on the right is a new high school.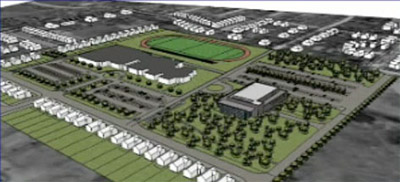 Lots of land used in the Jerome sprawling car dependent option.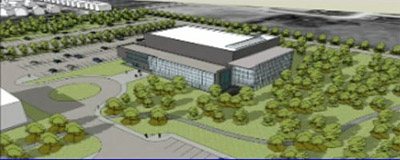 Jerome concept showing treed area that could later accommodate more surface parking.
Concept 2 - Two building Option
This option would look at building a new corporate centre at 100 Main Street West. In order to meet the current identified space requirement, a separate Training and Maintenance Centre would be constructed on a separate site.
Comparative cost: $55 million (Note: most of this cost according to the Board of Ed is for the underground parking)


Aerial view of Option 2


Bay Street elevation, showing a concept of a 3-story new office building and a mystery building at Bay and Main. Possibly where McMaster would locate before TCA revealed its proposal. Between the two buildings is mainly automobile use, access to underground parking and surface 'VIP' parking. Note: The 3-storey building doesn't look much larger then what they have currently. Are the excessive underground parking costs an excuse to vacate the core and move to the mountain? Surely underground parking can be more imaginative than this, under Jackson Square, under Copps Coliseum, under AGH, Summers Lane these underground parking structures don't occupy the surface like what is shown here.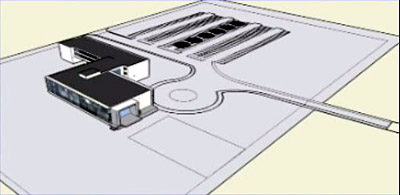 Rendering showing the Mountain training facility and maintenance vehicle storage. For some reason this can't be located downtown according to the Board of Ed. But coliseums, art galleries, convention centres and hotels can locate downtown; those 'blue vans' must need some special considerations.
That's it from the Board of Education. Those two options are the limits of their imagination. It clearly shows one option is set up to fail - the downtown option. It gets a bigger price tag and doesn't consolidate in one building, thereby leaving only one option left - the mountain.
Thank goodness TCA, McMaster and the City proposed their own alternative. I'm sure it throws a wrench into the Board's agenda.
The Hidden Agenda
Much of the chatter coming from the Trustees is in favour of option 1, a sprawling, suburban building on the central mountain. Director of Education Chris Spence has already expressed that he is not loyal to downtown.
Why? I can only assume it is parking. Like Harry Stinson expressed in his recent CHML interview, "Hamilton is obsessed with parking". I believe the Board of Ed wants to relocate entirely to the mountain.
This option, called the Jerome Option, is on 12 acres complete with 300 surface parking spaces. Consider that the average parking lot uses 325 sq ft of land for one parking spot.
The Jerome site would have - to begin with - 300 parking spaces for a total of 97,500 sq ft of land used exclusively for vehicle storage, which then becomes completely vacant, unused land during weekends and after office hours. This is not a good use of land and is the leading cause of sprawl.
The entire land used for the proposal by TCA at King and Bay street occupies 25,000 sq ft over five floors. The Jerome site parking lot alone is almost four times the land for the proposed new downtown building. Parking for the downtown proposal will be accommodated underground and shared with two hotels, McMaster and Public Health.
The bonus is that the parking will be extra parking for downtown after hours, unlike the current Board of Ed surface parking lot that is locked tight after 6:00 pm leaving patrons of the Convention Centre, Hamilton Place etc wondering why this empty parking lot is inaccessible.
You would think the Board of Education was in the business of trucking freight, considering how much importance has been given to 'maintenance vehicles'. If what they mean by maintenance vehicles are those 'blue vans', then I'm sure we don't have to build a building around them first and administering an education system second.
Education or Land Speculation?
Recent actions by the Board of Ed would also make one think the Board is in the business of land speculation, considering the amount of selling off/closing community schools and selling the land to home builders, thereby installing a 'trucking' system to the remaining schools from the massive new catchments.
It is interesting that a recent review of the Board's non-instructional accommodation revealed that the Board could accommodate its non-instructional staff in 128,000 sq ft of space, but they currently occupy 291,100 sq ft. of space.
How did that happen? That means the current building is only 30,000 sq ft shy of accommodating all the non-instructional staff. The Board commented it would also need space for large meetings and a training facility. I'm pretty sure TCA could add one or two floors to the downtown site and solve that problem. I think it might be wise to add one more floor at least to the proposed downtown 5-floor 125,000 sq ft building because we wouldn't want to repeat this process again in 40 years.
This process and the comments have made me think there is an alternative agenda, that is, to for the Board to leave downtown. If the recent study showed they only need 30,000 sq ft of extra space, I suggest Stelco Tower. If they need large meeting space, I suggest Sheraton Hotel; both are across the street and have ample space.
That is why I think the Board is making up excuses to leave downtown: "The current building needs a roof", "it's too small", "we have nowhere to store our blue vans".
I think the City, McMaster and TCA have done given the Board of wonderful option and a beautiful landmark building for all of Hamilton. A response from a Trustee called the option a "Taj Mahal".
This trustee has taken a page from the Warren Green playbook. When the City was making specifics for a new City Hall, Green, the president of Hi Rise Group, said the City wanted something much too grand and called it a "Taj Mahal".
Our quality of life in Hamilton comes from how and what we build. There are some things that are worth spending the money on. A landmark, well-designed building in our downtown can't be 'Taj Mahal' enough.
If we want to project an image to private investment that Hamilton is the right place to invest, then we first need to invest in our downtown ourselves. Leadership by example is what we were taught at school. What kind of image would it give if we let the Board of Education of Hamilton leave downtown?
(With files from Jason Leach)
Update: As an RTH reader noticed, Chris Spence is the Director of Education, not the Chair of the School Board. RTH regrets the error. Jump to the changed paragraph.
Post a Comment
You must be logged in to comment.