Sidewalk Snow Job
We reveal our values by our priorities.
By Jason Leach
Published December 20, 2007
I just read a very timely column in the Toronto Star by Christopher Hume:
[S]now clearing has become another powerful reminder of the extent to which we have handed over the city and much of its public space to private interests.

The main object of concern last Sunday was the driver, who, incidentally, was constantly told to stay home because road conditions were so dangerous. The best way to get around was by foot, but sidewalks wouldn't be cleared for more than a day. So on the one day when people were forced to walk, they couldn't.
In this vein, here are some random observations about Hamilton, from the past three weeks.
Two days after our first snowfall, I attempt to get off an HSR bus into a mountain of ice. No sweat; it's only been two days.
Seven days later at that same stop (Main and Sherman), I attempt to get off an HSR bus ... into that same mountain of ice. Cars roar by on a perfectly dry street.
At Gore Park, the heart of the city and home to some 70,000 pedestrians every 24-hours, I see three elderly people fall within a 10 minute span. Two of them fell and rolled down the side of another mountain of snow and ice while trying to leave a bus. The one poor guy looked like a snowman by the time he gathered himself and got up after several rolls. Thankfully, none were hurt.
At King and James, one friendly driver passed by the assigned bus stop, which still looked like Mt Everest, and instead dropped us all of at a nearby entranceway to a parking lot, which - not surprisingly - was perfectly clear of snow.
At King and Dundurn, a full 60 hours after the big storm, a kind old man was in front of the bus stop shoveling away a portion of the snowbank so riders had somewhere to board. In other words, for the first 60 hours after our recent storm, passengers had nowhere to go but up and over yet another snow mountain if they expected to board a westbound bus at this busy intersection. Thank-you to this kind fellow who struggled away much to the amazement of everyone waiting for the bus.
A block west on King, you can observe the secondary use for Hamilton's bike lanes across the 403 - a holding zone for massive piles of snow presumably cleared off of five lane King Street and dumped here because, after all, who rides their bike when it's cold out [other than your humble editor, that is - Ed.]?
On a lighter note, my wife and I enjoyed watching the snow-shoer who came up the middle of Strathcona on Sunday afternoon. The folks on skis looked pretty slick too, gliding through the city.
Finally, it was very cool to see the folks tobogganing down the stairs in front of Jackson Square on Sunday.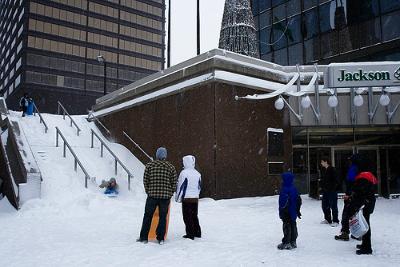 Children slide down the stairs from the Jackson Square Plaza at King and James (Image Credit: Flickr)
The fact is, you could do this most days of the winter, as half of these steps are never cleared. I'm sure it's illegal though - much too fun.
Post a Comment
You must be logged in to comment.