The Shock Doctrine, by Naomi Klein
Powerful elites leverage "shock" events to catch people off guard and then implement unpopular economic policies to their benefit and the detriment of local communities.
By Ted Mitchell
Published November 08, 2007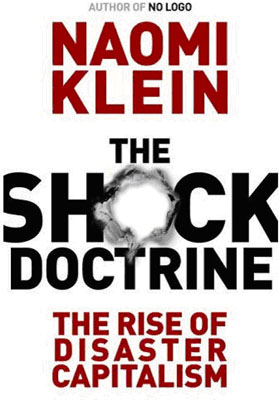 I picked up "The Shock Doctrine" not knowing what to expect, never having read Klein before.
This is the most enlightening book I have ever read. Enlightening, because it answers two questions that have plagued me for some time.
My first question is a simple observation. "What happened in the 1970s that started to make the world a nastier place?"
The second question arose on the morning of 9/11. "Why do they hate us?" seemed to me an unavoidable question for Americans to collectively ask themselves.
Without directly asking these questions, by the end of the book Klein does a very good job of answering both.
What is the Shock Doctrine?
The premise of this book is that powerful, moneyed elites leverage "shock" events to catch people off guard, and then rapidly, forcefully and hopefully irreversibly implement unpopular economic policies to the benefit of free market capitalists and the detriment of local communities.
Shocks can be natural disasters, political unrest, or contrived events like regime change and war. The medicine prescribed is always the same regardless of the situation: rapid deployment of free market ideology at all costs.
Klein revisits the history of four decades of what she calls "disaster capitalism" in this 564 page tome. It becomes clear that she means both capitalizing on disaster and the disastrous consequences of unfettered capitalism.
Even serious news junkies have a lot to learn from Klein's perspective, as most of these facts never made it to the popular press while the issues were still hot. Even if some content is not news to readers, the package will result in an emotional barrage almost as relentless as the "shock and awe" process she describes.
Style
The book is engaging, sometimes reading like a pot boiler albeit with a pit in the stomach feeling that simultaneously combines dread, rage and pity. Klein is no Chomsky though, references number only 68 pages and we are spared his slogging thoroughness.
Klein is not a particularly humorous author, except perhaps for repeatedly pointing out the programmed response of free-market ideologues: always the same regurgitated mantras in every situation!
It makes you wonder why there are so many high-profile right-wing think tanks, when there clearly isn't very much to learn.
Content
Klein opens with the metaphor of electroshock therapy as performed by the brutal Canadian psychiatrist Ewen Cameron in the 1950s. The CIA discovers Cameron, funds his research, and incorporates these lessons into new dimensions of torture, soon to be used both actually and metaphorically in the laboratory of foreign economies.
This book has a demon: his name is Milton Friedman, and his ideology of utter laisse-faire capitalism, spread mainly via the Chicago School of Economics.
Klein reveals things you probably didn't know about the South American regimes of Argentina, Chile and Bolivia. For me, this was the most painful part of the book, and the least imbued with Klein's interpretations. Telling the story is enough, and it is gut-wrenching.
Klein moves on to how Thatcher used the Falklands war as a cover for forcing unpopular right-wing policies on Britain. This is followed by a more detailed look at how exploitative economic policies were forced on South America after the fall of military dictatorships with the help of the World Bank, IMF, and powerful multinational corporations.
The shock of the fall of Communism in Poland and Russia and South Africa's apartheid regime gave rise to even more bold behaviour of these incestuous players.
Klein discusses the Tiananmen Square massacre in an interesting light, painting a picture of how the old Communist guard slammed down hard on then emerging democratic voices such that the transition from party leader to oligarch capitalist is uninterrupted by petty things such as the will of the people. A similar story happens in Russia. One of these societies is supposedly free, but the masses in both are effectively in economic slavery.
Her next victims are the US Homeland Security complex and reconstruction contracts in Iraq and New Orleans post Katrina. The replacement of traditional military with private mercenaries is truly staggering in degree and pace of change.
The examples are graphic in contract nepotism, waste, conflict of interest and sometimes outright fraud. Perhaps her point is that all these things meld together, but here she wavers from putting Friedman in the crosshairs.
The story Klein tells of post-tsunami Sri Lanka is sad indeed, another example of governments suppressing the welfare of their own citizens, this time internally without serious pressure from the IMF and friends.
Klein's look at the Israel/Palestine/Lebanon problem from an economic viewpoint is very interesting. The easy targets of religious differences suddenly seem to lose their appeal when Klein's economic perspective is added.
Only the last chapter takes a more hopeful look at examples of mounting resistance to economic shock therapy, especially in South America. Be warned, as the reader has to endure a lot of bad news before getting this far.
Loose Ends
I wish Klein would have given some explanatory economic background as to Friedman's and Keynesian ideologies (note however that Wikipedia has a lengthy criticism section on Keynes and none on Friedman). Similarly, she assumes a level of understanding about personalities and entities and their history that had me looking up quite a few things.
On Iraq, Katrina and Homeland Security, I wish she had been more precise at differentiating free-market capitalism from public funding of massive private corporations.
In my view, the latter are the worst of all worlds: big corporations with the inefficiency of big government and none of the competitive pressure of the marketplace's private money. It is a recipe for overspending and underperformance.
This departs from free-market cheerleaders like Friedman in my understanding. She never scores the current Bush administration (or should I say regime?) on adherence to Friedman.
Even extreme right wing ideologues like Ayn Rand believed that government should maintain the functions of policing. Bush has gone well beyond that, contracting out this critical role under the radar of public and media concern.
I'm sure that even Rand would be nauseated at the financial incompetence and nepotism of Bush's version of government. Klein would have a better argument if she was more precise on this point.
Critics
Many more reviews of this book can be found online. Some are so thoroughly descriptive that you hardly need to read the book.
Others appear to see the difference between a mixed free market with public institutions and utter laisse-faire capitalism in black and white: the former might as well be Stalinist communism.
There is nothing in this book to suggest such extremism. She generally lets the stories tell themselves, with only enough interpretation as is necessary for understanding. Customer reviews on Amazon.ca are entirely polarized, giving either one or five stars.
Why Klein Debunks Friedman
Klein answers this question only by presenting the bloody evidence. I will go further.
Friedman's ultra free market ideology is a simple economic theory. Ignore for a moment whether it can be verified by observation, and think about the simplicity. Now imagine all the complexity of running a country, attending to the disparate needs of millions of citizens through constantly changing world events.
There is an extreme mismatch with the types of problems these are. Think of building a house. To do it properly, you need a lot of different tools. Free market ideology is like having only a bag of hammers. You can get a lot done, but it makes a mess of the drywall, wires and plumbing.
Hitting the Sweet Spot
I was inspired by this book to create the following graph: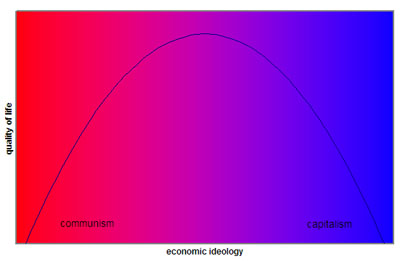 Quality of Life vs. Economic Ideology
On the y axis, I have placed "quality of life" for the typical citizen, but several correlated descriptors could be used interchangeably: median income, lifespan, infant survival, etc.
There is one more descriptor to add: Freedom. This is the critical point, that excessive free market capitalism reduces freedom by virtue of economic slavery and neutered citizen power.
Only a mixture of state and free market systems allow the average citizen to maximize their quality of life. Excess state control does not allow enough personal wealth or freedom. Excess free market power leads to many falling through the cracks with no state apparatus to pick up the pieces and deal with the unpredictable complexities of reality.
Scandinavian countries are probably closest to the top. Canada is a little to the right, and the US has markedly fallen down that slope. This is the best answer I have yet seen to my first question, since Friedman's inspiration and the capitalist marketing machine started steering public opinion to the economic right in the 1970s, and the real consequences are now becoming clear.
Klein's perspective also makes the answer to "why do they hate us" very clear. The world hates America because of the way it has hijacked foreign democracies, exploiting foreign workers and natural resources. The package was always sold as a marriage, but in reality was more like rape.
Legacy
Even if half of Klein's narratives proved to be false and the other half wildly exaggerated, there is enough substance here to indict unfettered free-market capitalism on charges of cultural, economic, and actual genocide.
If there is any justice, this should be the legacy of The Shock Doctrine: thoroughly and publicly put the Chicago school ideologies on trial by revisiting their place in recent world history. If a significant portion of the American public refuses to acknowledge this shame, I think the world is in dire straits.
No theory is so good that it does not spawn yet more questions, like: Why can't Americans even ask the question, why do they hate us? That question needs to be addressed before the US can start learning the truth about consequences.
Post a Comment
You must be logged in to comment.