Downtown Update
Jason tramps around the city and gathers a scintillating flotilla of ephemera in his grasp.
By Jason Leach
Published October 20, 2006
(With files from Ryan McGreal and Trevor Shaw)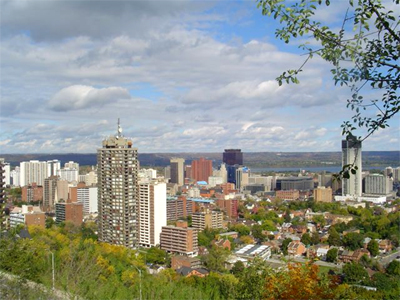 Downtown seen from the escarpment
Plans are moving forward for a loft conversion [PDF link] of the old federal building on Main West.
The plans now call for 170 units with a three storey parking structure along George Street. There's no word on whether there will be street-facing retail/commercial in this project.
Also, 24 new apartments will be created by renovating the Salvation Army Thrift Store building at King and Hughson [PDF link].
I just came across an amazing artist's website with great Hammertown stuff. Gordon Leverton's work is showing at Mixed Media now. Get a sneak peak on his site.
The new urban plaza on Ottawa St. N. looks pretty spiffy. All it needs now are people.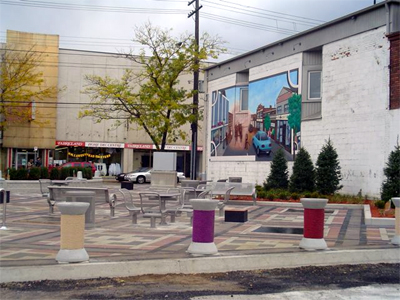 The new urban plaza on Ottawa St. N.
Attention Locke Street residents: patios are a Good Thing. There's an application in to [PDF link] at the base of the Robert Thomson building in Jackson Square. Jackson is severely hobbled by the lack of porous openings from the street, and this is a step in the right direction.
According to the CMHC, "Hamilton has the hottest real estate market in Ontario", but that didn't stop the Hamilton Spectator from interpreting that to mean Hamilton is going at a "snail's pace" while Burlington's downtown is all the rage with a few overpriced yuppie condos.
There was no mention of Chateau Royale, Core Lofts or the plethora of small, historic buildings that have been gutted and filled with lofts, condos, and apartments, or the incredible number of new restaurants that have opened downtown in the past few years. I can count over 50 new ones in about 3-4 years in the downtown area of Hamilton.
Add to this the amazing number of historic homes in every single neighbourhood in and around the downtown ­ yes, even Beasley, Corktown, Durand, Kirkendall, Strathcona, North End, Central, and so on - that have been renovated and bought by young couples, empty nesters, and university students.
Ironically, the story ended with a local developer complaining that there are - get ready for this - too many parking lots downtown and some should be converted to parks.
It's a grind. Without amenities you're not going to attract a lot of people. The city has to go forward. Convert the parking lots. Where would you go to walk the dog? Gore Park?
Even developers are starting to get it. If only we could get the Downtown BIA to see the light...
Check out this page on the DeSantis website: James Howard Kunstler was right. Great pics of people strolling past shops, riding a Vespa down a cobblestoned street. Names like Piazza and Chateau grace the beautiful townhomes with driveways wider than lawns. It's hilarious and brutal all at the same time.
I'd love to print off this page and take it a sociology class to dissect and examine it; the disconnect between words and reality shows how absolutely blinkered our society really is.
I just came across a photo tour of Tacoma, Washington on the mighty Skyscraper Page. It's short, but blew my mind. When I left the west coast in 2000 it was a dump. The nickname was "Tacoma Aroma" since it stunk driving through due to paper mills. Look what a well-designed, urban downtown university campus can do for a small- to medium-sized city like ours.
Also, drool over the modern light rail/streetcars running through a city half the size of Hamilton.
Finally, I give you The Bicycle Lift, a cure for the HSR's bike rack woes:
Hilly cities normally have a low share of cycling. How come that Trondheim, the third largest city of Norway, has the highest share of cycling compared to all the other Norwegian cities? We believe there are there reasons:

Trondheim is a university city with 30 000 students, 90 % of whom using their bicycles as their main transport tool;
During the last 20 years, there has been invested more than 20 mill NOK in a bicycle roads network and bicycle transport infrastructure in Trondheim;
One of the most important infrastructure elements is the bicycle lift Trampe. Since the opening in 1993, it's pushed more than 220 000 cyclist up the very steep hill BBrubakken in the historical heritage part of the city center.

There is no doubt that Trampe has inspired students as well as other people living in Trondheim to take to their bicycles. In a user survey, 41 percent of the lift users claim they're using the bicycle more often due to the installation of Trampe.
Apparently it works like a T-bar on a ski hill. You put your foot on the lift/pushers pedal and it propels you up the hill. Well, what are we waiting for?
Post a Comment
You must be logged in to comment.