Bridging the Divide
Without leadership that promotes a climate of compromise and brings all parties representing differing visions together, Hamilton's political divide could become entrenched.
By Paul Shaker
Published October 20, 2006
As the municipal election looms, it's a natural time for even the most passive observer to think about their community and the leadership it has. It's not an understatement to say that Hamilton is at a volatile point in its history, with the economic foundations of the city shifting and the demographics of citizens changing every year.
Our local political leadership has been part of these changes as well, with the amalgamated City of Hamilton entrenched on the landscape representing an even greater diversity of interests.
All these factors affect how we vote as a city and indications are that the community is not as harmonious as our elected representatives might have us believe.
While many look forward to the years ahead, it is important to glance backwards to get a full sense of where we might be heading as a community.
Tremendous Issues
Even before the last election, tremendous issues confronted the City of Hamilton, and many of these have played themselves out in the political arena over the past three years.
These issues have included debates on the Red Hill Valley Expressway, the rapid expansion of big-box style commercial development, the nature of employment opportunities being sought, exemplified by the encouragement of call centre development in the downtown or the use of public incentives to attract the Maple Leaf Foods rendering plan to the Glanbrook industrial park.
Also, there have been long-range development plans and strategies including GRIDS, the 30 year growth plan for the city, and the ambitious, while controversial, plan to create an "aerotropolis" economic hub at Mount Hope.
More recently, there is the heated debate over the redevelopment of a downtown heritage landmark, the Lister Block, which has quickly become less about an old downtown building and more a debate on what the city values as it charts a course for the future.
Much like the Lister process, all of these issues have become a forum for a larger debate on future visions for the city.
Divisive, Confrontational Debate
On a political level, debate over these issues has been divisive and confrontational. Serious concerns about a lack of transparency and meaningful public consultation are commonplace. Critics claim that those who are on the losing side of a political vote are simply exhibiting sour grapes.
Instead of building consensus, the existing culture of big winners and big losers in Hamilton municipal politics is a stark reality. If this environment of divisive politics had only been the backdrop to one or two isolated issues, one might be tempted to consider it an aberration and not a pattern.
However, this trend has played out again and again with little signs of change before the next election. So the question remains: why is this the case?
Geographic Voting Patterns
One answer may lie in the voting patterns of the 2003 municipal election, which was an excellent event for study as there were two strongly competitive candidates for mayor that exemplified two competing visions for Hamilton.
Larry Di Ianni and David Christopherson collectively gathered 80 percent of the vote and thus an analysis of 2003 voting patterns gives a clear indication of the political landscape for the majority of voting Hamiltonians.
Although both candidates spoke to several issues, the prominent ballot question was regarding the construction of the Red Hill Creek Expressway, a major highway to facilitate outwardly focussed industrial and residential growth.
Smart Growth, Sprawl Growth
Essentially, Christopherson opposed its construction and Di Ianni was in favour. However, the broader context of the election was about two different visions for the city: "smart growth" represented by David Christopherson versus a "sprawl growth" vision by Larry Di Ianni.
Smart growth looks to compact urban form, environmental sustainability, and infill-style economic development (e.g. brownfield redevelopment, revitalization of downtowns), while sprawl growth is exemplified by big box-style commercial development, sprawl-style residential growth, and suburban-style economic development (e.g. greenfield development, highway infrastructure).
At the time of the last election, the extent to which each candidate represented these visions was debatable. However, in the case of Larry Di Ianni, his specific policy choices while in office have demonstrated a very strong case that his vision for Hamilton can be accurately described as sprawl growth.
How Hamilton Voted
In the 2003 election there were over 200 polls within the 15 wards that comprised the City of Hamilton. About 10-15 polls were located in each ward and each poll had approximately 2,500 registered voters.
A tracking of election results from this poll-level data gives an excellent illustration of where support for the two primary mayoral candidates was located (Figure 1).
Figure 1: Poll results from the Hamilton 2003 Municipal Election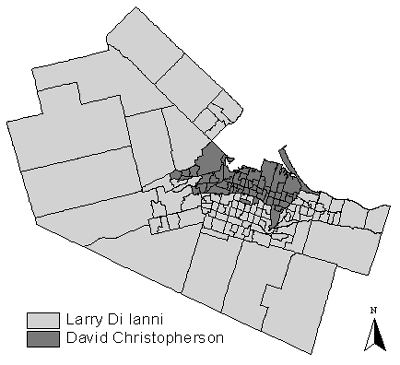 Source: Centre for Community Study 2006
This analysis clearly shows a significant divide in the political landscape in Hamilton. Support for Christopherson, illustrated by polls won, was heavily concentrated in the more urban part of Hamilton, including the lower city, downtown, North Mountain, and central Dundas. Conversely, Di Ianni dominated the suburban areas of the city including Stoney Creek, the South Mountain, Glanbrook, Ancaster, and Flamborough.
Definitive conclusions on the enduring political preferences of voters are always difficult to make, but there were clear spatial trends at the time of the last municipal election and they were speaking to two competing visions for Hamilton. It is probable that the divisive battles that typify Hamilton politics are, in part, geographical.
Without leadership that promotes a climate of compromise and brings all parties representing differing visions together, these trends could become entrenched. It will be interesting to see how the city votes in 2006 and if the political divide in Hamilton is a new persistent faultline on the landscape.
Post a Comment
You must be logged in to comment.