Downtown Update
Jason spreads a little je ne sais quois in Ontario's burgeoning "Montreal West".
By Jason Leach
Published October 06, 2006
(With files from Trevor Shaw and Ryan McGreal)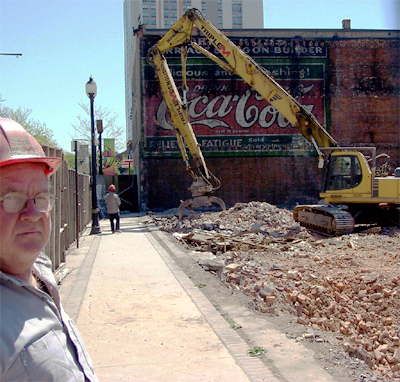 Demolition of the old Spallacci building (Photo Credit: Randy Steele, used with permission)
The rumour mill tells us that next week will be the official groundbreaking for Spallacci on King East, along with the renderings we've been waiting for. We're told it will be sided in red brick and will fit in with the neighbourhood.
In the meantime, we have found some plans for the new building at 280 King St. E., which indicate what looks like a good 11 storey mixed use building, with a small setback on the third floor.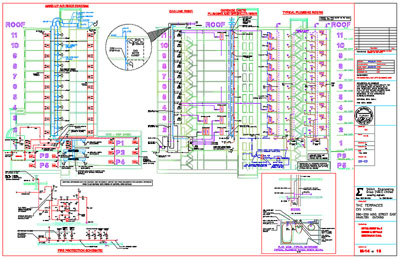 New Plans for 280 King St. E. (click the image to see an enlargement in a new window)
I like how the top level of parking is behind the streetfront commercial space with a rooftop deck above it, and the remaining four floors of parking are underground. That's the sort of model I saw in Portland for parking garages: leave the streetfacing space for commercial with parking above.
The old Westgate Ford property at Main and Spring has been bought and the new owners are floating the idea of a mixed use project with ground-level commercial/retail with a few floors of offices above that and then several floors of residential above that. At this point, talks are prelimanary.
Financing and city approval are now in place for the 15 storey condo building at King William and Ferguson. RTH tried to obtain a rendering along with some information about this project, but was unsuccessful.
The old Sandbar may have new life as upper floor office space possibly housing a division of the Hamilton Police. Ground level is said to have retail space.
The Sandbar project may be tied into a larger project planned for the entire block bounded by Mary, King William, Walnut and the alleyway on the south side of the property. The Century Theatre, facing Mary, is moving forward with plans for 95 residential units. The large parking lot behind Century is planned to house a mixed-use project consisting of a few levels of parking, streetfront retail along Walnut and perhaps King William, and five or six floors of condos above that.
There may be an opportunity to connect the Sandbar to this new building. It would sure be nice to fill in our big, empty parking lots downtown with well-designed, mixed-use buildings.
Raise the Hammer has written about the need for an Architectural Review Board (ARB) to ensure new buildings integrate with their surroundings. It looks like the city is contemplating such an idea for the downtown core.
According to Bill Jannsen, the City's community planning and design manager, the new downtown zoning by-law "contains a 'layer' called the heritage character zone that regulates some design issues related to use of materials, building and floor height characteristics, percentage of glass in facades, and so on."
The city's urban design staff has prepared a set of guidelines [PDF] to "amplify the zoning intent together with graphic depictions of what we are attempting to achieve."
The next step is to develop design guidelines for the larger area covered by the Downtoen Secondary Plan. This will depend to some extent on the Ontario Government giving municipalities more latitude regarding building design under the provincial Planning Act.
It's not an ARB, but Janssen argues it "goes some way in addressing" the goals of an ARB "by making reference to the establishment of a design committee to peer review public and private projects."
The guidelines identify corner buildings as great opportunities to enhance the streetscape:
A corner location provides prominent street visibility, and the treatment of the building's corner is particularly important. Depending on the building function, the corner can be used as the main entrance, or it can be used as part of a retail area such as window display, or a restaurant patio.
Perhaps these guidelines would have saved the otherwise-excellent new Silvestri building at Caroline and Napier from squandering the opportunity to display its own underperforming corner as a more prominent focal point.
If only the city's review committee could start looking at Upper James. According to Citizens at City Hall (CATCH), Steve Robichaud, the city's GRIDS manager, has identified Upper James as a street that needs much higher density, since it is a major corridor in the city's growth strategy.
Robichaud responded to an RTH inquiry by noting, "existing site specific urban design guideleines and operations polices for this area were prepared in the late 1980s/early 1990s," and "urban design will be critical in the transformation of Upper James into a mixed use corridor." If ever a city street cried out for a design review board, it's Upper James. Perhaps the beleagured road can become a real urban boulevard yet.
The new Main West Village condo project at 1686 Main St. W. will cater to off-campus university students. It is being designed to the standards set by Leadership in Energy and Environmental Design (LEED), which will include green building techniques and rainwater reuse in the toilets, among other standards.

Rendering of West Village Condos with adjacent wind turbine (Photo Credit: Main West Village)
Hammerboard, a local web forum, recently posted a thread suggesting that the plan to develop a VIA Rail Terminal in Hamilton has been cancelled. RTH contacted Bob Bratina, councillor for Ward 2 and the chair of the VIA Rail task force, to ask about this. He replied, "No. This is an active file. Our staff and consultant on the downtown VIA station project are discussing technical details of the excellent draft report put together by I.B.I. Consultants. We are promised final data in November. Their staff are actively working with ours and the original premise was that no decision be made until the City of Hamilton puts its case forward."
Perhaps "stalled" is closer to the mark than "cancelled." The location should be a no-brainer, but this is Hamilton, after all. More to come in November.
The Imperial Cotton Centre for the Arts is partnering with McMaster University's School for the Arts to set up a "one-of-a-kind" residency program for arts students. ICCA director Jeremy Freiburger writes, "Imagine that, a big McMaster sign in the North East end."
Finally, check out this tour of Montreal on Skyscraperpage. It has so many similarities to Hamilton - retro signage, old buildings, not flashy or sterile. If only we could develop the same vibrancy and street life, Hamilton could be Ontario's Montreal. Barton St., Ottawa St., King East, and so on should be some of the most vibrant streets in the country, not rundown dumps.
I'd much rather follow Montreal's lead than Toronto's. One comment at the end of this tour summed it up - the people seem so real. Just like the Hammer: not pretentious or trying to be like "Hollywood North," just real people living their lives.
Post a Comment
You must be logged in to comment.