Pedestrianize Gore Park
The Gore deserves to become a southern Ontario attraction, not a strip mall parking lot.
By Jason Leach
Published September 20, 2006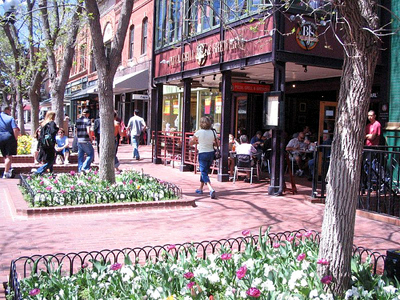 Pearl Street Mall, Boulder, Colorado: What are those people doing on the street?
Trevor argued in last week's Hammerblog that the Downtown BIA's plan to install angled parking along the south leg of the Gore is asinine, to put it mildly. Try to imagine a Downtown BIA that recognized the value of pedestrian life:
When automobiles are removed from a street, an incredible amount of space is opened up. In Boulder, Colorado, the Pearl Street Mall is a pedestrian-only thoroughfare traversing downtown and the University of Colorado campus area which is about a half-mile in length.

The street is not very wide at all by auto standards, perhaps 50 feet in width, yet it supports an incredible array of activities. There are street performers and buskers with large crowds gathered around them, vendors and kiosks, benches, outdoor cafes, there are trees and landscaping, and all the while there is more than plenty of space left over for people to walk, window shop, stop and socialize, or what have you.

This is such a rare treat in North America that this street is actually a tourist attraction and hordes of people from Denver flock to this street on the weekends. Likewise, people have been flocking to Venice from all over the world for decades to experience the pleasures that a car-free city produces. [line breaks added]
Substitute Toronto, Oakville, Cambridge, Brantford, Hamilton Mountain, Niagara and Western NY state in place of "hordes of people from Denver" or "people flocking to Venice". That could be our Gore.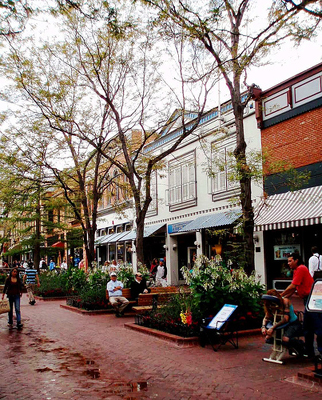 Pearl Street Mall, Boulder, Colorado
Today, southern Ontario is completely dominated by cars. Hamilton's downtown has the lowest parking rates of any major city in Canada and we have an enormous plethora of lots and street parking throughout the core.
We do not need another parking lot.
People would come from all over southern Ontario if we developed a beautiful city centre reminiscent of Europe, with shops, cafes, arts, music, festivals and fun. Montreal has several pedestrian-only areas that are booming. Toronto has none that I'm aware of other than the Distillery District (not really a street though).
Hamilton would suddenly go from drab and uninteresting in the minds of Golden Horseshoe residents to a destination similar to the photos you'll see from Boulder, Colorado.
Will we choose once again to suburbanize the core or will we finally give our downtown a chance to show off and become a tourist draw?
Believe me, folks who live on Hamilton Mountain and suburban areas like Caledonia spend big money traveling to "real" cities like Boston and over in Europe to experience the excitement of a bustling city. We have a beautifully-designed Gore Park as a natural piazza or town centre right in the middle of Hamilton.
I urge the politicians and business association leaders downtown to show leadership and make the wise decision regarding Gore Park. Hamilton has suffered too long from a lack of political will and leadership. It's easy to give into the car dependrnt mindset of our society.
I'm not suggesting removing cars or shutting off downtown to vehicles. We're talking about two blocks of our most beautiful buildings, greenery and history. The Gore deserves to become a southern Ontario attraction, not a strip mall parking lot.
Post a Comment
You must be logged in to comment.