Premier Ford Secretly Meets Company Trying to Access Guelph-Eramosa Aquifer
Xinyi wants to extract 1.6 million litres of water a day from the aquifer under Guelph-Eramosa Township, which has experienced water shortages in recent years.
By Doreen Nicoll
Published September 19, 2018
Wellington Water Watchers (WWW) has a number of campaigns underway, including their most widely recognized campaign Say No To Nestlé!, which is encouraging the provincial government to phase out bottled water extraction over the next ten years.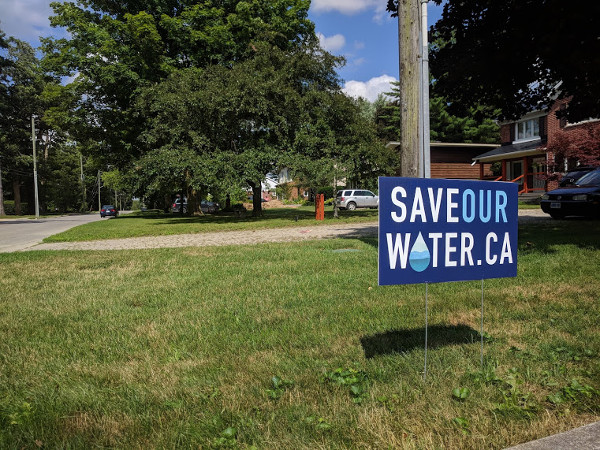 WWWs acknowledge that water is a basic human right. Their campaign, Water for Life, Not Profit, focused on Nestlé's Aberfoyle plant, which has pumped more than 1.1 billion liters of water since its permit expired 24 months ago.
This is only one of two permits Nestlé has in the area. Erin's permit expired almost a year ago, but Nestlé continues bottling water from that well too. Together, these two permits allow Nestlé to draw up to 4.7 million litres of water daily from Wellington County's aquifer - the same aquifer residents depend on for all of their water needs.
Nestlé purchased a third well in Elora after outbidding the local community of Centre Wellington. A moratorium currently prevents Nestlé from pumping water from this well. And therein lies the concern.
Supporters of WWW are worried that Ontario Premier Doug Ford and his government will commodify public water, handing it over to private corporations essentially for free.
Ford Secret Meeting With Xinyi
That's exactly what Ford was trying to accomplish during secret meetings with the Xinyi Glass company.
The advocacy group Guelph Eramosa Township (GET) Concerned recently convinced Guelph-Eramosa Township Council to reject a proposal by Xinyi Glass Canada to build a factory that would draw over 1.6 million litres of water per day in an area zoned for dry use only. The company will not be appealing the decision.
Interestingly, Ontario NDP MPP Peter Tabuns has a post on Facebook which states in part:
Ontario's New Democrats want Doug Ford to explain why he secretly met with a corporation seeking to extract 1.6 million litres of water each day from the aquifer in the township of Guelph/Eramosa, which has experienced water shortages for years - and why Ford is now criticizing the people and the township for protecting their water.
According to Tabuns' post, "Ford admitted to the meeting under questioning in the legislature Monday, when he said "Guelph" was wrong to deny Chinese corporation Xinyi's application to move into the rural township of Guelph/Eramosa; an application that included the massive daily extraction from the water table."
Tabuns goes on to quote Ian Arthur, NDP critic for the Environment and Sustainability:
Why does Mr. Ford think the township of Guelph/Erasmosa should rip up a longstanding industrial water limit bylaw and threaten the drinking water in the region? The people who depend on this at-risk aquifer are worried about Ford's declaration that he not only met in secret with Xinyi, but that he's taking the corporation's side - and they have good reason to be.
RISE for Climate Action
This information comes on the heels of the RISE for Climate Action rallies that took place around the world on Saturday, September 8. Over 900 events gave voice to over 250,000 people demanding meaningful climate action. More than 250 voices came together in Guelph to send a resounding message to Ford: neither our water nor our environment is for sale!
The event was organized by Brian Ostrow and Steve Dyck on behalf of the Guelph Citizens Climate Lobby and included speakers from several environmental and social justice groups, including: WWW, Fossil Free Guelph, Council of Canadians, Guelph Against Pipelines and eMerge Guelph, as well as Green Party Leader and Guelph MPP Mike Schreiner.
Event moderator Dyck believes:
Real democracy is the strongest tool we have for addressing Climate Change. Democracy is a two-way communication - we the people speak; real leaders hear and find ways to bring the change. There are a lot of reasons to be frustrated and cynical about democracy - unfortunately our current voting system yields 100% of the power to whoever gets 40% of the vote. Letting a minority make decisions results in instability and expensive mistakes. Building our democracy and addressing climate change go hand in hand.
While politicians from all parties were invited to the event, Green Party Leader and MPP Mike Schreiner was the only one to attend. Schreiner brought the crowd to their feet cheering when he declared:
Climate action is essential for insuring a livable planet and a prosperous economy. The clean economy is a $26 Trillion economic opportunity over the next decade that we can't afford to ignore. Turning our back on climate action is saying no to jobs and prosperity. We need to skate to where the puck is going. I will fight against Premier Ford taking Ontario backwards. Ripping up renewable energy contracts and cancelling programs that help people save money by saving energy is costing Ontario jobs. The Premier is saying that Ontario is closed for business.
Arlene Slocombe, Executive Director of WWW, attended because:
I feel the weight of the pending impacts of climate change and want to stand together with others. I'm a mother and am deeply worried about the future for my girls and for any potential grandchildren. I live and work in this community. There are so many here doing such great work. I think that grass roots people powered initiative will be what drives the needed changes. Mike Schreiner is our rep in parliament and I know will do what he can to represent our concerns and to push back as hard as he can on a government who has taken dramatic steps to move us backwards.
Grade 12 student Bronwyn Strong was there because she wanted people at all levels of government to know the residents of Guelph and citizens of Canada want them to improve environmental protection regulations. Strong, a member of WWW, thinks:
It's important that Nestlé and all other companies are prevented from taking our water especially now with climate change and the increased size of Guelph and its surrounding towns. I want a future where everywhere has free water, with everyone in the world having access to it. I also want a cleaner world. I'm hoping by the time I'm 80 years old the world will be at its best and healthiest for my children.
Say No to Nestlé
WWW's launched an informative new video today, Why We Must Say No to Nestlé, detailing why water should remain in the public domain and not be commodified.
After watching and sharing the video, join in solidarity with Wellington county residents, contact Ford and his Conservative MPP's to tell them Ontario water is not a commodity it is a human right and that Ontarians want meaningful movement toward a sustainable green economy that will successfully reduce our ecological footprint.
Post a Comment
You must be logged in to comment.