Ford Government Cancels Cycling Fund But Claremont Access is Already Funded
The Province is cancelling the cycling infrastructure fund that was going to help pay for the Claremont Access Cycle Track, but the City has already received the funding for the 2017 approved projects.
By Ryan McGreal
Published July 09, 2018
$3.7 million in provincial funds for new cycling infrastructure in Hamilton - including a new protected two-way cycle track on the Claremont Access - is secure, despite the Province cancelling the program that provided the funding.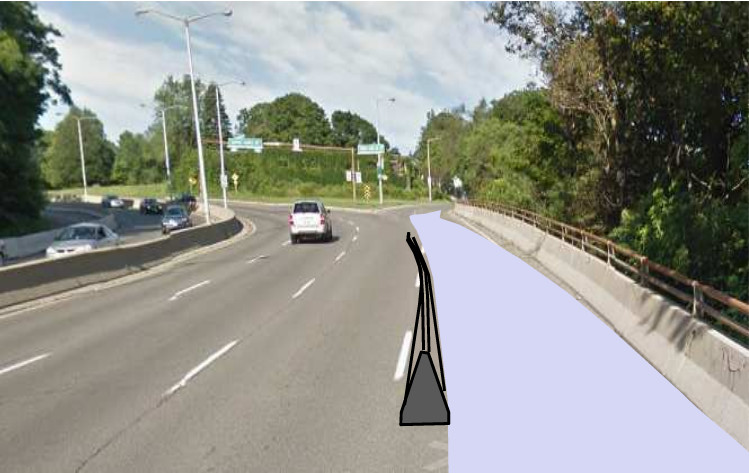 Initial rendering of protected Claremont Access Cycle Track
The new Ontario Government of Premier Doug Ford is unwinding Ontario's greenhouse gas cap-and-trade program, exposing Ontarians to billions of dollars in damages from businesses that already bought carbon credits and cancelling the climate mitigation programs that the carbon credit sales funded.
Those emissions reduction programs include both home energy retrofit grants and a capital fund that provided money for municipalities to invest in cycling infrastructure.
The Bay Street Cycle Track in Hamilton was partly funded in 2016 with a $295,000 grant from the Provincial cycling infrastructure fund and built in late 2017.
More recently, the Claremont Access Cycle Track has also received a funding commitment as part of provincial funding for cycling projets in Hamilton. Long requested by cycling advocates, the project was finally proposed and designed after Jay Keddy was killed in December 2015 on the Claremont while commuting home on his bike.
Despite that tragic fatality, City Council declined to include funding to build it in the City's 2018 budget. It was only when the Province committed a $3.7 million grant for Hamilton to build cycling projects that the Claremont cycle track received the funding needed to move forward.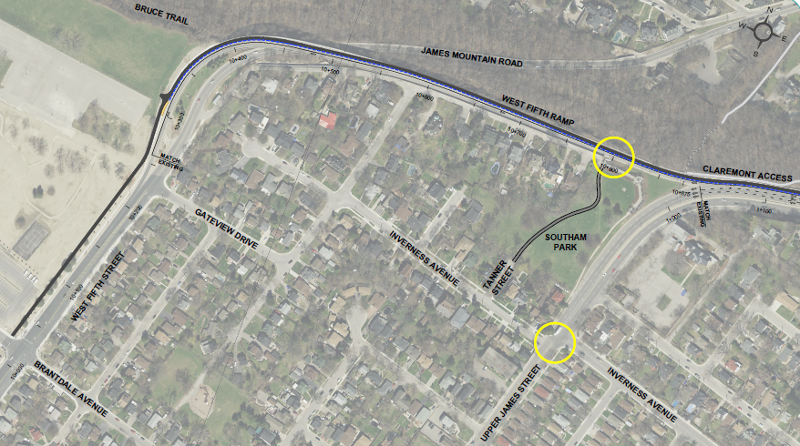 Claremont Cycle Track design, upper portion (Image Credit: City of Hamilton)
The project - recently named the Keddy Access Trail after a community petition is not yet under construction, so RTH contacted the City to ask whether the funding will be affected by the Provincial announcement. According to an email response from Brian Hollingworth, the city's Director of Transportation and Planning, the funding is secure:
We can confirm that the City of Hamilton's OMCC funding of $3,707,933 for [Fiscal Year] 2017/18 was transferred to the City in April, 2018 and all related agreements have been signed. This money will be used to fund the Claremont Access Cycle Facility, among other projects.
The full list of projects seeking funding was approved last August. The total cost of the requested projects is $5.535 million, with the City expected to cover 20 percent or $1.102 million. With $3.708 million in Provincial funding, that leaves around $725,000 of the total cost of the projects yet to be funded.
According to Daryl Bender, the City's Project Manager for Alternative Transportation, "The actual cost of the various projects will be refined through the detailed design, and then funding can be distributed accordingly. We intend to stretch the funds as far as possible."
Cycling Projects Planned to be Submitted for Ontario Municipal Commuter Cycling (OMCC) 2018 Funding
Cycling Master Plan Priority
Project
Description
Project Type
Project Total Cost Estimate
City Contribution
Ward (s)
* Identified in the Metrolinx Regional Cycling Network Plan
** Identified in both the Metrolinx Regional Cycling Network Plan and the Provincial Cycling Network
2018 Projects
31
Hatt St *
Bike lanes connecting Market St and Main St
Stand alone
$75,000
$15,000
13
89
Hunter St *
Two-way bike lanes connecting existing bike lanes by the GO Centre
Stand alone
$80,000
$16,000
2
93
Governor's Rd
A bike path along the south side of the street between Davidson Blvd and Creighton Rd
With street reconstruction
$450,000
$90,000
13
192
King St/RHVP
A cycling connection between Lawrence Rd bike lanes and existing King St bike lanes
Stand alone
$95,000
$19,000
4, 5
21 (rural)
Sydenham Rd **
Paved shoulders between Hwy 5 and the escarpment brow
With road rehabilitation
$350,000
$70,000
15
Total
$1,050,000
$210,000
2019 Projects
13
Barton St *
A bike path along the south side of this street connecting the existing multi-use trail over the RHVP across Centennial Pkwy
Stand alone
$280,000
$56,000
5
24, 108, 182, 207
Claremont Access *
A multi-use trail facility connecting West 5th St and Hunter St
Stand alone
$2,000,000
$400,000
2, 3, 7, 8
61
West 5th St *
A bike path to extend the planned Claremont Access facility to Fennell Ave/Mohawk College
Stand alone
$150,000
$30,000
8
72
Charlton Ave
Bike lanes connecting existing bike lanes easterly to Ferguson Ave
Stand alone
$30,000
$6,000
2
163
Limeridge Rd
Bike lanes connecting Garth St and existing West 5th St bike lanes
Stand alone
$40,000
$8,000
8
Total
$2,500,000
$500,000
2020 Projects
79
Kitty Murray Lane
Bike lanes on this entire street
Stand alone
$40,000
$8,000
12
80
Stonehenge Dr
Bike lanes on this entire street
Stand alone
$40,000
$8,000
12
122
Highway 8
A bike path along the side of the street between King St and existing bike lanes at Dewitt Rd
Stand alone
$220,000
$44,000
10
Total
$300,000
$60,000
Projects Typically Not Funded as Roadway Projects
Support Action
Bike Share Enhance
Increase density of the existing SoBi network
Support Action
$1,200,000
$235,000
1, 2, 3, 13
Support Action
Bike Share Expansion
Expand the SoBi coverage area easterly to Kenilworth Ave
Support Action
$300,000
$60,000
3, 4
Support Action
Bicycle Counters
Sensors installed at various locations
Support Action
$100,000
$20,000
City wide
Support Action
Bicycle Parking
Standard bicycle racks along city streets
Support Action
$50,000
$10,000
City wide
Support Action
Bicycle Racks HSR
Supply racks for HSR fleet expansion
Support Action
$35,000
$7,000
City wide
Total
$1,685,000
$332,000
Grand Total
$5,535,000
$1,102,000
Post a Comment
You must be logged in to comment.